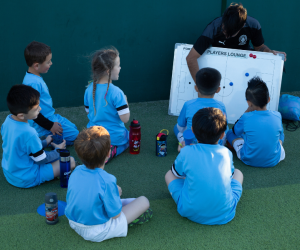 Sofive Soccer Centers - Youth Leagues, Camps, and Classes
Sofive is the home of 5-a-side and is made for players of all ages and levels. It is a hub for soccer enthusiasts to gather and share their passion for the game, sharpen their skills and find their community. Sofive wants to give players of all ages the opportunity to discover or revive their love for soccer. This is why Sofive partners with the best youth training programs, leagues, classes, camps, and tournaments to teach kids the beautiful game on our fields
Youth Leagues, Camps, Classes, and Tournaments at Sofive
Youth Soccer Classes and Camps
Manchester City Soccer Academy

Young Player Development Classes (YDC)

Learn the fundamentals of movement and prepare for high-level soccer coaching environments with weekly classes for individuals new to soccer.

For boys and girls aged 5-10 years (U6-U10).

​

Young Player Development Program (YDP)

Develop a real passion for the game by focusing on the enjoyment of playing and gaining confidence in your ability with bi-weekly classes and games.

For boys and girls aged 7-12 years (U8-U12)

3v3 Summer Camps

Players will learn "how we play " in attack and defense as an individual and within a team through multiple 1v1's,2v2' situations building to 3v3's with their teammates.

For boys and girls aged 6-12 years old.

Lil Kickers 

Rooted in renowned child development theories, our innovative curriculum provides kids ages 18 months to 5 years the skills they need to learn soccer and grow as individuals, all while having a blast. 50 minute classes meet weekly.
Youth Leagues: 
Sofive offers youth leagues for boys and girls of all ages, from U8 to HS, in our lightning-quick 5v5 format. All leagues feature at least seven games of 40 fast-paced minutes for 8 to 10 weeks and are supervised by trained referees.  
Tournaments
Sofive regularly hosts weekend or day-long tournaments, allowing the children to get acquainted with competitive soccer and motivating them into fighting for the win.
East Coast 
Sofive Rockville, Sofive Meadowlands, Sofive Elkins Park , Sofive Columbia, Sofive Brooklyn
Click Here to Sign Up!
i