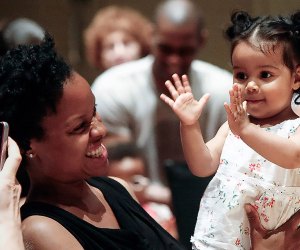 Favorite Mommy and Me Classes in NYC
Mommy and Me (or Daddy and Me) classes rule, and not just because little ones learn something new. In a city like NYC, taking a swim class or music class with your infant or toddler is a great way to meet other parents, and a social baby is a happy baby. Extra plus? All that learning and making friends sometimes translates to excellent sleeping (for both of you).
The hardest part of signing up for parent-child classes in New York City might be choosing from one of the hundreds of options, so we've rounded up a few of the spots our community of expert parents recommend most. Some of our favorite spots even multi-task, so you can move from a swim class at Bronx House to a creative movement or art class, for example, or bop from a music class at Kids at Work to "Mess it Up" (art) or Mandarin lessons.
If you need something close to home, remember that YMCAs and JCCs all host classes for little humans, from swimming to gymnastics (special shout out to the 14th St and 92nd St Ys for their dazzling range of programs).
As always, you can find even more NYC classes in our Classes Guide and Directory Listings.