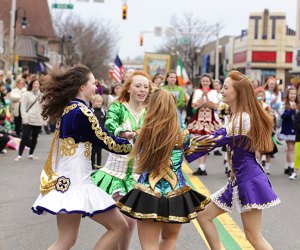 Weekend Fun for NJ Kids: St. Pat's, Sleeping Beauty, Rat Olympics
St. Patrick's Day parades abound this weekend throughout New Jersey, so wear your green, get in the parade spirit, and join the celebrations. If you're itching for spring, head to Philly for the Philadelphia Flower Show. One visit and you'll understand why it draws people from around the world.
Prefer to stay closer to home? Check out our list of family-friendly shows at a theater near you, including storyteller Jack McKeon at the State Theatre, The Lightning Thief at Papermill Playhouse, or Sleeping Beauty at the Mayo Performing Arts Center.
We're also happy to announce the brand-new Besties Awards. Nominate your favorite New Jersey businesses for kids: the best places to make, do, eat, learn, and play. Simply add your favorites to this nomination form, and we'll reward those businesses that make raising kids in New Jersey the best with a Besties Award.
For more, be sure to check out our March GoList and Events Calendar, with fun new activities added daily. And with snow on the horizon, check out our Winter Fun Guide, loaded with seasonal activities in New Jersey.
All Weekend
The Philadelphia Flower Show – Philadelphia
One word says it all: Awesome. This annual event is beautiful, surprising at every turn, and enormous. Definitely a full day. This year's theme is "Holland: Flowering The World," and there's plenty to inspire everyone from the world's leading floral designers to us amateurs. Many towns and local garden clubs offer bus trips, so you don't have to worry about driving or parking.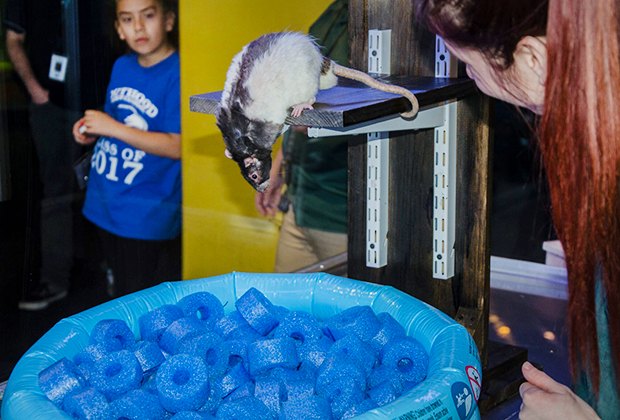 Rats go for the gold at the Rat Olympics. Photo courtesy of Liberty Science Center.
Rat Olympics at Liberty Science Center – Jersey City
The museum's Norway rats kick cuteness up a notch as they take on such challenges as jumping hurdles and balancing on a tightrope. If rats aren't your thing, the science center has plenty of other cool activities that are free with admission, including Beekeeping: The Sweetest Science, Animals Out and About, Kid Construction, the Nikola Tesla Lightning Show, live animal encounters, and more.
St. Patrick's Day Parades – Various Locations
New Jersey goes green this weekend with celebrations across the state, including Atlantic City, Morristown, Seaside Heights, Union, Hamilton Square, Sea Isle City, Asbury Park, Bergenfield, and Clinton.
Saturday
Milk and Cookies at the State Theatre New Jersey – New Brunswick
Storyteller Jack McKeon brings folk tales and fairy tales to life for little ones at this interactive show. (Milk and cookies are indeed served afterward.) Parents might recognize McKeon as a frequent performer by the Hans Christian Andersen statue in New York's Central Park.
The Lightning Thief at Papermill Playhouse – Millburn
In this musical, adapted from the book by Rick Riordan, our hero, Percy Jackson, is having more than just a tough time; he's tormented by mythological monsters and the Gods of Mount Olympus, which appear to be walking right out of books and into his life. And you thought you had a hard day.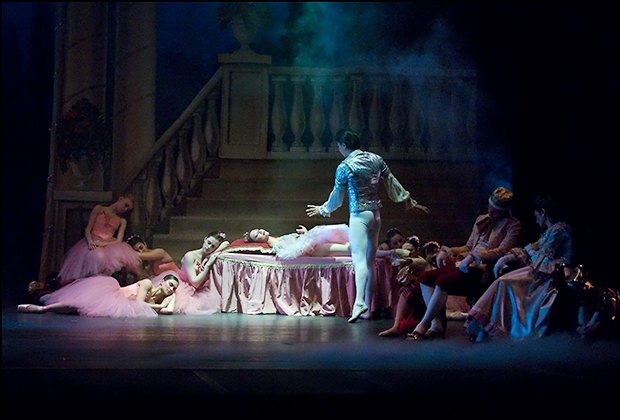 See the classic Sleeping Beauty at Mayo Performing Arts Center. Photo courtesy of the venue.
Sleeping Beauty at Mayo Performing Arts Center – Morristown
Princess fanatics will surely be wide-eyed as the New Jersey Ballet brings the beloved fairy tale to life. The stage will be enchanted by Princess Aurora, her handsome prince, the King, Queen, and other characters from the classic story.
Family Art Workshop at Wheaton Arts and Cultural Center – Millville
Artists ages 7 and up will delve into Surrealism by creating an Exquisite Book, a device used to inspire collaborative, unexpected artwork. The creations will then be used by their creators to play the surrealist drawing game Exquisite Corpse.
Seasonal Scavenger Hunt at the Tenafly Nature Center – Tenafly​
Head outdoors to search for clues hidden along the nature center's trails. Families need to look high and low, working as a group, to find everything on their list and get a prize for their efforts. One of the center's trails, aptly named StoryWalk, turns reading into an adventure for young visitors with nature-themed stories posted to read while walking in the woods.
Sunday
Zoo Explorers at Turtle Back Zoo – West Orange
Pre-schoolers learn about the world of animals through movement, stories, games and crafts. Afterward, kids head out into the park for a guided visit to see some of the live animals they learned about.
Craft Day at Imagine That! – Florham Park
Kids can explore the museum and then stop by the craft station to paint a unicorn, cupcake, heart, dinosaur, or rocket-shaped bank to take home. Interactive exhibits at the museum beckon kids to explore a pirate ship, post office, TV newsroom, grocery store, and other fun spaces.
Teen Crafternoon at the Cora Hartshorn Arboretum and Bird Sanctuary – Short Hills
Older artists can make a miniature succulent garden in a recycled glass container—a desert-themed project that will surely chase away the winter chills.
Drop-In Studio at MAM – Montclair
Artists of all ages can stop by to explore a variety of media and techniques. An art educator will be on hand to help give your inspiration some direction.
Top photo: Irish dancing at the Bergen County St. Patrick's Day Parade. Photo courtesy of the parade.