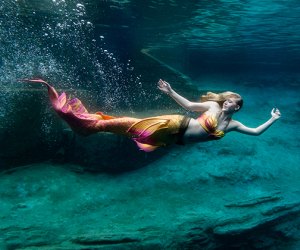 Weekend Fun for NJ Kids: Mermaids, Fall Strolls, Kidz Bop
Spring Forward and Fall Back. Yep, its that time of year again. The days may be getting shorter, but visitors still have time to try the Treetop Adventure Course at Turtle Back Zoo, which closes for the season at the end of this month (though the zoo is open year-round). If the chill in the air is driving you indoors, let your kids climb the walls (literally) and run wild at one of New Jersey's outrageous, indoor obstacle courses. Meanwhile, if you're pretty sure your trick-or-treaters collected enough candy to last until next Halloween, then why not donate some to US troops? And if you haven't had enough fall festivals, there's still time to catch at least one last pumpkin party.
This weekend offers a sensational seasonal variety, no matter what your sense of fun. Introduce your kids to classical dance when the New Jersey Ballet presents Don Quixote or to musical theater with a performance of Humpty Dumpty and the Big Book of Nursery Rhymes. Talk like a pirate at Seafarin Saturday, or take in the fall scenery with a seasonal Bird Walk. Find all these activities and more in our Calendar of Events. And check out our November Go List to find even more ways to make the most of this month.
All Weekend
Family Photo Scavenger Hunt – Morris Township
With the last fall leaves still on the trees, it isn't too late for some family photos. Snap some this weekend for your annual holiday card or 2017 calendar. Even better, kids who find everything on your scavenger hunt list go home with a prize.
Mermaids at the Adventure Aquarium – Camden
The swimming sensations return to the aquarium by popular demand for a limited engagement. Stop by for themed crafts, activities, and meet-and-greet opportunities with both mermaids and pirates.
Family Learning Lab – Montclair
More artsy then outdoorsy? Bring your pint-size Picasso to the Montclair Art Museum for a chance to doodle, draw, and even decorate the museum's wall.
Saturday, November 5
Discovery Saturdays at the Reeves-Reed Arboretum – Summit
A fall stroll gets an educational edge in this weekly program, held every Saturday through November 19. Weekly themes explore things to be thankful for. Families can also pick up a backpack pre-loaded with binoculars, a field guide, and more.
Pinkalicious the Musical – Wayne
Little girls can't seem to get enough of this heroine who pines for rose-colored hues. Join her for a new adventure in this stage adaptation of the popular picture book.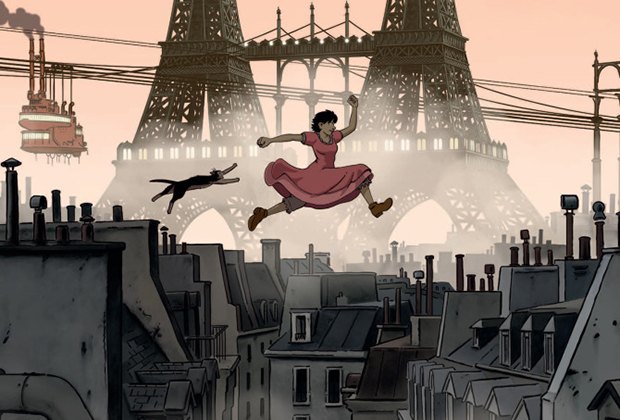 April and the Extraordinary World. Photo courtesy of the film.
CineKids: April and the Extraordinary World – Montclair
Tired of Disney flicks? Take your kids to the cinematic edge with this science fiction children's film with English subtitles. Young theater-goers can follow along or simply use their imagination to craft their own tale to embody the images.
Sunday, November 6
Behind the Scenes Tour at Jenkinson's Aquarium – Point Pleasant
Why wait till summer to head to the shore? This weekend, the aquarium gives guests the VIP treatment with behind-the-scenes tours. Afterward, check the schedule for a list of daily animal feedings.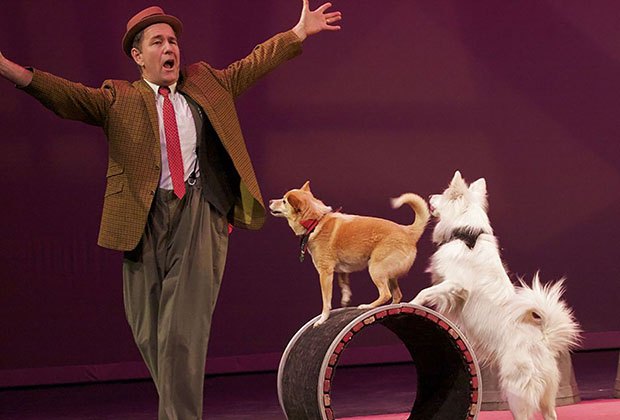 Mutts Gone Nuts. Photo courtesy of Bergen Performing Arts Center.
Mutts Gone Nuts – Englewood
Bring pet food, toys and other donations to this creative fundraiser for shelter animals. The combination of canines and comedy on stage is sure to appeal to all ages.
Kidz Bop 2016 Tour – Red Bank
Those talented teeny-boppers take to the stage this weekend at the Count Basie Theatre. Prove it's your birthday and get a special treat.
For more seasonal fun, check out our Calendar of Events. New activities are added daily.
Top image: Mermaids the Adventure Aquarium. Photo by Devon K/courtesy of Wands and Wishes.