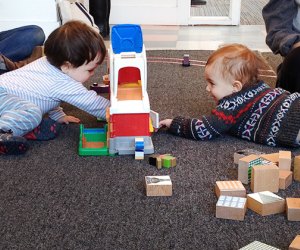 Weekday Fun in NJ: Winter Festival, StarLab, Valentine's Crafts
Monday, January 23
Central NJ:
Lambertville Winter Festival – Lambertville
​Celebrate winter arts and culture at this nine-day event (through January 29), with festivities that include ice sculpture demonstrations, live shows, walking tours, food, and much more. Some events may require admission, but most family activities are FREE.
Northern NJ:
Tree Time for Tykes – Mendham
Bring your preschooler to Schiff Natural Lands Trust for winter nature exploration, complete with a walk, stories, and crafts. Pre-registration is required.
Tuesday, January 24
Central NJ:
Maple Tree Tapping – Pennington
It's that maple sugaring time of year. Preschoolers are invited for a hands-on tree-tapping demonstration at Stonybrook Millstone Watershed Association.
Jersey Shore:
MMKids StarLab Planetarium Show – Lincroft
Kids 7+ will be seeing stars at this Monmouth Museum Planetarium show. Participants will learn about the constellations in the night sky. Additional fee to museum admission.
Wednesday, January 25
Central NJ:
Pop-Up Card Workshop – Metuchen
Westerhoff School of Music welcomes tweens and teens to create pop-up cards using inspirational words or phrases that have personal meaning. Pre-registration is required. FREE
Northern NJ:
Mommy/Daddy & Me – Hoboken
Get prepped for Valentine's Day at The Crop Shop. Kids of all ages and their parents are invited to create a Valentine-themed plate. Pre-registration is required.
Thursday, January 26
Southern NJ:
Story Playgroup – Cherry Hill
Drop by the Philly Art Center with your tots for creative play at the sensory stations, plus story time. Both walkers and non-walkers are welcome.
Northern NJ:
Mother of Preschoolers Monthly Meeting – Montclair
Have a cup of coffee while the little ones play at MOPS' monthly gathering, held at Montclair Community Church. Activities include brunch, speakers, and small-group chat for moms, with supervised crafts and activities for kids up to 6. FREE
Friday, January 27
Southern NJ:
New Mommy Tea – Cherry Hill
Brunch, yoga, and socializing are on tap at this Katz JCC event for new moms. The program is hosted by PJ Library.
Northern NJ:
Chinese New Year Celebration – Summit
Celebrate the Year of the Rooster at Reeves-Reed Arboretum. Crafts and stories are part of the fun for ages 3 and up.
Top photo: Story Playgroup. Photo courtesy of Philly Art Center.