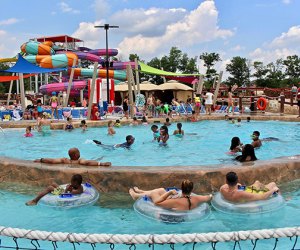 Weekday Fun in NJ: Labor Day, Free Concerts, Butterflies
Monday, September 5
Northern NJ
Labor Day Party at The Funplex – East Hanover
Have an action-filled Labor Day at The Funplex/Splashplex, featuring live music, games, and a barbecue (additional fee).
Northern/Central NJ
Play at Kidz Village – Woodbridge and Kenilworth
Take the tots and preschoolers to Kidz Village for a romp at this popular indoor playground, which will remain open on Labor Day. Play dress-up, hit the slides, or the games. Tip: Score a ticket discount by downloading the Kidz Village app. See details online.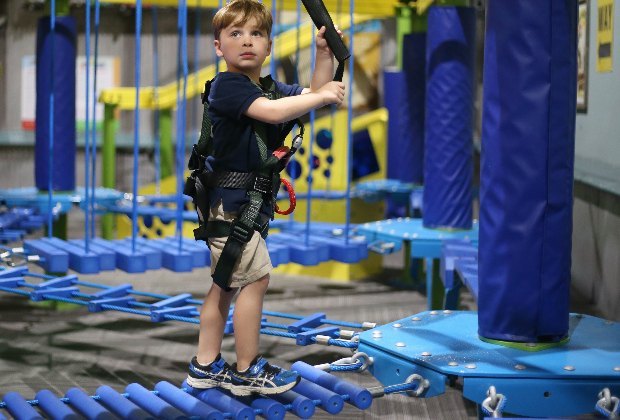 A young boy tests out iPlay's ropes course.
Jersey Shore
Labor Day Party at iPlay – Freehold
Head to this "indoor boardwalk" on Labor Day for go-karts, arcade games, a new ropes course and more family fun beginning at 10am.
Southern NJ
Penguin Awareness Weekend – Camden
Party with the penguins at Adventure Aquarium where guests can learn about penguins in the wild, witness feeding time, and take part in a "penguin pep rally."
Statewide
Ice cream! – varies
Grab a cone, a sundae, or another fancy treat at one of these destination-worthy ice cream shops around NJ.
Tuesday, September 6
Central NJ
Bouncy Booktime Tuesdays – Lambertville
Bounce on over to Lambertville Free Public Library for a morning of stories, crafts, and socializing. FREE
Northern NJ
Summerfest at Liberty State Park – Jersey City
Summer's not over at Liberty State Park! Enjoy a free outdoor concert by doo-wop band The New York Exceptions at the gardens behind Liberty House Restaurant. FREE
Wednesday, September 7
Northern NJ
Monarch Magic – Jersey City
Catch a glimpse of beautiful monarch butterflies at Liberty State Park. The program begins at the Nature Interpretive Center and continues outdoors. Pre-registration is required. FREE
Jersey Shore
Fantastic Fall Craft – Marlboro
It feels like fall at Marlboro Free Public Library, where children 2 and up are invited to create their own fall wreath while listening to seasonal stories. FREE
Thursday, September 8
Northern NJ
Uptown Storytime – Hoboken
Hoboken Historical Society welcomes preschoolers every week for stories and songs about city life. Pre-registration is required. FREE
Jersey Shore
Math Monsters – Lincroft
Introduce little ones to math through fun games and activities at Monmouth Museum. Free with museum admission
Friday, September 9
Jersey Shore
iPlay After Dark – Freehold
Missed the Labor Day fun? Top off a busy school week with rides and games at iPlay America, with go-karts, laser tag, a DJ, and giveaways.
Northern NJ
Family Friendly Concert Series – Madison
Don't miss the last of the summer concert series at Museum of Early Trades and Crafts. Sunnyside Jazz will perform popular songs of the 20th century on the museum's lawn. FREE
Top photo: Labor Day Party at The Funplex. Photos courtesy of the venues