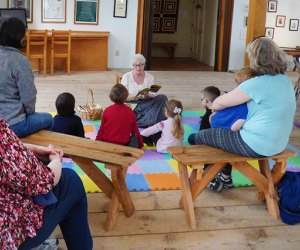 Weekday Fun for NJ Kids: Storytimes, Fishing Clinic, Makers Day
Spring has sprung, and Mommy Poppins is on board with a week full of seasonal activities. Spend time outdoors at events that include Playtime at the Zoo, Growing in the Garden, and Fishing Clinic for Kids. It's also a big week for free fun, with Art at the Library, Story & Craft Hour, Kids Music Go Round, and NJ Makers Day.
Read on for the best children's events the week of March 20–24, and don't forget to check out our Event Calendar and March GoList for even more early spring fun.
Monday, March 20
Northern NJ:
Playtime at the Zoo – Paramus
Kick off spring at Bergen County Zoo, where little ones can play with animal-themed toys and visit the zoo's inhabitants. FREE
Jersey Shore:
Art at the Library – Wildwood Crest
Wildwood Crest Library hosts this school-aged storytime with an artistic twist. Participants will experiment with mediums and themes from the story they listen to. FREE
Tuesday, March 21
Northern NJ:
Growing in the Garden – Morristown
Signs of Spring is the appropriate theme of this week's preschool workshop at Macculloch Hall. Participants will visit the gardens and enjoy stories and crafts. Pre-registration is required.
Various NJ:
Pottery Barn Kids Storytime – Short Hills, Hackensack, Princeton, and Shrewsbury
​Stop by Pottery Barn Kids every Tuesday for an entertaining storytime. Your child will receive a free gift after attending five events. FREE
Wednesday, March 22
Jersey Shore:
Story & Craft Hour at Historic Cold Spring Village – Cape May
Stories, music, and crafts are all part of this busy morning for preschoolers at Historic Cold Spring Village Visitor's Center. This week's theme is The Cape May Mitten Story. FREE
Northern NJ:
Barnes & Noble Storytime – Paramus
Swing by Barnes & Noble of Paramus with your preschooler for a morning of stories, crafts, and activities. FREE
Thursday, March 23
Northern NJ:
Mothers of Preschoolers (MOPS) Monthly Meeting – Montclair
Get to know other moms while the kids have supervised fun at this monthly gathering, held at Montclair Community Church. Brunch, guest speakers, and crafts are on tap. FREE
Jersey Shore:
Kids Music Round – Allentown
Preschoolers are welcome to sing, dance, and play instruments at this lively Allentown Library event. FREE
Friday, March 24
Central NJ:
Fishing Clinic for Kids – Flemington
Introduce kids to the basics of fishing at Echo Hill Park, where participants 6 and older will learn about fishing equipment and safety. Bring your own rods or borrow from the clinic. Pre-registration is required.
Northern NJ:
NJ Makers Day – Scotch Plains
Kids 4 and over will enjoy getting creative at this two-day event, chock-full of science and art workshops. Activities include beading, Lego towers, music storytime, plush kitty creations, beading, and Brushbot races. FREE
Top photo: Storytime at Historic Cold Spring Village. Photo courtesy of the venue.