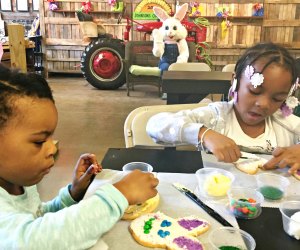 Weekday Fun for NJ Kids: Spring Break, Easter Bunny, Fairy Houses
Get ready for a jam-packed week! This upcoming one includes spring break for many NJ kids, plus pre-Easter festivities like Alstede Farms' Easter and Spring Family Festival, Pump It Up's Sensory-Friendly Egg Hunt, Turtle Back's Zoo Storytime with the Easter Bunny, and Oasis Family Farm's Easter Egg Hunt.
Spring-breakers will have a blast at METC's Spring Break Crafts, Reeves-Reed Arboretum's Fairy House Workshop, and New Jersey State Museum's School Break Planetarium Shows.
Read on for our best children's events the week of April 10–14, and don't forget to check out our Event Calendar and April GoList for even more spring break happenings
Monday, April 10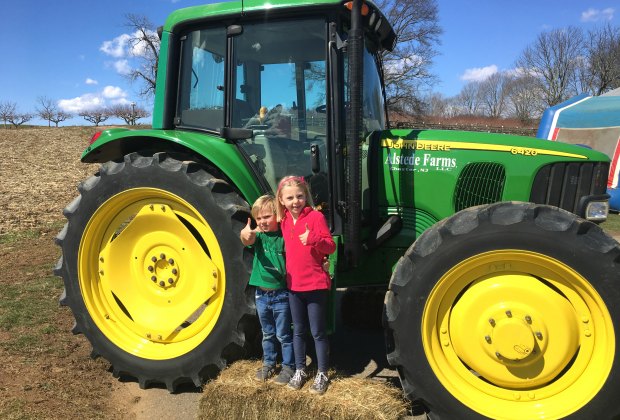 Celebrate Easter and check out cool farm equipment. Photo courtesy of Alstede Farms.
Northern NJ:
Easter and Springtime Family Festival- Chester
Get immersed in Easter and warm-weather fun at Alstede Farms, where activities include an Easter egg hunt, a visit with the bunny, farm animals, pony rides, a moon bounce, campfire, and much more. Activities take place all week.
Central NJ:
Easter Cookie Decorating – Medford
Have a sweet time at Johnson's Corner Farm decorating Easter cookies. Plus, enjoy an egg hunt hayride and other seasonal fun while you're there.
Tuesday, April 11
Northern NJ:
Spring Break Crafts – Madison
The Museum of Early Trades and Crafts presents four days of cool crafts for spring breakers, including origami frogs, broom making, wool felting, and garden pinwheels.
Various NJ:
Pottery Barn Kids Storytime – Short Hills, Hackensack, Princeton, Shrewsbury
Stop by Pottery Barn Kids every Tuesday for an entertaining story time. Your child will receive a free gift after attending five events. Don't forget to sneak in some shopping while you're there. FREE
Wednesday, April 12
Northern NJ:
Fairy House Workshop – Summit
Kids are invited to build adorable homes for fairies at Reeves-Reed Arboretum. The creations will then be displayed on the arboretum's fairy trail during the upcoming Daffodil Day. Pre-registration is required.
Jersey Shore:
Bingo at Colts Neck Library – Colts Neck
Colts Neck Library hosts a storytime and rounds of Bingo for all ages. Pre-registration is required. FREE
Thursday, April 13
Northern NJ:
Sensory-Friendly Easter Egg Hunt – Roselle Park
Kids with special needs and sensory sensitivity will have a great time at Pump It Up's egg hunt, complete with prizes, crafts, goodie bags, snacks, and Easter Bunny photos. Pre-registration is required.
Central NJ:
School Break Planetarium Shows – Trenton
Shoot for the stars over break at New Jersey State Museum's planetarium programs, which include Magic Tree House, Laser Kid Power, and Dream to Discover. See website for schedules.
Friday, April 14
Northern NJ:
Zoo Storytime with the Easter Bunny – West Orange
Visit the bunny at the zoo! Turtle Back Zoo welcomes the Easter Bunny, along with stories, photos, refreshments, and general zoo admission. Tickets can be purchased online.
Central NJ:
Easter Egg Hunt at Oasis Family Farm – Robbinsville
Oasis Family Farm offers tons of Easter fun, including several rounds of egg hunts with prizes, Easter Bunny photos, the Hoppin' Bunnyville game, and playtime in the Fun Zone. Pre-registration for egg hunt is required.
Top photo: Johnson's Corner Farm supplies all you'll need to decorate two large Easter cookies. Photo courtesy of Johnson's Corner Farm.