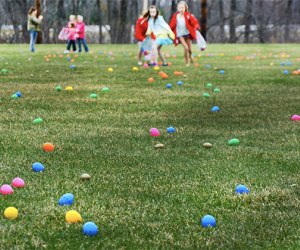 Weekday Fun for NJ Kids: Easter Eggs, Kung Fu Masters, Chocolate Works
Monday, April 3
Northern NJ:
Wild and Crafty Farm Tour – Paramus
Preschoolers will have a blast experiencing farm life at the zoo. Bergen County Zoo welcomes little ones to learn about farm animals through stories and crafts, then meet some of the zoo's own farm friends.
Central NJ:
Egg Hunt Hayride – Medford
Easter is in full swing at Johnson's Corner Farm with its egg hunt hayride. The ride will drop off participants in a field for egg hunting followed by an Easter Bunny visit.
Tuesday, April 4
Northern NJ:
Growing in the Garden – Morristown
Finding the Goldfinch is this week's theme of Macculloch Hall's preschool gardening program. Kids ages 3–5 will listen to stories, take part in crafts, and explore the gardens. Pre-registration is required.
Southern NJ:
Tyke's Tuesday at ISC – Cherry Hill
Preschoolers can get a workout every Tuesday at ISC's skating workshop. Skate lessons, rentals, snacks, and Funzone play are all part of the fun.
Wednesday, April 5
Central NJ:
Shaolin Warriors: The Legend Continues – New Brunswick
Bring your martial arts enthusiasts to State Theatre New Jersey for this Chinese martial arts spectacular. More than 20 kung fu masters will perform amazing hand-to-hand and weapon combat, just like you see in the movies.
Jersey Shore:
Sea Isle Easter Program – Sea Isle City
Celebrate everything Easter at this Jersey Shore holiday gathering. An egg hunt, face painting, and a visit with the Easter Bunny round out the fun. FREE
Thursday, April 6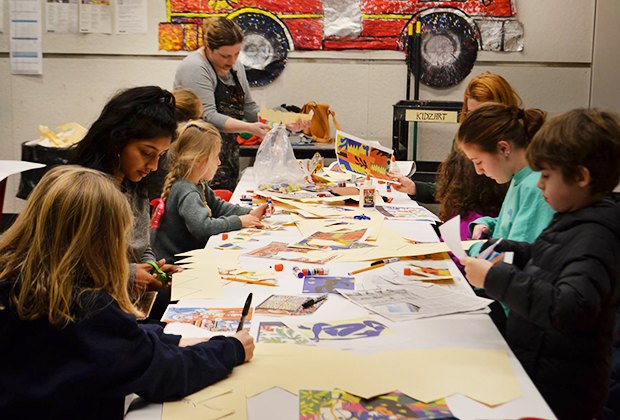 Make art at the Montclair Art Museum's Kids' Creativity Center. Photo courtesy of the museum.
Northern NJ:
Kids' Creativity Center at MAM – Montclair
While parents take part in Montclair Art Museum's Free First Thursday, the kids can work on their own masterpieces in the Kids' Creativity Center. Pre-registration is required, and the workshop has an admission fee.
Central NJ:
Tod Squad – Branchburg
Bouncing, exploring, and Playmaze fun are all part of the excitement at the Branchburg Sports Complex toddler playtime, with a new theme each week. Parents get a complimentary cup of coffee.
Friday, April 7
Central NJ:
First Friday Storytime – Hamilton
Kids 3–8 are invited to Tulpehaking Nature Center for storytime and a craft, with a wildlife or history focus. FREE
Northern NJ:
Mommy and Me at Chocolate Works – Montclair
Bring your child and your sweet tooth to Chocolate Works for a weekly workshop, where you'll make candy, play games, and dip goodies in the 6-foot chocolate fountain.
Top image: Go for a hayride and egg hunt at Johnson's Corner Farm. Photo by by Barbara Bresnahan via Flickr.