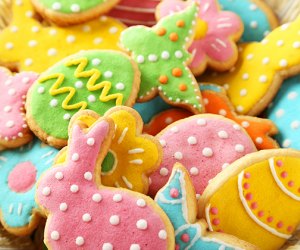 Weekday Fun for NJ Kids: Easter Cookies, StarLab, Brown Bag Ballet
Monday, March 27
Northern NJ:
Amphibians for Tadpoles – Paramus
Preschoolers are invited to spend the morning with froggy friends at Bergen County Zoo. The fun includes amphibian stories and crafts, plus a visit with the zoo's inhabitants.
Southern NJ:
Pottery for Kids – Bellmawr
Kids 6–14 can create a ceramic work of art at Bellmawr Library's pottery workshop. Participants will learn simple techniques and take home their projects. FREE
Tuesday, March 28
Central NJ:
Tod Squad – Branchburg
Toddlers can burn some energy bouncing, climbing, and playing on soft equipment, and exploring the Playmaze at Branchburg Sports Complex. Parents get a complimentary cup of coffee.
Jersey Shore:
MMKids StarLab Planetarium Show – Lincroft
Kids 7 and up will be seeing stars at Monmouth Museum's StarLab Planetarium. Participants will learn about the constellations and the mythology behind them, followed by a visit to Discover and Exploration. The planetarium is an additional fee to museum admission.
Wednesday, March 29
Central NJ:
Brown Bag Ballet – Lambertville
​If you have a budding ballerina in the house, check out this behind-the-scenes look at Roxey Ballet's repertory works. Participants will have the chance to meet the dancers and preview an upcoming production. Bring lunch along.
Northern NJ:
Mommy & Me Storytime – Montclair
Stop by Watchung Booksellers with your tots for a mommy and me storytime every Wednesday. Space is limited to 12 participants, so you may want to arrive early. FREE
Thursday, March 30
Northern NJ:
Uptown Storytime – Hoboken
Share stories and songs about city life at Hoboken Historical Museum's weekly storytime for preschoolers. Pre-registration is required. FREE
Southern NJ:
Story Playgroup – Cherry Hill
Drop by Philly Art Center for a fun morning of baby and toddler play. Walkers can explore sensory stations, while babies can enjoy manipulative play. No registration required.
Friday, March 31
Northern NJ:
Stuffed Animal Sleepover – Madison
Kids 3–6 are welcome to send their favorite stuffed animals for an overnight party at the Museum of Early Trades and Crafts. Come by for an afternoon of crafts, treats, and stories, then tuck in the stuffed animals for the night. Pick up the toys the next day. Pre-registration is required.
Central NJ:
Easter Cookie Decorating – Medford
Get a head start on Easter at this Johnson's Corner Farm cookie decorating event. Supplies will be provided to embellish two large cookies. The event takes place every day.
Photo via Bigstock.