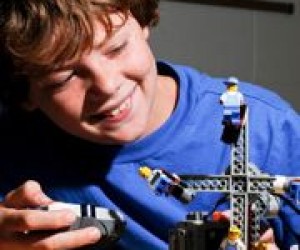 Indoor Play Spaces in New Jersey's Somerset and Mercer Counties
It's one day until spring--huh?? The east coast has endured some crazy weather in recent weeks, so we wise and hardy NJ moms know there is no guarantee that warm weather will be here anytime soon. Luckily, New Jersey has plenty of fun and exciting indoor play spaces to take the kids. Pack a bag, put on your snow boots, and head out to try out some of these awesome places in Mercer and Somerset counties.
Mercer County
Bricks 4 Kidz (Lawrenceville, NJ)
Bricks 4 Kidz Creativity Center uses Lego products in order to introduce children to the principles of science, technology, engineering, architecture and math. Through the use of lab-focused exercises, children have the ability to learn, create, and explore. Children can create models, play games, and have fun in a safe and enriched environment. Birthday parties, classes and camps are also offered.
Kid Netic (Hamilton, NJ)
Kid Netic is different from other family entertainment center. Children of all ages can find their own fun, with options such as soft play for the little ones, to open play, a multilevel jungle gym, laser tag, a laser maze and "Mt. Kid Netic", our eighteen foot climbing tower. Specialty nights are also offered as so busy parents can provide activites for their kids. There are also video games and an arcade for the older set. Prices start at 9.95.
Tiger Hall (Princeton, NJ)
Tiger Hall Play Zone and Activity Center is a 2,800-square-foot play and enrichment facility near the heart of downtown Princeton. Tiger Hall has an art room, a tumble room with bikes and scooters and a nearly 800-square-foot Play Room that is equipped with a stage, play house, mini ball pit and grocery store. There is also a parent lounge for relaxing, free wifi and cable television. Families can also eat a snack in our snack zone with free use of our microwave and refrigerator. Classes, parties and play dates can all be arranged. Costs begin at $6.
Somerset County
Children's Museum of Somerset County (Bridgewater, NJ)
The Children's Museum offers educational exhibits and programs, designed with the hope of inspiring every child's natural curiosity and creativity. For a $3 donation, children can explore hands-on exhibits such as "Animals around the World" and "Astronomy and Flight Day". Exhibits are open on the weekends; see the website for dates and times.
Branchburg Sports Complex (Branchburg, NJ)
Branchburg Sports Complex is home to Somerset County's newest and coolest arcade games. There are over 40 sports and adventure themed games for kids of all ages. In addition, the BSC has a PlayMaze designed for children ages 3 - 12 with 82 different play elements including slides, tunnels and bridges. Kids can enjoy the "Super Spiral Slide" or crawl their way through the Alligator Squeeze. BSC also has a four-level interactive laser tag arena, which is available for drop-in play and private parties.