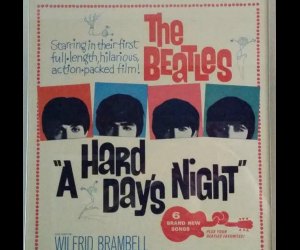 Weekday Picks: The Bard is Back, Shark Week, and the Beatles
Sea life is back on top with Dory's big debut last week; our review can help you decide if this movie is right for you and yours. If animated sea life sparks an interest in real things aquatic, young marine biologists will want to catch Shark Week on the Santa Monica Pier at Heal the Bay's Aquarium. From the adorable (darling baby shark pups) to the daunting (shark feeding), kids will learn that there is more to these creatures of the sea than a big set of jaws. Though small in scale, Santa Monica's aquarium is rich in substantive aquatic info and is a great way to introduce smaller children to the exploration of sea life (that's why it's a nominee for Best of LA!). Those who prefer land animals can finish the day riding horses on the Pier's classic carousel, which turned 100 this month.
Of course, nothing says summer like al fresco theater in Griffith Park. Revel in the tragedy of Shakespeare's hunchbacked despot, Richard the III. Or, for some fab pop culture, the Grammy Museum opens an exhibit in honor of the Beatles this week. Travel back in time tp when music was recorded on vinyl and played on a record player. The Grammy Museum is one of those perfect family venues: we grown-ups get to reminisce about the music of our own youths while kids are entertained with multiple interactive and immersive musical activities.
Finally, participating Microsoft stores offer free coding camp this week with two hour sessions Monday through Thursday. Junior coders can learn to create their own games, utilizing the Kodu Game Lab.
Find more ideas in Mommy Poppins' Event Calendar, Monthly GoList, and weekly newsletter.
1. Finding Dory – Monday
When we can see a kids' movie at the El Capitan, that's what we like to do. The theater itself is splendid, and each film event is accompanied by a live pre-show. For Dory, this means bubbles, and it's not to be missed. Crowded on the weekends, it's much more manageable on a Monday.
See all Monday events
2. Shark Week – Tuesday
Heal the Bay's Santa Monica Pier Aquarium dedicates the week to the ocean's most fearsome predator. But there is more to sharks than carnage; they play an integral part in our ecosystem, which is the lesson this week is all about.
See all Tuesday events
3. Jazzy Ash and the Leaping Lizard's Band – Wednesday
As part of its Wonderful Wednesday summer series, the Beverly Hills Public Library hosts this free concert in the Civic Center Plaza.
See all Wednesday events
4. Richard the III – Thursday
Free Shakespeare season at Griffith Park has begun. Spread out a blanket or bring a low chair. Perhaps this is how they did it in Stratford-upon-Avon?
See all Thursday events
5. The Beatles – Friday
LA Live's Grammy Museum celebrates 50 years since the Fab Four's US debut with Ladies and Gentlemen…the Beatles. Introduce your moppets to the mop tops.
See all Friday events
There are always plenty more activities on our Event Calendar and in our monthly GoList. And if you don't receive our newsletters full of suggestions for family fun, you really should sign up for our weekly newsletter…it's free!
Photo by the author