7 Best Outdoor Ice Skating Rinks in Los Angeles for Kids and Families This Holiday Season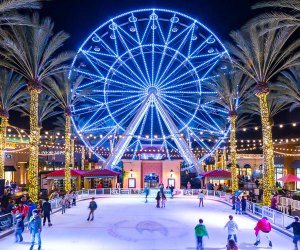 11/11/22
- By
Roberta B
Outdoor ice skating rinks in sunny Los Angeles? Oh, we just happen to know about a great place or seven! One thing Angelenos love doing during the winter months is pretending that it's winter, and the most fun way to do it is by turning parking lots and other open spaces into outdoor ice skating rinks for the holidays. Whether your family is trying ice skating for the first time, or you've got budding figure skaters and hockey players looking for a change of scenery, nothing says Southern California quite like the sight of kids and families in tank tops and mittens figure skating in the sunshine.
From Downtown Los Angeles to the beaches of Santa Monica and Huntington Beach, we know where to find the best cool-yet-sunny ice skating rinks in Los Angeles and OC. For more holiday fun, from Polar Express train rides to the best holiday lighting celebrations, check out our Guide to Holiday and Christmas Events for Los Angeles Families.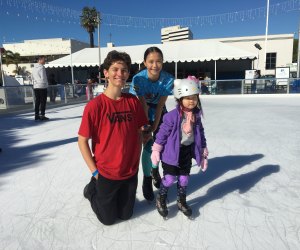 Kids of all sizes love Ice at Santa Monica. Photo by the author
Our best Parent Tip: Be sure to bring along a change of clothes! Southland ice rinks on a sunny day have more in common with a Slip 'n' Slide than with a frozen mountain lake, and falling with a splash is only funny when you know there are dry clothes waiting.
Open: November 10, 2022 - January 16, 2023
Admission & skate rental: $20
The seasonal ice skating rink by the sea, ICE at Santa Monica, is a local favorite. The rink has been a regular part of the beach city's winter scene for more than a decade, setting up in a parking lot on the corner of 5th and Arizona just steps from Third Street Promenade. Skate rentals are included with the price of admission, and hot dogs, cocoa, and other treats are available rinkside. The annual Grand Opening Celebration features free skating and a community celebration, though the usual show with celebrity skaters isn't happening this time around. Skating lessons have not yet been confirmed as part of the programming this year, but an event tent is available for birthday parties.
RELATED: Where to Find Snow in Los Angeles

Snoopy's favorite rink is in Pershing Square. Photo courtesy of Downtown on Ice
Open: November 23, 2022 - January 1, 2023
Admission is $20, skate rental included; Lockers are $5
The Pershing Rink is back! The annual Downtown on Ice outdoor holiday skating rink has been an LA institution for more than 20 years and is the city's largest outdoor rink at 7,200 square feet. Families glide under sun and stars, enjoying free concerts on many days. The grand opening event is November 23 with live performances planned. Other events at the ice rink include youth programs with shows for kids on Saturdays, and an annual skate date for Snoopy (accompanied some years by world champion pair skater Tai Babilonia). Tickets must be purchased in advance online.
Extended skating hours apply during school vacation time. Underground parking is available. Parties are an option on Mondays and Tuesdays before December 13.
RELATED: Polar Express Train Rides and Christmas Trains in Los Angeles

LA Kings Holiday Ice Rink offers great holiday photo ops with that giant, sparkling tree in the middle. Photo courtesy of LA LIVE
Planning to reopen late November, 2022, details TBA
Admission starts at $25 per session, skate rental included
LA Live offers one of LA's best seasonal ice rinks and is adorned by a giant, family photo-worthy Christmas tree in the center. The ice quality is good; setting is festive and fun, and all of the entertainment of the LA Live complex is right there.
Fast passes are offered in advance online for $45. Group pricing is available for parties, and Supper and Skate discounts are offered at several LA Live restaurants.
Note that although the address is listed as Olympic Blvd., the rink faces Chick Hearn; closest parking is Lot W, entrance B, on Chick Hearn (price varies from $10-$20 depending upon Staples/Nokia Plaza events). There are 3 sessions per day from 5pm to midnight.
Open: December 16, 2022 - January 8, 2023
Admission: $10 per session, skates included
Rancho Palos Verdes brings back its popular synthetic outdoor ice skating rink at the Civic Center. Synthetic ice is a bit slower than the cold kind and might take a little getting used to, but there's no getting soaked if you fall! The rink opens for the weekend of December 16-18, then reopens after Christmas, for the week leading up to a New Year's Eve bash. Themed events are planned on certain dates plus an 80s disco on New Year's Eve. Sessions are 30 minutes, and advance reservations are strongly recommended.
RELATED: Best Christmas Lights and Awesomely Decorated Homes around LA​

Ice skating in the SoCal sunshine is a hoot! Photo by Mommy Poppins
November 4, 2022 - January 1, 2023
Admission: Adults & Children $25 including skate rental, or $23 bring your own skates; Toddlers $21 includes skate rental; Helmets $5; Jump the Line pass $45; Season pass $199
The Spectrum's seasonal ice rink is open for business in Giant Wheel Court, welcoming OC families who want to glide across the ice in the SoCal sunshine and give new meaning to Orange Slushy. Check the rink's website for specific seasonal times and closures as times vary on some days; admission is for one session, between ice cleanings. Parties are available, and season passes (no black-out dates) cost $199; for more information call the rink box office at 714-462-7027.
Open: November 25, 2022 - December 31, 2022
Admission: $35, includes skate rental
Paséa's outdoor Oceanfront Ice Rink is right by the sea, offering unbeatable ocean views at a rink with real ice. Skating is in 60-minute sessions, and optional upgrades include fire pits and cabanas, where guests can enjoy s'mores, spiked cider, cocoa, and champagne. Special themed nights include Santa Claus visits on Wednesday nights, as well as special music nights and an ugly sweater skate. Skating should be booked in advance.
RELATED: Winter Day Trips from Los Angeles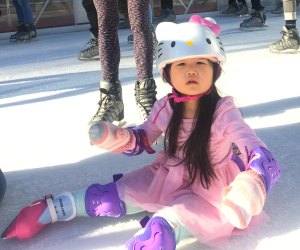 On a hot day, sitting on the ice can even feel good! Photo by the author
Open: November 18, 2022 - January 8, 2023
Admission: $22, includes skate rental
Huntington Beach has not just one but two seasonal ice rinks! Beach skaters can also enjoy this rink by the Huntington Beach Pier, open rain or shine, daily through the holiday season including Christmas Eve, Christmas Day, New Year's Eve, and New Year's Day. On themed days enjoy carolers, ugly sweater skating, and more. Skate with an unobstructed view of pier and sea.
Originally published in 2011