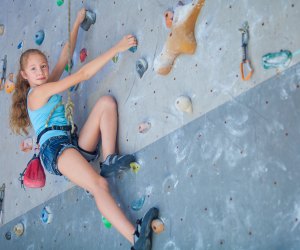 Rock Climbing Classes and Centers for LA and OC Kids
All parents talk about their kids "climbing the walls"—but are yours truly climbing the walls, the trees, and random objects not meant to be climbed? Do they take the game of hot lava so seriously that they have broken furniture? Or perhaps they just can't stop talking about the rock wall at summer camp? Maybe it is time for you to consider signing them up for a rock climbing class. Rock climbing is a full-body sport that builds strength, endurance, and stamina. It also challenges the mind as climbers make decisions, work out routes, and challenge themselves physically. And, as any kid who has been on a climbing wall at the park can tell you—it can be just plain fun! Due to proliferation of rock climbing gyms, this is now both an indoor and outdoor sport, and you no longer have to go far to find some challenging terrain.
Nearly every climbing gym in the LA/OC area offers birthday parties for kids, and most permit children to climb with an adult present. If your child really enjoys climbing, a youth team (many gyms offer non-competitive and competition teams) is the best way to get lots of practice and instruction. If your kids have not found a sport they like (amongst the many on our classes guide), maybe this is the one!
AdventurePlex
1701 Marine Ave
Manhattan Beach 90266
310.546.7708
Ages 5 and up
AdventurePlex offers rock climbing classes, camps, and open climb times. Classes are designed for both beginners and intermediate climbers, and families can participate together. Open climb is daily from 11am to dusk; reservations are strongly recommended. The climbing wall is located outdoors and is closed during inclement weather, as well as for private events.
Boulderdash
800 Hampshire Rd
Thousand Oaks 91361
805.557.1390
Ages 4 and up (classes), all ages (open climb), ages 6–17 (team)
Boulderdash offers ongoing, 1.5-hour-long afterschool classes three days per week—you sign up for a series of four, and pick your day. Classes focus on building the strength and skills needed by intermediate-level climbers. Six different open climb sessions are also available each week (reservations needed—parents can climb too, or drop and go). For kids who have found their sport: Team Boulderdash offers two 3-hour classes per week and competitions for kids ages 6–17 (space is limited).
Climb X
18411 Gothard St Unit 1
Huntington Beach 92648
714.843.9919

Climb X offers a Kids Club program on Thursdays from 4pm–6pm. This program teaches kids to be self-sufficient climbers, learning proper knots and belay techniques. Kids can also participate in competitions as part of the program. Call or stop by for full details about climbing levels and costs.
Hangar 18
Riverside
6935 Arlington Ave
Riverside 92503
951.359.5040
Upland
256 E Stowell St
Upland 91786
909.931.5991
South Bay
4926 W Rosecrans Blvd
Hawthorne 90250
310.973.3388
Hangar 18 has three locations with youth teams and instruction. The Upland location offers a Micros team for kids ages 3–10 (free with membership). Meeting weekly, the kids learn climbing skills and build strength and endurance. Kids ages 10 and up can join a youth team, which practices at the Upland location; beginning, intermediate, and advanced climbers are separated and work with different coaches. Hangar 18 South Bay has a Junior Team for beginners and those who just want to improve their climbing (but not compete). The competition team is for those ages 9–17.
REI Manhattan Beach
1800 Rosecrans Ave Ste E
Manhattan Beach 90266
310.727.0728
Ages 8 and up (indoor class); 13 and up (outdoor classes); 14 and up (rescue class)
The family-oriented (ages 8 and up) Fundamentals of Rock Climbing class teaches the basic techniques of climbing on an indoor wall and covers climbing equipment and how to use it. The 2-hour class is scheduled every month; sign up online. REI also offers outdoor classes (an adult must accompany minors to these classes): Intro to Outdoor Rock Climbing (ages 13 and up), a 6-hour class scheduled 3 times per month; and the intermediate-level classes Rock Climbing Anchors (ages 13 and up) and Artificial Rock Climbing Anchors (ages 13 and up)—outdoor classes are held at Stoney Point Park in Chatsworth. Rock Climbing Rescue (ages 14 and up), also an intermediate class, is a 3-hour class at the store.
Rockreation
Los Angeles
11866 LaGrange Ave
Los Angeles 90025
310.207.7199
Costa Mesa
1300 Logan Ave
Costa Mesa 92626
714.556.7625
Both LA-area Rockreation locations offer regular Kids' Climb Times (two supervised hours with a staff belayer, five kids max—so reserve your spot!). If your child is age 9–16 and wants more instruction, he can join a youth climbing team. Each location has a competition team with a significant time commitment, as well as a less-intense, non-competition team for those kids who are newer to the sport or not interested in competing, but who want to improve their climbing skills.
Santa Monica YMCA
1332 6th St
Santa Monica 90401
310.393.2721
Ages 5–17
Not a member? That's OK! Non-members are welcome to register for classes at the Y. The kids' climbing club meets every Friday evening for 45 minutes. Students learn teamwork, problem-solving, and communication skills as well as how to climb. Visit the website or call for start dates of upcoming sessions.
Sender One
1441 S Village Way
Santa Ana 92705
714.881.3386
Ages 4–16 for classes, 7–18 for teams
This climbing gym has a variety of opportunities for kids! The Climbing Club provides beginning instruction in a fun, social, and supportive setting to kids aged 4–16. Kids aged 7–18 can go on to join the Junior Team, which includes individualized coaching twice a week, as well as the opportunity to compete in competitions. More advanced and serious students (ages 7–18) can try out for the Competition Team, which competes in local, regional, and national events.
Thresh Hold
2111 Iowa Ave Ste A
Riverside 92507
951.742.8479
No set minimum age; kids must have the physical dexterity needed to climb, tie knots, and belay
In the Approach youth program classes, students learn rapelling, belaying, knot tying, movement techniques, spotting, and bouldering. Classes are two hours long, once per week, for two months. Thresh Hold also has a non-competitive Ascent youth team, where kids learn about route reading, do advanced climbing and training, and participate in cross training and team building. The Summit youth competitive team continues with advanced techniques and competition preparation. Thresh Hold also offers yoga classes and personal training services.
Top photo via Bigstock