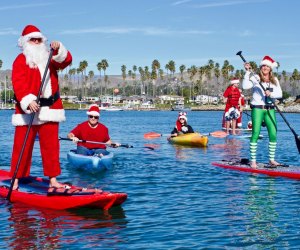 Safer Santa Claus Visits for Los Angeles Kids in 2020
Santa Claus is coming to town. For a minute there, it seemed like we were going to have to stick to virtual Santa visits this year, but the elves put their heads together to come up with some safe and socially distant solutions; the reindeer covered their hooves in hoof sanitizer, and Santa & Mrs. Claus are finding ways to keep distance in their finest festive masks.
Only in LA does Santa trade his reindeer for a paddle board, reside in a souvenir worthy snow globe, hang at his favorite adobe, or ski the sunny slopes. If traditional pictures are on your list, there are loads of places that have gone contactless this year, making holiday card photos simple and safe. (No one will ever forget that these are the 2020 pictures, with masks on every shining face!) There are even plenty of drive-thru experiences—and one drive-in show—where kids can wave at Santa from inside a cozy car.
Naughty or nice, here are the spots where LA families can find Santa this year.

Due to concerns about COVID-19, we recommend following all of the health and safety precautions in place, as mandated by the CDC. This includes social distancing, wearing a mask, frequently washing hands and/or using hand santizer, and staying home if you're feeling under the weather. With new stay-at-home restrictions coming out this week, some of the activities below may not remain viable; please be sure to follow state mandates. We want this to be a safe, happy holiday season as we navigate this difficult time.