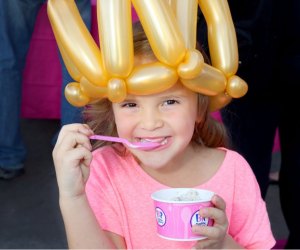 35 Birthday Freebies for Kids in Los Angeles: Free Stuff on the Big Day
The sticker price for kids' birthday celebrations can be huge, but did you know there's lot of free stuff to do with kids on their birthday? Many SoCal businesses offer birthday clubs, treats, and freebies for kids on their big day. As the parent, you will need to register the birthday kids—and oftentimes yourself, too, before adding your children as family members. Check the age ranges on the offers below, as they vary. Go ahead and sign up now, and the coupons and emails will start rolling in while you are busy planning a birthday party.
Free Food on Your Kid's Birthday
1. Baskin Robbins
Many SoCal locations
Adult must register and then add additional family members. All family members receive free ice cream coupons on their birthdays.
2. Bubba Gump Shrimp Co. and all Landry's Brands
SoCal locations in Anaheim, Hollywood, Long Beach, and Santa Monica
First, join Landry's Select Club on the website. Although it's a $25 one-time per lifetime fee to join, as soon as you do, you get a $25 reward—so, it's a wash. By joining the club, you then get emails with a free $25 birthday meal that you can use at the restaurants. That's a sweet deal.
3. Cold Stone Creamery
Multiple SoCal locations
When you join Cold Stone Creamery's eClub, you will receive a buy one creation, get one creation free birthday coupon. Coupon valid 7 days before your birthday and 7 days after your birthday.
4. Denny's
Multiple SoCal locations
Kids (and adults) get a free Grand Slam Breakfast (two eggs, two pancakes, two sausages, and two slices of bacon) on their birthday. Bring your ID.
5. Red Robin
12 SoCal locations
Add your kids ages 17 and under to your Red Robin Royalty account to receive a free gourmet burger on their and your birthday.
6. Ruby's
20 SoCal locations
When you sign up your kids for the Ruby's Kids' Club, they get a free shake on their birthday. If your kid's birthday falls on a Tuesday, some locations offer free kids' meals.
7. Corner Bakery
Join the eClub and get a free pastry your birthday month -- whether that means cookies, cake, bars, or something else. You must be over 18 to register, but we're pretty sure you can slip that cookie to your kid.
8. Arby's
Anyone over the age of 13 can sign up for the email list and get a coupon for a free shake sent their birthday week.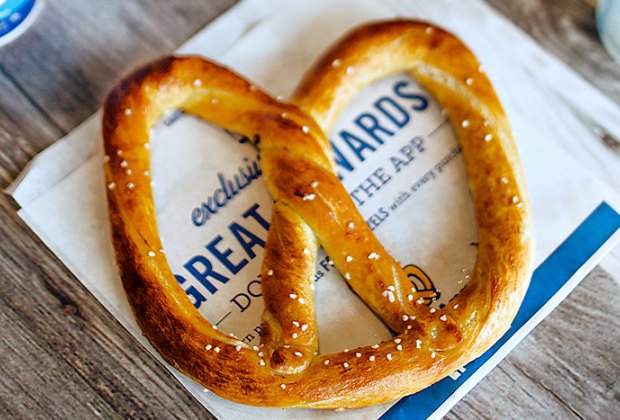 Birthday pretzels are free on your birthday. Photo courtesy of Auntie Anne's
9. Auntie Anne's
Does your kid have a smartphone? They can get a free pretzel their birthday month by signing up with the Pretzel Perks rewards program.
10. Baja Fresh
Kids 13 and up can sign up for Club Baja, and in addition to coupons throughout the year, get a special treat birthday treat.
11. Boston Market
Kids and adults get a free birthday dessert (when purchasing a meal) after signing up for the VIP Club.
12. IHOP
What kid (or adult) doesn't love free pancakes? Kids 13 and up can register for the rewards program and get free pancakes on their birthday.
13. Dunkin Donuts
It's time to eat the donuts. Kids 13 and up can get a free beverage on their birthday for registering with the rewards program.
14. Olive Garden
Kids 13 and up can sign up on the website and get a free dessert.
15. Jersey Mike's
Subs away! Kids can sign up (if they have an email address) on the website and get a sub and a drink on their birthday.
16. Pizza Hut
It's not free pizza, but it's free. Kids 13 and up can sign up for the rewards program on the website and get a coupon for free cinnamon sticks on their birthday.
17. Benihana
Locations throughout SoCal
Enroll kids 12 and under in the Kabuki Klub and they'll get a complimentary mug with the purchase of a kid's meal the month of their birthday. Once they're over 12, the birthday gift is a free meal (for adults, too!).
18. Sprinkles Cupcakes
Sign up for the Sprinkles perks program and visit at least 1 time to get your free birthday cupcake.
19. Susie Cakes
Get two free cupcakes for signing up with the rewards program and one free slice of cake on your birthday. Just download the app and visit the store once before your birthday. The cake slices are huge, moist, and delicious. ​
RELATED: Free Admission for Kids at SoCal's Biggest Family Attractions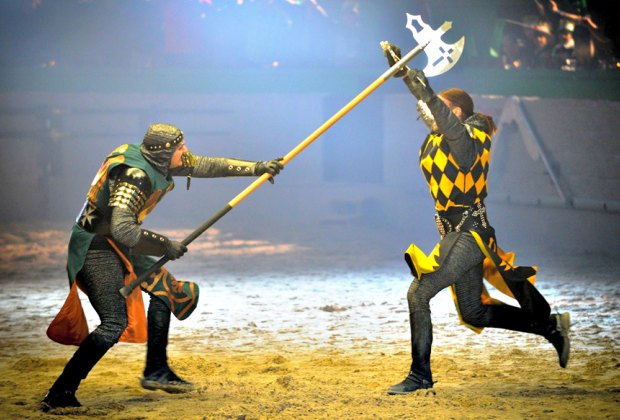 Free kids dinner at Medieval Times. Battle royal at the King's Court. Photo courtesy of Medieval Times
Free Activities and Destinations for your Kid's Birthday
20. Legoland
Carlsbad
Details about kids (under 12) free on their birthday on the website. Be sure to bring a passport or birth certificate and celebrate your kids' next birthday in Carlsbad.
21. Medieval Times
Buena Park
Ye olde dinner and joust is offered free to all members of the Birthday Fellowship and King's Court - which is medieval for "email list."
22. Brunswick Bowling
Various SoCal locations
An adult signs up for member rewards and get a $20 coupon. Available at Brunswick, AMF, Bowlero, and Bowlmor locations.
23. Chuck E Cheese
Many SoCal locations
A parent must sign up for the Chuck E Club; members receive deals and a special surprise on their child's birthday.
24. Fiesta Village Family Fun Park
Colton
Sign up for the Fiesta Village Fun Club and get 50 percent off 1 admission on your birthday. Okay, so not totally free but totally worth it.
25. Mountain High
Wrightwood
Mountain High is one of the easiest ski resorts to get to from LA and OC and ideal for a skiing day trip (see our review). What makes it even better for people with winter birthdays is the free lift ticket or free tubing ticket. Nothing to join—just turn up with a photo ID (or birth certificate for kids) to prove today's the day. (Of course, if they're in 5th grade, they can ski free all season!)
26. Kayaking
San Diego
It's worth going a bit farther for a big ticket item, right? Mission Bay Aquatic Club in San Diego will treat the birthday boy or girl to a kayak or paddleboard rental for 2.5 hours of fun.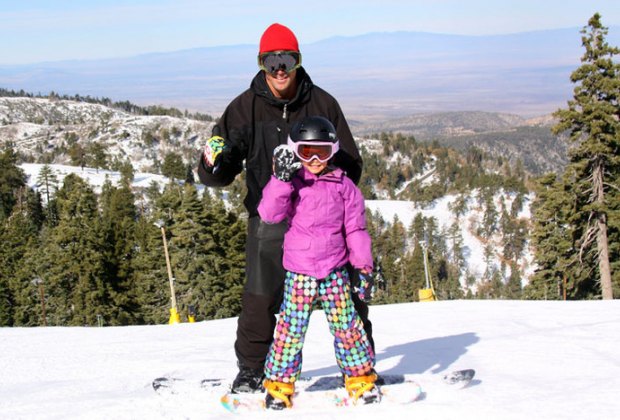 Free birthday lift ticket for kids. Photo courtesy of Mountain High
Free Retail Store Offers on Your Kid's Birthday
27. Barnes and Noble
Several SoCal locations
Register your child for Barnes and Noble's Kids Club to receive a free cupcake coupon the week of his or her birthday. This one is for kids 12 and under only and can only be redeemed at locations with in-store cafes.
28. Children's Place
Many SoCal locations
Sign up for myPlace rewards, add up to four children (14 and under) to your profile, and they'll receive a 20 percent off coupon to spend on your birthday.
29. Old Navy
Many SoCal locations
Sign up to receive emails from Old Navy and add your kids (10 and under) to the birthday club. Kids receive a surprise—and so will you if you enter your birthday.
30. Carter's
Many SoCal locations
Add your kids to your account and get a free birthday gift for them to enjoy.
31. Justice
Many SoCal locations
Sign up for the rewards program to get a free birthday gift.
32. Sephora
Many SoCal locations
Kids who sign up for the rewards program get a free sample size gift on their birthday. Obviously this is perfect for teens and tweens, but Sephora also offers skin and sunscreen products for all ages.
33. Ulta
Many SoCal locations
Similar to Sephora, the free rewards program offers a free "feel pretty" birthday gift.
34. Kohl's
Several SoCal locations
The Kohl's "Yes2You" free rewards program comes with a free birthday gift. The gift comes via email and varies, but can be up to a free $10 Kohl's cash coupon.
35. DSW Shoes
Several SoCal locations
Birthday kids get a free $5 coupon to use on their birthday if they've signed up for the DSW VIP rewards program. Okay, so maybe $5 won't buy a pair of sneakers, but DSW also offers accessories, socks, and other lower cost items.
Originally published April 14, 2017