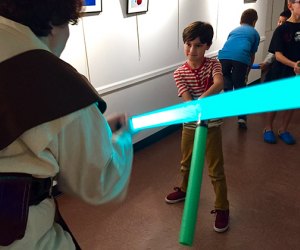 Weekend Fun: Retro Gaming, Fishing Derby, Slime Fest
It's on like Donkey Kong at the Long Island Retro Gaming Exhibit. Show off your joy stick skills this weekend and teach your wee ones what gaming life was like before iPads. Or cast a line at the Snapper & Crab Derby off of Captree Pier. Let the kiddies make ooey gooey slime (and let someone else clean up after) at Slime Fest in Syosset.
Check out our August GoList for the best family events throughout the month. For more seasonal activities, pop over to our Summer Fun Guide or our day trips guide. Check out our guides to Long Island playgrounds or amusement parks and water parks for more family adventures.
Of course, our Event Calendar is loaded with fun, daily happenings for Long Island kids.
Don't forget to check out our brand-new local DEALS page, where you can score discounts on camps, classes, birthday party packages, and more for LI kids. Check back often as we're constantly adding more.
Don't see a great event here? Add it to our calendar yourself.
All Weekend
Bridge It — Port Jefferson
Using materials provided by the Maritime Explorium, design and build a structure that spans an area and supports as much weight as possible.
Elephant & Piggie: We Are in a Play — Smithtown
This musical experience, taken from the pages of Mo Willems' beloved children's books, will leave audiences doing the "Flippy Floppy Floory" dance all night long. Weekends through August 20.
Freckleface Strawberry — Northport
Freckleface Strawberry will do anything to get rid of her freckles—from scrubbing them with soap to caking on makeup. Watch her antics at the John Engeman Theater.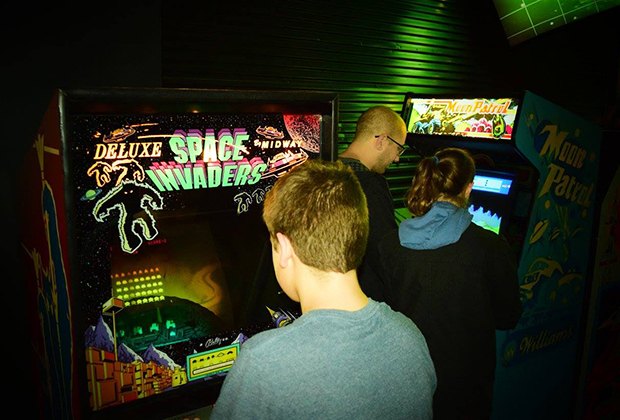 Step back in time at the Retro Gaming exhibit at the Cradle of Aviation. Photo courtesy of the museum
Long Island Retro Gaming Exhibit — Garden City
Introduce your kids to the video game favorites you enjoyed as a kid. Dress up in cosplay, enter tournaments browse vendors and more at the Cradle of Aviation.
Peconic Bay Medical Center Family Festival — Riverhead
The hospital fundraiser features rides, games, and prizes. Enjoy a fireworks show on Friday, August 11.
Snapper and Crab Derby — Bay Shore
Captree State Park is hosting its annual fishing derby. Bring your own equipment or rent some from the bait and tackle shop and compete for prizes. FREE
See all events happening this weekend.
Saturday, August 12
Amazing Louie Magic Show — Farmingdale
Magicians and illusionists fill the stage with sleight-of-hand tricks and more.
The Frog Prince — Port Jefferson
Pompous Prince Darnay crosses a kindly enchantress and finds himself in a lily pad of trouble. In his new-found (and clammy) skin, he learns lessons of life and love when he meets the smart, funny, and independent Princess Madrigal.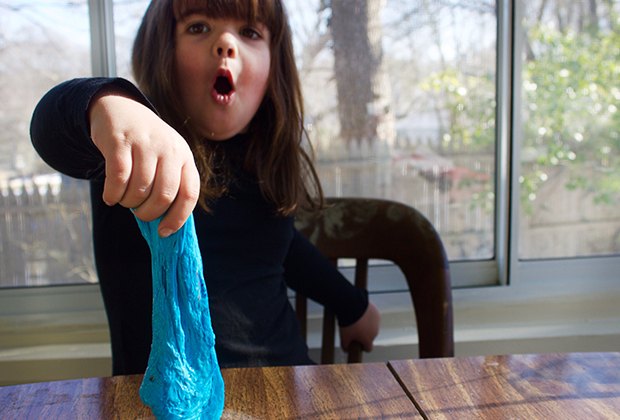 Get slimed, in a good way, in Syosset. Photo by Ally Noel
Slime Fest — Syosset
Learn how to make floam, glitter, color-changing, and many more kinds of slime. Enjoy a massive dance floor and disco lights.
Summer Concert Series — Oyster Bay
Bring a chair and blanket and enjoy music from Fleetwood Macked and the beauty of Planting Fields Arboretum. Pack a picnic or purchase snacks, sandwiches, desserts, and drinks from the park's caterer. FREE
Where Dragons Fly — Smithtown
Enjoy hands-on activities at Caleb Smith State Park Preserve, followed by outdoor capture, identification, observation, and release of some fascinating dragonflies.
I Love America Night — Riverhead
Watch big wheels, figure-8, stock car racing, and more at Riverhead Raceway. Enjoy a fireworks show as the sky darkens.
See all Saturday events.
Sunday, August 13
Long Island Live Steamers — Brookhaven
Located in Southaven County Park, visitors can find rideable steam, diesel and electric trains operating on eight acres of scale tracks.
Nature Sundays for Children — Oyster Bay
Step back in time and be inspired by Coe Hall's historically furnished rooms featuring original stained glass windows imported from Hever Castle in England. Create your own stained glass masterpiece. FREE
Polo at the Park — Bethpage
​Enjoy the sport of kings on the sprawling grounds of Bethpage State Park. Make a day of it with the family; bring a tailgate or picnic.
Turtles, Snakes & Frogs Oh My! — Oakdale
Meet Myrtle the Turtle and her friends during an interactive program at Connetquot River State Park Preserve that introduces children to turtles, snakes and frogs.
Top photo: Try out some cosplay at the Long Island Retro Gaming Exhibit. Photo by the author