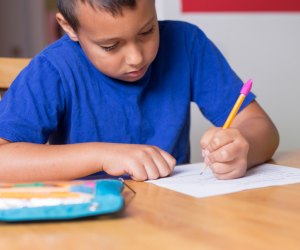 Weekday Picks for Kids: Vote for These Fun Events - November 7 - 11
With Election Day on Tuesday and Veterans Day on Friday, parents get two additional days to create memories. Of course, that also means two more days many of us will struggle to fill the time with activities that are fun and educational. Fear not, this holiday week, the Poppins crew has you covered. On Tuesday, have your kids participate in Elect This! in Cold Spring Harbor, take on painting Linda Layered Cake from Shopkins fame in Amityville, or attend a Holiday Mini Camp at Culture Play in East Meadow. The rest of the week is pretty sweet, too.
While you might not need our ultimate guide to indoor activities yet, you might as well bookmark it now -- winter is coming -- like it or not.

Monday, November 7 - Open Play at Le Play Cafe - Bellmore
Real-life themes come to life for young ones with realistic play at one of several stations, including, dress up , market place, kitchen, doll house and more. There are also a train, LEGO and tool tables, along with trucks and puzzles. Parents get to chill with free WiFi.
See all Monday events.
Tuesday, November 8 - School's Out Camp - Rockville Centre
School's out...at least for the day! Give children a day of hands-on fun as they get to discover science. Explore 17 acres of nature, visit live animals, conduct experiments, and participate in science shows hosted by their staff of professional science teachers.
See all Tuesday events.
Wednesday, November 9 - Open Play at Wood Kingdom - Farmingdale
Children up to the age of 10 will burn off every ounce of energy in the labyrinth of seemingly endless inflatable bouncers and climbing walls.
See all Wednesday events.
Thursday, November 10 - Tiny Tots: Nature Discoveries Sandy Feet - Smithtown
The "Let's Discover Nature" Hour is a special time for both parent and child to discover the wonders of their natural world together. Each program's theme will use nature explorations and hands-on activities as a springboard for learning. Every other Thursday.
See all Thursday events.
Friday, November 11 - A Letter to My Hero - Garden City
Your children can honor the brave men and women that serve our country on a daily basis by crafting a letter that will make its way to those who have safeguarded our country.
See all Friday events.
Top photo: Children get to personally thank our country's Armed Forces this Veterans Day at the Long Island Children's Museum by writing letters.