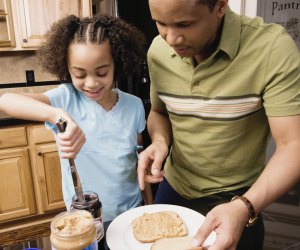 Weekday Picks for Kids: Making Sandwiches and Dodging Ghosts - October 17-21
It's another fun, festive and creative week for Long Island kiddos. Color inside the lines at the Farmingdale Library, use your five senses during some apple-licious projects, watch The Little Mermaid (with a twist) come to shore in Ronkonkoma, and play science-themed mini golf on the cheap in Bridgehampton.
Plus, don't miss out on all of the spooky fun. Check out our Long Island Halloween Guide today!
Monday, October 17
Volunteer Opportunity: Making Sandwiches - Merrick
Bring your own bread to this non-denominational volunteer opportunity. The peanut butter and jelly flow until the last slices of bread are covered. Completed sandwiches are delivered to a soup kitchen in Freeport. Parental supervision required.
See all Monday events.
Tuesday, October 18
stART (Story + Art) at LICM - Garden City
Listen to engaging stories and then recreate the magic with literature-inspired activities and crafts.
See all Tuesday events.
Wednesday, October 19
Sukkot Pizza in the Hut Celebration - Dix Hills
In celebration of Sukkot, children dine on pizza while Dr. Shnitzel amazes with his exciting and educational mad science workshop. Expect slime, toilet paper, leaf blowers and more.
See all Wednesday events.
Thursday, October 20
Hands-On History - Stony Brook
The past comes alive for kids through activities and objects. Parents will enjoyLong Island in the Sixties, filled with history and interesting artifacts.
See all Thursday events.
Friday, October 21
Spooky Night Tour - Riverhead
This 50-minute guided tour is run by a professional storyteller who will take you on a haunting journey. Tales include phantoms, criminals, and ghoulish ghosts.
See all Friday events.
Top image: Don't miss the opportunity to give back with your little ones in Merrick this Monday. Shutterstock