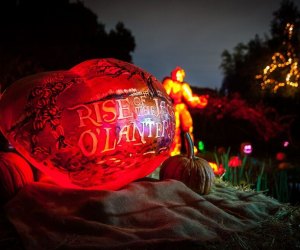 Weekday Picks for Kids: Last-Minute Halloween Crafts and Adventures - October 24-28
It's the week before Halloween, your last chance to paint pumpkins, craft costumes, and take in some scary science. Before the ghouls and goblins retreat for the year, be sure to get your little gremlins engaged with these awesome weekday events on Long Island. And don't forget -- our Long Island Halloween Guide is here to keep you and the family busy all week (and weekend!) long.
Monday, October 24
Halloween Art & Play Together - Oyster Bay
Children 20 months to 4 years, together with a parent, can create pre-Halloween crafts. From pumpkins to paint -- choose between two different morning sessions.
See all Monday events.
Tuesday, October 25
Gymboree - Westbury, Oceanside and more
Gymboree's Pumpkin Parade Party delivers delight without fright. Children wear costumes and create artwork that glows -- then settle in for a pizza party lunch. Wear socks.
See all Tuesday events.

Wednesday, October 26
"Owl" Be Your Friend- Garden City
I'm honestly not 100% sure why owls are synonymous with autumn, but hoo's complaining!? Kids create a friendly owl collage using torn paper and feathers.
See all Wednesday events.
Thursday, October 27
RISE of The Jack O'Lanterns - Old Westbury
Perhaps THE event of the Halloween season. Walk along a scenic path and take in the thousands of hand-carved Jack o'lanterns lighting up the sky.
See all Thursday events.
Friday, October 28
Haunted Hangers Overnight - Garden City - VENUE HAS CANCELLED THIS EVENT
Families with children between 5-12 can camp out in the museum for an evening filled with scary science activities, giant screen movies, and flashlight tours. Pizza and bedtime snack served...even a light breakfast the next day.
See all Friday events.
Top photo: Courtesy of http://www.therise.org/