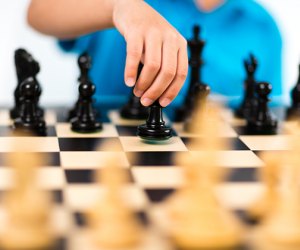 Weekday Picks for Kids: Chess, Broadway and Parenting Lessons - November 14 - 18
The pre-holiday weeks between Election Day and Thanksgiving can feel awfully quiet. But that doesn't have to be a bad thing. It's a great time to get out with the little ones before the parking lot madness begins. Long Island is offering up several unique events this week, including a seminar that empowers children, a proven stress-reducing activity, and a long-running Broadway hit.
Another option is to go for a long stroll or hit the gym as a family to prep for one of several Long Island Turkey Trots happening this year.
Monday, November 14
When Should You Tell - Brentwood
Children should always tell an adult about behaviors that concern them. However, it can often be a fine line between being a "tattle tale" and reporting important information to a parent or teacher. This interactive workshop is designed to teach children how to trust their instincts in an effort to empower themselves.
See all Monday events.
Tuesday, November 15
Hamptons Chess Club - Flanders
Many studies have shown that chess can raise your IQ by exercising both sides of the brain. It also can increase creativity and improve memory. Add in lessons on impulse control and fairness, and can you think of a reason NOT to have your child engage in this game of strategy?
See all Tuesday events.
Wednesday, November 16
Sleeping Beauty - Ronkonkoma
This special one-hour version of the classic fairytale Sleeping Beauty is sure to please audiences both young and old. Children often marvel at the beauty, grace and power of experiencing ballet live and in person.
See all Wednesday events.
Thursday, November 17
Raising a Healthy Eater - East Hampton
Does it ever seem like your greatest family struggles happen around the dinner table? From picky eaters to flat-out refusals, getting your child to eat healthy -- or even just eat -- can be an uphill battle. This adult-only seminar provides a battle plan along with healthy kid-friendly snacks and recipes.
See all Thursday events.
Friday, November 18
Joseph and the Amazing Technicolor Dreamcoat - Babylon
This amusing (and musical!) retelling of the Biblical story of Joseph teaches children about handling adversity and dealing with siblings.
See all Friday events.
With cooler temperatures prevailing, be sure to visit our guides on the best indoor play spaces in Nassau and Suffolk.
Top image: Teaching children how to play chess has many proven benefits. Photo via Shutterstock.