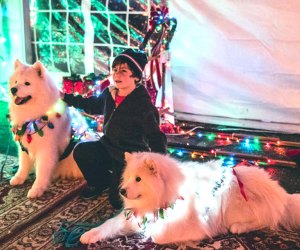 The Best New Kids Desinations that Opened on Long Island in 2019
The new year is upon us, but let's not forget all the fun and exciting openings and attractions that 2019 brought Long Island kids. In 2019, Jones Beach and other state parks continued part of their million-dollar upgrade. Jones Beach also made a new addition to its holiday light show. Meanwhile, multiple playgrounds had ribbon-cutting ceremonies, and indoor play spaces continued to see a boom. Whether you spend your time in Nassau or Suffolk, or prefer indoor or outdoor fun, 2020 is shaping up to be great for Long Island families.
NASSAU
Carman Road School Adaptive Playground - Massapequa Park
Located at the Nassau Boces Carman Road School, this new playground is wheelchair accessible and kids of all abilities can take part in the fun. There are no ramps or high climbing structures, but this sensory-friendly playground isn't lacking in equipment. Sensory boards, a hand bike, and multi-kid spinner are just some of the new equipment at the park.
OUR LATEST VIDEOS
Toyota Holiday Village at Jones Beach - Wantagh
Not only did the Magic of Lights at Jones Beach update the show with state-of-the-art LED light displays, but a holiday village has also been added to the attraction. The village features hot cocoa spots and a visit with Santa. On certain nights, you may even catch a glimpse at Santa's Samoyed dogs.

Goldfish Swim School. Photo courtesy of the school
Goldfish Swim School - Farmingdale
Goldfish Swim School added to their current Long Island locations in Centereach and Garden City with a new spot in Farmingdale. Infants to kids aged 12 can partake in play-based swim lessons. It also offers family swim sessions. There's no need to be a member to enjoy; just pay $5 per swimmer or $15 per family. During the family swim, an adult must be in the pool with children at all times.
RELATED: Indoor Swimming Lessons for LI Kids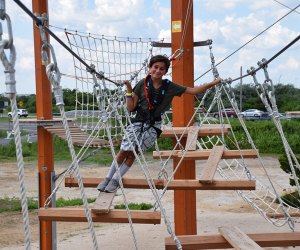 Wild Play at Jones Beach. Photo by Jaime Sumersille
Wild Play at Jones Beach - Wantagh​
Adventurers will love tackling the obstacle and ropes course, with varying difficulty levels at Wild Play at Jones Beach. There's even one just for kids. Children and adults can zipline over 700 feet of the beach or take a plunging jump of 40 feet attached to a harness. Prices vary by course and activity.
Social Play Haus - Plainview
November 2019 saw the opening of Social Play Haus, a large, open concept, play space focused on whole-family enjoyment. Let the kids enjoy the CederWorks play space while you take a breather in the mediation room or make an important phone call in the designated office space for working parents. Don't worry, there are attendants watching and interacting with the kids at all times. And while you're there, grab a juice box, latte or glass of wine.
SUFFOLK
Bowlmor - Mellville
Adults can get in on some fun at Bowlmor's new Melville location. While kids enjoy a game of bowling or rack up some high scores in the arcade, adults can enjoy an alcoholic beverage or two at the sports bar. Little bowlers will want to keep an eye on any league sign-ups.
RELATED: The Best Bowling Alleys for Kids in Nassau County
Pickle Park - Greenlawn
Pickle Park, a special needs and wheelchair accessible park opened in Greenlawn in Spring of 2019. Ramps leading up to the higher play structures are wide enough to fit a wheelchair and contain interactive elements such as gears and musical instruments at a level accessible to all heights. The swings feature a pair of harnesses for children who may need extra support.
RELATED: Inclusive Playgrounds for Long Island Kids with Special Needs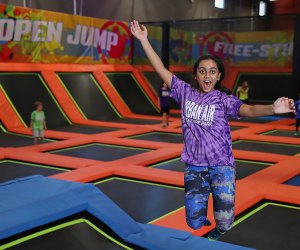 Urban Air Aventure Park. Photo courtesy of Urban Air
Urban Air Adventure Park - Lake Grove
There's plenty of fun going on inside Urban Air Adventure Park. Bumper cars, trampolines and VR experiences are some of the options at the indoor park, but the real excitement happens above you. An indoor coaster thrusts you along a track, while other kids have a jousting match on the battle beam. Of course, no indoor adventure park would be complete without a ropes obstacle course. Prices vary based on attraction.
Anthony Casamento Park Playground - Bay Shore
While the original playground was demolished a few years ago, a brand new playground opened in Anthony Casamento Park this spring. The playground features multiple slides, balance beams, a Simon-like interactive color memory game, and musical instruments. Casamento Park also has an outdoor pool and basketball courts.