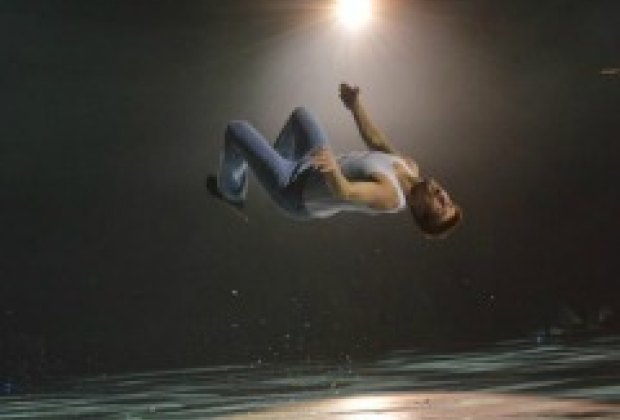 Stars on Ice - Skating Show Review
Who knew an ice show could be so much fun?
Oh, sure, we can assume that a group of world champion figure skaters with Olympic medals in their carry-ons is going to be impressive, beautiful, even inspiring. And on these points Stars on Ice absolutely delivers. But the real beauty of the Stars on Ice show is watching these champion athletes from around the world cut loose and have - what appears to be - a total blast.
The 26-year-old figure skating touring show (older than most Olympic figure skaters!) came spiraling through Orange County's Honda Center this past weekend, featuring champions ranging in age from veterans Kurt Browning and Todd Eldredge, to younger medalists Ilia Kulik, Sasha Cohen, and (pictured) Ryan Bradley. Much like an Olympic competition, Stars on Ice features skaters come from around the globe and from every figure skating discipline; much unlike a competition, there are no judges, rules, or required elements. I was reminded of the old shows they used to do at the end of the Olympics, when the skaters got to show off all of their favorite moves that would have got them thrown off the ice earlier in the day - like the old flying back flip. Yes, we got two of those.
Speaking of that back flip, one of the surprisingly novel aspects of this show is how very masculine it is. Cliché and local skating schools may lead one to think of this sport as leaning toward the feminine, but Stars on Ice actually stars more guys than gals. A dip into Wikepedia reveals the tale of how the show began, when Olympic gold medalist Scott Hamilton was released from the Ice Capades on the grounds that "male skaters don't sell tickets." Out of that misguided moment of gender bias a great show was born, and there is no question that the men tearing up the ice, tearing down the house, and tearing off their shirts were a big hit with the ticket-holders at the Honda Center. I distinctly heard some moms cat-calling.
The kids, too, saw plenty to cheer about. It seems fair to confess that my son is an avid figure skater, so his eyes were riveted to the skaters throughout. The other boy in our party had never seen live figure skating before - so his eyes were riveted to the skaters throughout. What's not to love? The music was fun, the costumes were great, and the skating was world-class. There were running gags between the athletic feats, and some of the routines had storylines - most notably a lovely sequence that recreated a montage from the film Up (the boys caught onto that one way before I did). There were pair skaters slinging each other around in ways I'd never seen before - including women lifting men up in the air! But more than anything, there were a dozen world champions having a ball doing their thing and playing together on the ice, and we got to watch. What a treat, and what a great family night out!
Photo: Joel Mattson