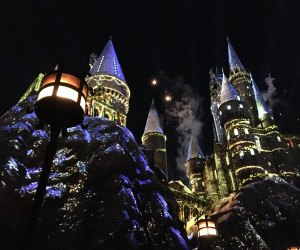 Must-See Christmas Light Shows Worth Paying or Driving for over the Holidays
An after-dinner drive to take in one of LA's classic neighborhood holiday light displays is a treat all families should indulge in. It's an easy, cheap way to get in the Christmas spirit (or just enjoy someone else's). Of course, counting on other people to decorate their lawns is only so reliable. To be sure of a full evening of holiday lights and holiday cheer, sometimes it's worth driving to a big public light display, or even splurging on pay-to-play holiday lights. Several local destinations indulge us in our desire to see grand-scale Christmas lights, from Zoo Lights to walks in the woods. The bigger the group you can round up, the more festive; it helps to know which of LA's big public light shows are worth the ticket price this holiday season.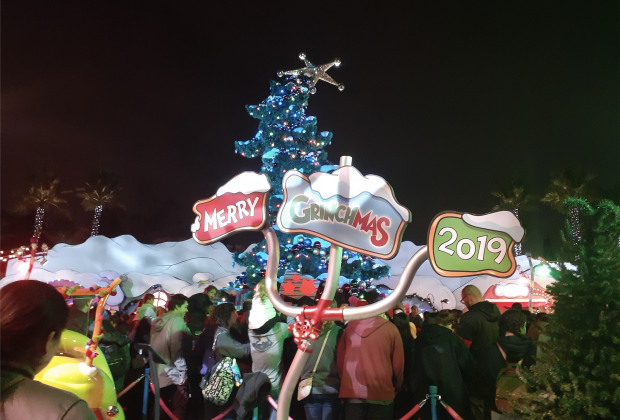 Grinchmas lights up nightly at Universal. Photo by Mommy Poppins
Through December 29, 2019
The holiday light display on Hogwarts Castle is a feast for the eyes (with a surprise ending) that takes place a few times per evening throughout the season. Universal Studios adds a nightly light show into the mix at special times of year, and the holiday version is a delight of vibrant colors that pop off the castle walls and explode into the night sky, all timed to the John Williams score. Potter fans (in other words everyone, right?) can enjoy the full gamut from Weasley gags to magical fireworks, all over a steaming hot Butterbeer. Meanwhile, over in Whoville, another holidays-only attraction lures younger kids to meet the Grinch (and his dog) and sing along with Whos around a Seussian Christmas tree all day long. Theme park admission may be more than we'd usually pay to see holiday lights, but the whole Universal experience rises to the occasion; and, after all, a trip to Universal is a great way to spend a day over winter break. Our tip: The first Hogwarts light show of the evening is a good one to catch, then enjoy the Wizarding World rides while everyone else watches the next show.

Photo by Javier Guillen courtesy of Grand Park / The Music Center
FREE!
December 6-25, 2019
Huge decorated trees surround the park with plenty of room for kiddos to run. Past the Rockefeller-esque Christmas tree, complete with giant, wrapped presents at the base, is the Arthur J. William Memorial Fountain decked out in an interactive light display. The large splash pad with tiny fountains reflecting the lights is an exciting stop for kiddos. Consider bringing water shoes, a towel, and a change of clothes if you choose to let them try it out. What's even cooler is the nearby computer where you can choose from a number of themed color displays projected across the fountain. Parking is easy at the Music Center.

What's more enchanting than lights in the forest? Photo by Cal Bingham
Through January 5, 2020
We've written about this experience elsewhere, but it bears repeating: Descanso Gardens' holiday light show is an experience like no other. It's a magical walk in the woods, sipping hot cocoa and encountering groves of light and music along the way. And in our opinion, as long as you have a warm coat, it is worth every penny of the $28-$30 admission.

Moonlight Forest is a different sort of light display. Photo by Mommy Poppins
November 9-December 12, 2019
The Arboretum has concocted a seasonal light display with an Asian twist, offering a walk through the botanic gardens featuring a variety of illuminated lanterns depicting exotic animals and flowers. All of the imagery is taken from Chinese legend, and the displays are augmented by performances as well. Tickets run $23-$28.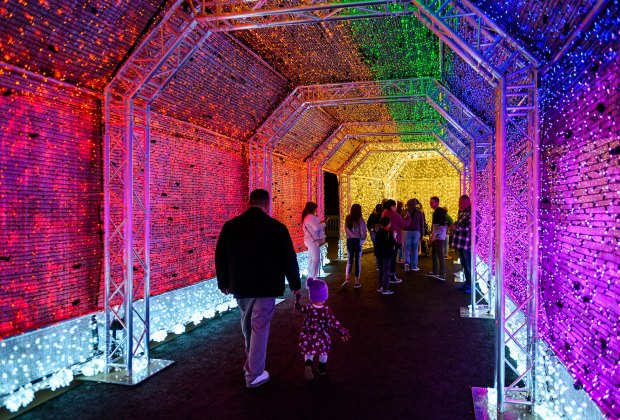 Lights in the zoo: an easy sell for most kids. Photo by Jamie Pham
November 15, 2019-January 5, 2020
For a walk in the park a little less rustic than Descanso, the LA Zoo Lights have taken over the role of lighting up Griffith Park, replacing the old DWP lights some parents may recall. While not free like the old park display, the advantage of this photo-op rich walk is getting to experience the zoo at night. That's a great holiday perk!
Through December 30, 2019
A much lower key option in the park for little ones is this gentle $5 train ride at Griffith Park and Southern Railroad. No walking required; toddlers can take a little turn around the lights before bed.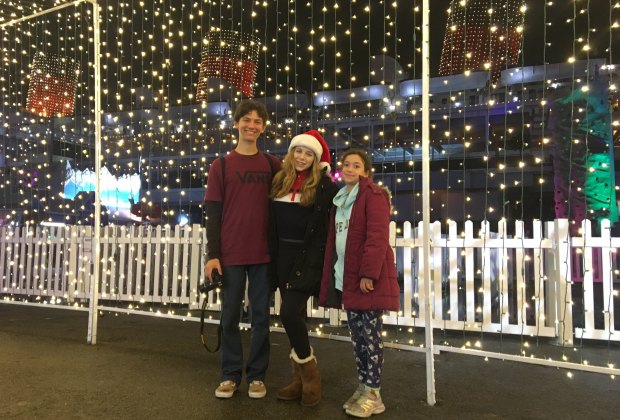 The Queen Mary has decked halls. Photo by Mommy Poppins
Through January 1, 2020
The Queen Mary's holiday event has been a local tradition for several years now. Amid oodles of holiday festivities, bright lights sparkle on and around the ice rink, the carousel, and of course all over the vintage ocean liner itself. A kid-sized train takes visitors on a spin through some of the best lights. Depending on how many activities you add, tickets start at $29.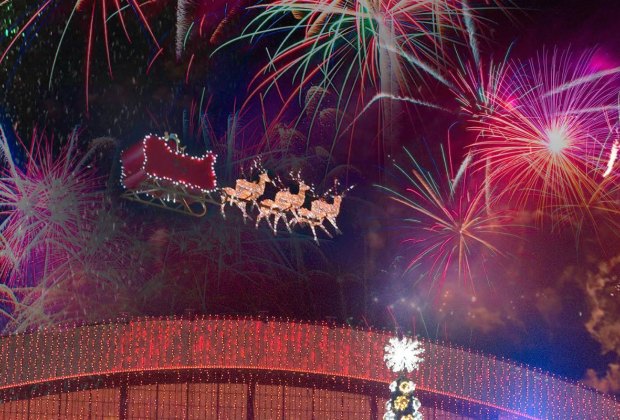 See Santa riding through the fireworks at WinterFest. Photo courtesy of WinterFestOC
December 19, 2019 - January 5, 202-
Orange County families have several holiday light options, from taking a drive to see private holiday lights to the grand scale of Christmas in Disneyland. A compromise between the two would be Winter Fest at the OC Fairground. The annual festival offers a variety of wintery activities, faux snow, reindeer, and nightly holiday lights around an enormous, Claus-tended Christmas tree. Tickets range from $8-$69 with big deals on Cyber Monday.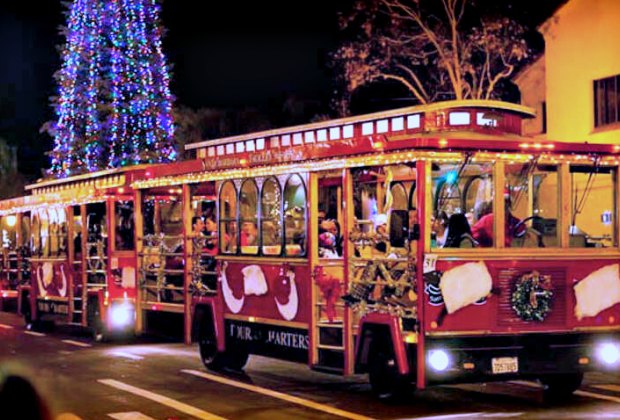 Santa Barbara Trolley of Lights tour. Photo courtesy of Santa Barbara Trolley
December 8-21, 2019
Santa Barbara has plenty of home light displays, and the Trolley of Lights takes the guesswork out of finding them. Be sure to book tickets in advance for the evening tours, then bundle up and enjoy letting someone else drive while the cool SoCal air sets the mood for oodles of home light shows. Tickets cost $15-$27 and generally sell out in advance.
December 5-30, 2019
Another trolley ride, this one takes in the famous floating Christmas trees of Alamitos Bay and the hard to catch lights of Naples Island (hard to catch without living there, anyway). Letting someone else do the driving is always a treat; this ride costs $20-$30 but is generally available on discount sites once the season is underway.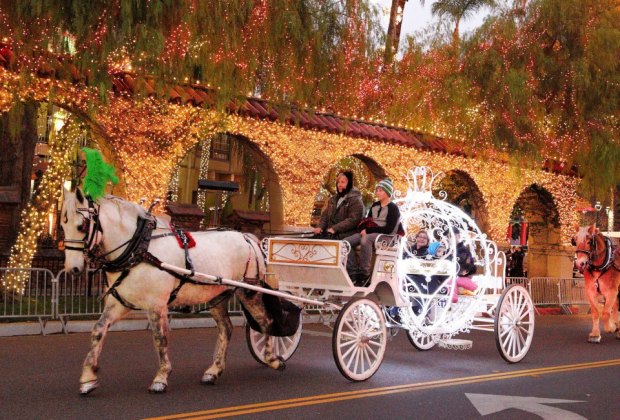 Take a carriage ride through Riverside's Festival of Lights. Photo courtesy of City of Riverside
FREE!
Through January 1, 2020
When a hotel puts two million lights and 250 full-size animated characters on its walls and balconies, then tosses in some Victorian carolers and carriage rides to boot, a little attention is merited. While this display is free, the drive to Riverside may feel like an investment. And once you've driven out there, add-ons like a lighted carriage ride or even dinner inside the hotel (so that you don't get rushed through the lobby with the other non-paying tourists) help make the experience more of an occasion. The Mission Inn even has an obvious suggestion about where you could stay the night (and it's not a manger).
December 7, 2019 - January 6, 2020
The Mission at San Juan Capistrano is short on swallows this time of year but big on Christmas lights. A nightly tree lighting is accompanied by music and several light displays set up around the beautiful grounds of the Jewel of the Missions. When you've had your fill of family photos in these lovely settings, the Downtown area just outside the Mission walls also hosts nightly light displays throughout the season.
There are also plenty of opportunities to view extravagant home light displays at some of the Southland's Holiday Boat Parade events, some of which operate in reverse, inviting passengers to buy tickets to ride on the boats as they sail past brightly lit waterside communities.
Originally published December 19, 2011