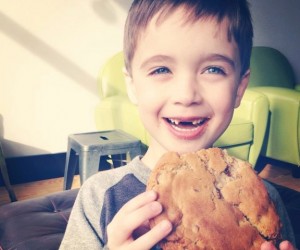 Where to Eat When You're Visiting the USS Constitution With Kids
Every year when he was growing up, my husband's dad would take him to the USS Constitution on his half birthday. They would tour the ship and then conclude the outing with lunch at The 99 restaurant. Although they haven't been back in years, they still speak fondly of those trips. It's a wonderful place to bring kids, but everyone knows even the distraction of a big ship won't quell hungry bellies. Below is a list of restaurants near and around Old Ironsides that are kid-friendly and parent approved.
---
99 Restaurants
99 is always a kid's favorite; partly because the meal starts with free popcorn, but mostly because it ends with a free ice cream sandwich. The menu not only comes with pages of games, puzzles, and coloring opportunities, but also boasts unique options like junior sirloin steak, Mandarin oranges, Mott's applesauce, and garlic red skin mashed potatoes. Parents, make sure to take some time to enjoy the Charlestown history plastered on the walls. Plenty of parking in the massive lot right outside, plus they offer a free shuttle to and from the Bruins game.
Location: 29-31 Austin Street, Charlestown, MA 02129
Hours: Monday – Wednesday 11am - 11:30pm, Thursday – Saturday, 11am - 12am, Sunday 11am - 10pm
Contact: 617-242-8999
---
Zume's
Zume's Coffee House (pronounced "zoomies") is the place to be in Charlestown. The space provides plenty of comfy chairs and couches for parents to relax in while kids occupy their own designated table, stacked with fun books and puzzles. You can't go wrong with the Ultimate Grilled Cheese for both kids and adults alike. Or go "off menu" and ask for the PB&J. Both come with a side of goldfish for the kiddos. Wash that down with chocolate milk for them and a delicious Matcha Tea Latte for you. When Debra isn't too busy, catch her passing out stickers to the pint sized customers. Remember to bring a lock for your stroller to park it outside.
Location: 221 Main Street, Charlestown, MA 02129
Hours: Monday – Saturday 6am - 6pm, Sunday 7am - 6pm
Contact: 617-242-0038
---
Figs
A Todd English restaurant, Figs is famous for its (15!) different types of pizza, including the Red Sox and Bronx Bomber. It is a great option for food post boat exploring. Although the restaurant is certainly kid-friendly, in warmer weather ask for your pizza to go then walk a short distance to the Bunker Hill Monument Park for an impromptu picnic. Bonus points for two history lessons in one day.
Location: 67 Main Street (between Hurds Ln & Monument Ave), Charlestown, MA 02129
Hours: Monday – Friday 11:30am - 9:30 pm, Saturday 12pm - 10:30pm, Sunday 12 pm - 9:30 pm
Contact: 617-242-2229
---
Sorelle Bakery and Cafe
Within walking distance from Old Ironsides, Sorelle is a bakery heaven with plenty of room to sit, inside or out. Grab a quick nosh, a delicious cappuccino or a refreshing beer. They feature excellent salads: Fresca, Chef, Waldorf, & Nicoise Tuna. Kids will love the pizza and fruit cup combo. If you're going for breakfast, try the grilled Nutella and banana Panini; you won't be disappointed.
Location: 100 City Square, Charlestown, MA 02129
Hours: Monday – Friday, 7am - 7pm, Saturday 8am - 7pm, Sunday 8am - 5pm
Contact: 617-242-5980
---
Photo: A happy customer at Zume's in Charlestown