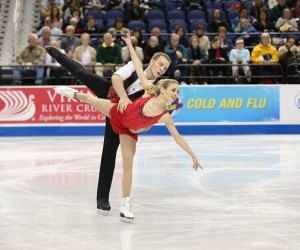 Weekend Fun for Boston Kids: Science, Skating, and Symphony - April 2-3
After the roller coaster temperatures we had in March, I for one am ready to welcome April and its promise of warmer weather. Why not step out for a hike or spend an afternoon in the woods for a special celebration? My family is headed to the circus this week, which gives us the chance to stroll around nearby Faneuil Hall, with its colorful sights and sounds helping us welcome spring.
This is also a great weekend for budding scientists with special events at the MIT and Harvard museums, and young music fans have their pick between a family-friendly concert and petting zoo, a musical storytelling, and a symphony play day. Finally, those of you looking for a last taste of winter can head indoors to catch the world's top ice skaters right here in Boston (pictured).
Also on Mommy Poppins Boston this week:
Plan for a fun day on the farm at one of these upcoming sheepshearing festivals.
Looking to keep creative kids busy this summer? These local camps might fit the bill.
We've previously shared our favorite stops along the T's Orange and Green Lines. Now it's the often-underrated Blue Line's turn in the limelight.
Enjoy your weekend and don't forget to check out the full Event Calendar!