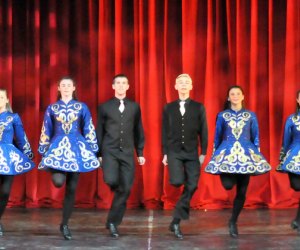 Weekend Fun for Boston Kids: Family Opera and All Things Irish, March 12-13
They say we're all Irish on St. Patrick's Day, and this weekend offers plenty of opportunities for the wearing of the green. From a free Irish festival to a spectacular show (pictured) to a chance for families to give Irish dancing a try, local venues are offering plenty of ways to celebrate. If you'd rather hold off until the 17th, some completely different events going on this weekend include family-friendly opera with kid performers, a fairy tale ballet, and a chance to travel around the French-speaking world. So many choices!
If that's not enough, you can still get the kids a taste of the maple syrup process at a boildown, celebrate Easter at an egg scramble, or make three-cornered treats at a hamantash bake for Purim.
Also on Mommy Poppins Boston this week:
See what awaits at the end of the rainbow at any of these St. Patrick's Day celebrations.
Ready, set, go! Get the kids to the starting line for one of these egg hunts.
Enjoy your weekend and don't forget to check out the full Event Calendar!
ALL WEEKEND
Easter Egg Hunt - Norton
These annual, non-competitive hunts along the Winslow Nature Trail are a favorite with children and parents.
Commonwealth Ballet Presents The Nightingale - Weston
Hans Christian Andersen's beloved tale of The Nightingale has been transformed into a family-friendly ballet of true friendship, love, and courage.
A Little Bit of Ireland - Waltham
Reagle Music Theatre brings one of the largest Irish shows in New England with a cast of 100 to the stage to celebrate St. Patrick's Day.
Family Opera: Weaver's Wedding - Cambridge
This opera is based on a Bengali animal fable by Upendrakishore Raychaudhuri and features kids and their families onstage.
SATURDAY MARCH 12
Celebrate! with the Greene-O'Leary School of Irish Dancers - Boston
The Greene-O'Leary School of Irish Dancers demonstrate their athleticism, skill, and poise while presenting traditional and contemporary styles of Irish dance.
Maple Syrup Boildown - Somerville
Visitors watch and learn as sap from local maple trees is boiled down into pure maple syrup over a warm fire.
Annual Spring Egg Scramble - Dorchester
Children can join in the scramble for candy and toy filled plastic eggs scattered across the field at DCR Pope John Paul II Park.
Irish Festival - Foxborough
The popular St. Patrick's Day event at Patriot Place features live performances by Irish musicians and step dancers, plus free Irish-themed activities for children.
French Around the World: Voyages en Francophonie - Lexington
Take a trip with your friends and family to Belgium, Canada, France, Haiti, Lebanon, Monaco, Morocco, and Seychelles in this free festival for families.
SUNDAY MARCH 13
Irish Dance - Arlington
Families can celebrate St. Patrick's Day with a free dance party, Irish style.
Fiddler on the Farm & The Whyte School Irish Step Dancers - Dover
Performers at this celebration include Celtic fiddler, Claire Pettit and Irish Step Dancers from the Whyte School, who share traditional, solo, and group dances.
Hutch Magazine Creativity Workshop - Dedham
The collaborative environment of the workshop may help kids begin stories, art, poetry, or other creative submissions for Hutch Magazine.
Hamantash Bake for the Family - Brookline
Families can get into the Holiday spirit with a Hamantash Bake fest to make the delicious treats and take them home.
---
Photo courtesy of Reagle Music Theater/Herb Philpott