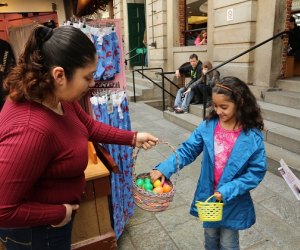 Weekend Fun for Boston Kids: Easter Excitement and St. Patrick's Parade, March 19-20
It has taken my family a few days, and a little more coffee for me, but we've finally adjusted to daylight savings time. On the plus side, it's nice to enjoy sunshine later in the evening now. That extra hour is particularly useful with so many great options on the calendar this weekend, including the chance help the planet by turning the lights off for Earth Hour. The Equinox Frolic outdoors or the Garden Show indoors are other perfect ways to gear up for spring.
Spring holidays are still filling up the calendar, too, with tons of egg hunts (pictured) and bunny visits popping up around town. St. Patrick's Day might be over, but local celebrations continue with a Celtic Sojourn and everyone's favorite parade in South Boston. If you're looking for something different, try taking the kids to a special girls' STEM coloring party, or right downtown for a taste of maple.
Also on Mommy Poppins Boston this week:
Enjoy your weekend and don't forget to check out the full Event Calendar!
ALL WEEKEND
A St. Patrick's Day Celtic Sojourn with Brian O'Donovan - Cambridge
A St. Patrick's Day Celtic Sojourn introduces a wide range of new and familiar musicians alike to audiences looking to celebrate the holiday in true Irish style.
Boston Flower and Garden Show - Boston
The Boston Flower & Garden Show returns to the Seaport World Trade Center with the theme "Nurtured by Nature."
Maple Sugar Festival - Milton
Watch as maple syrup is made in the traditional way and savor the taste of real maple syrup.
Visit With the Easter Bunny - Providence, RI
Children are invited to celebrate the Easter Bunny's first-ever visit to the Carousel Village.
SATURDAY MARCH 19
Faneuil Hall Marketplace Easter Egg Hunt - Boston
Starting at 10am, kids can head to the Upper Rotunda in Quincy Market to pick up an Easter basket and clue sheet to find special treats.
Flapjack Fling & Sugaring Tours - Topsfield
Families are welcome at this special breakfast, where they can enjoy maple syrup on some delicious pancakes.
Revels Spring Sing - Cambridge
Revels hosts a celebration of the arrival of spring amidst forsythia blossoms and sprigs of green at a joyful family event.
Musical Storytelling Series - Belmont
Powers Music School Musical Storytelling Series presents Doreen Cronin's Click, Clack, Moo in a free program.
SUNDAY MARCH 20
St. Patrick's Day Parade - Boston
The annual parade takes place in South Boston, where it has been a tradition for more than 110 years.
Coloring with CuSTEMized: If You Can See It, You Can Be It - Newton
Girls and their families can come imagine, explore, and color with cuSTEMized at this fun-filled, hands-on learning, and fundraiser event.
Spring Equinox Frolic - Framingham
Families can celebrate this joyous event with poetry, stories, and lore while looking for signs of spring.
Maple Day at the Boston Public Market - Boston
In celebration of March being Maple Month in Massachusetts, visitors can join in on a special day dedicated to all things maple.
---
Photo courtesy of Faneuil Hall Marketplace