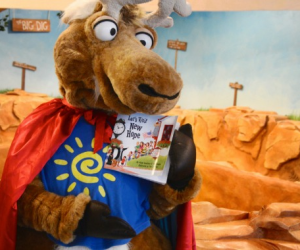 Weekday Picks for Philly Kids: Museums, Stories, Indoor Fun Feb 15-19
Monday, February 15
Family Day at the National Museum of American Jewish History- Philadelphia, PA
Explore the Museum's galleries and exhibits as visitors can enjoy free admission on President's Day.
Tuesday, February 16
Blast off with Big Nate- Haverford, PA
Author and Illustrator, Lincoln Pierce, visits Children's Book World for a book signing of his latest book in the series entitled, Big Nate Blasts Off.

See all Tuesday's events
Wednesday, February 17
Community Night- Philadelphia, PA
The Franklin Institute hosts its Community Night in which visitors can enjoy the Museum without cost. Celebrate Heart Health Month by walking through the giant heart and making a stethoscope.
Thursday, February 18
Kids Crew- Springfield, PA
Children who stop by the Springfield Mall can listen to stories that warm your hearts. Then, each child can make his very own Valentine for someone special. This event is presented by Community Arts Center of Wallingford.
Friday, February 19
Glory of Stories- Wilmington, DE
Experience the Delaware Art Museum as it helps children connect stories to relevant works of art. This session features Dragon Dancing.
Photo courtesy of Bucks County Children's Museum