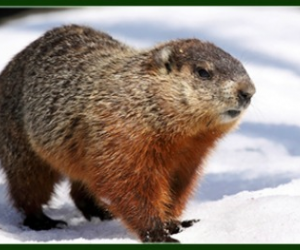 Weekday Picks for Philly Kids: Groundhog Day, Library Events Feb 1-5
During the cold month of February, it can be challenging to keep toddlers, preschoolers, and big kids busy. They never seem to get tired and are always looking for something to do, even after a long day at school. Channel that energy into some of the exciting activities that appear in our Events Calendar this week.
Check out a library program such as Eastwick Library's George Crum Potato Chip Tasting event, Haddington Library's African Mask-Making Workshop, or Haverford Library's Are You Smarter than a 5th Grader session. Celebrate Groundhog Day at Elmwood Park Zoo or Norristown Farm Park. Afterwards, get crafty with help from our WeeWork Projects for Kids.
Be sure to like Mommy Poppins Philly on Facebook and follow us on Pinterest, Twitter, and Instagram. Hope you have a great week ahead!
Monday, February 1
George Crum Potato Chip Tasting- Philadelphia, PA
Visit Eastwick Library to learn about George Crum, an African American potato chip inventor. Afterwards, guests can participate in a potato chip taste test!
Tuesday, February 2
Groundhog Day- East Norriton, PA
Will the groundhog see his shadow? Will we have a long winter or an early spring? Children can learn all there is about the groundhog at Norristown Farm Park.

See all Tuesday's events
Wednesday, February 3
Kinnergschpiel "Child's Play" Series- Worcester, PA
Geared towards preschoolers, Peter Wentz Farmstead's Child's Play Series offers an opportunity for kids to learn about colonial times. This session features The Art of Scherenschnitte, a.k.a. scissor cutting.
Thursday, February 4
Harry Potter Book Night: A Night of Spells- Doylestown, PA
Find your wizard cloak and magic wand and head out to The Doylestown Bookshop for an evening filled with Harry Potter magic. Games, activities, and contests await participants. Be sure to register in advance for this free event.
Friday, February 5
Night Flight- Philadelphia, PA
Have you ever wondered what the Philadelphia Zoo is like after dark? Spend the night at the zoo to take a night hike, meet the animal keepers, and learn how the Zoo takes care of the animals around the clock.
Photo courtesy of Elmwood Park Zoo