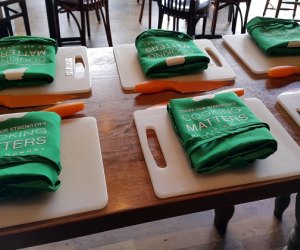 Weekday Picks for Boston Kids: No Kid Hungry and Science Festival, April 11-15
Recently I got to spend a morning with the folks at Cooking Matters (pictured), an organization that helps low-income families learn to cook healthy meals with limited funds. In six-week classes and grocery store tours, parents find out from culinary and nutritional experts how to shop for delicious foods on a budget. This week, the group is running a No Kid Hungry fundraiser at five local restaurants to help get its programs to more families in need. As an opportunity to give back as well as enjoy a night out, it's definitely a win-win situation!
Other great activities for families this week include some free readings featuring Oz and Beverly Cleary, along with a unique way to celebrate Passover. Finally, don't forget that the Cambridge Science Festival opens this Friday, with special events for scientists of all ages. Keep your eye on the full Event Calendar for other great upcoming events.