Weathering a Winter Birthday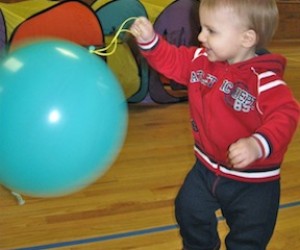 My kids have cold-weather birthdays, and when it comes time to plan their parties, I often find myself fantasizing about a summer backyard birthday party, with kids running around in the grass, playing games, and blowing bubbles.
Are you in the same boat? If your child has a late fall or winter birthday, and you're looking for ideas to overcome (or circumvent) the low temps, stuffy noses, and busy schedules that often accompany the season, read on. Whether it's a strategy of avoiding or embracing winter birthday challenges, here are a few that have worked for us.
Outsource Indoors
There are plenty of great places to have an indoor party in our area. For ideas, just take a look at our Birthday Party Guide. We've got the skinny on bouncy, artsy, crafty, sporty parties and more.
If you actually enjoy planning your child's parties and you want to have more control over how it all plays out (but having the party at home isn't an option), try renting out a space. We rented a gym for my son's birthday one year, and it was one of the best parties ever. There had been a big snowstorm right before the party, but everyone showed up – the parents were eager to have their kids run around. And run around, they did! There are many places around the Boston area to try – check with a nearby parks and recreation department, like Brookline or Arlington. Another great place to check is a neighborhood church.
Celebrate Half-Birthdays and Un-birthdays
Have a small family celebration on the day of your child's birthday and then throw a big bash on their half birthday, during the warmer months. If you have a philosophical objection to celebrating a half birthday, then pick any day of the year (except your child's actual birthday) and throw a very merry un-birthday party. The sky's the limit!
Embrace the Season
Instead of avoiding it, embrace the winter weather! Rent out a rink like the Frog Pond ice rink for an ice skating party (or have a party at an indoor rink). Have a sledding party. Go snowshoeing. If you have a yard, go ahead and have a backyard party: build snow people, paint the snow with food coloring, have snowball fights, build an igloo. Have plenty of hot cocoa and warm apple cider on hand, and make sure everyone knows to come appropriately addressed for outdoor fun.
My kids' birthdays are very close to Christmas. We tried to keep the birthdays separate from the holiday, but it just didn't work. If you're ready to incorporate the holidays into your child's birthday celebration, try having a tree trimming party for your child's birthday or attend a holiday show like The Nutcracker or A Christmas Carol with a friend. Or invite the whole class to your local tree lighting ceremony. We were recently invited to a Polar Express themed birthday party: The kids come in their pajamas, watch the movie, and choose toppings for their hot chocolate. Simple and delightful!
Go Small
Keep it small, especially when your kids are little. Invite another family over or host your regular playgroup and have a birthday celebration. Take a friend along to your child's favorite museum or indoor play place.
Give your child the thing they want most: time with you. My daughter loves to read, so we spent one of her birthdays bookstore hopping. I gave her a budget, and she chose books from each store. (Barefoot Books in Concord is such a festive place, I recommend it for this kind of birthday outing.) We went out to lunch together in between bookstores, and stopped for a snack break at Zing when we were in Porter Square Books in Cambridge. It was a wonderful day.
Whether you decide to head indoors or have an outdoor adventure, stay small and flexible or go big, there are plenty of great ways to handle the challenges of a winter birthday. Try one, and have fun!