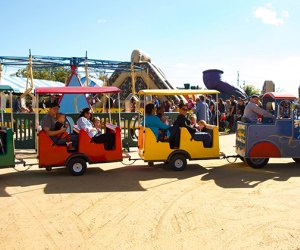 50 Fabulous and Totally Free Events This Month for LI Kids
Who said nothing in life is free? Not us! In fact, we've come up with a list of more than 50 fun, family-friendly events happening all over Long Island during the next few weeks that won't cost you a thing.
Of course, since it's the season of ghosts and goblins, many of the happenings are Halloween-themed, including costume parades and trick-or-treating events. We've also included the many fabulous fall festivals going on this month, as well as story time and craft events, mommy-and-me classes, and more. And for added fun this season, check out our Halloween Guide and October Go List.
Halloween Fun
Milleridge Halloween Village — Jericho
Milleridge Inn
Fridays, and Saturdays, and Sundays through October 29
There's a haunted house, a tarot reader, spooky rides, and much more.Take a walk through this Halloween Village if you dare.
Nightmare on Main Street — Huntington
Main Street Petite Gallery
Saturdays; costume party October 27
The awesome work of talented student artists is on display at Huntington's Main Street Gallery. Drawings and paintings were inspired by horror films, comics, and other spooky-themed stories and visuals. Meet artists at a reception and costume party on Saturday, October 27.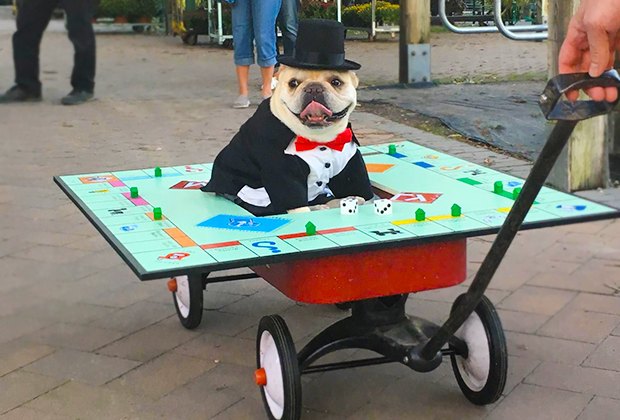 Butters the bulldog and his Monopoly costume won the 2016 Hicks Nurseries' pet costume competition.
Hicks Nurseries Pet Parade & Costume Competition — Westbury
Hicks Nurseries
Wednesday, October 18
Dress your pet in its best costume and head to Hicks Nurseries for the third annual Pet Parade & Costume Competition. Donations of pet food, toys, and accessories will be collected for Long Island Cares for pets in need on Long Island.
Halloween Parade in Bellmore — Bellmore
Bellmore Fire House
Saturday October 21
It's the annual costume parade down Bedford Avenue. Vendors throughout the village welcome trick-or-treaters.
Pumpkin Carving at Stew Leonard's — Farmingdale
Saturday, October 21
Lenny Calvin, a pumpkin carver, will be in the Farmingdale store carving up some spooky-looking, Halloween-themed pumpkins. Customers can watch him create some memorable carvings and purchase their own pumpkins.
Trick or Treat at Stew Leonard's — Farmingdale & East Meadow
Tuesday, October 24
Kids can wear their costumes, stop by the customer service desk for a map, and have some fun trick-or-treating throughout the store.
Halloween in the Plaza — Long Beach
Saturday, October 28
Kids in costumes are invited to trick-or-treat around Kennedy Plaza. Lots of fun activities are planned, including live music, a hula hoop contest, and arts and crafts activities.
Trick or Treat at the Heckscher Museum — Huntington
Saturday, October 28 and Sunday, October 29
Kids can wear their costumes while they enjoy a number of hands-on activities and treats. Don't forget to grab a free family activity guide when you check out the museum's many exhibits.
Riverhead Halloween Parade/Festival — Riverhead
Saturday, October 28 and Sunday, October 29
Get ready to carve your best pumpkin and then see it displayed on the Jack-o-Lantern Walk, where they will be judged. Kids can trick-or-treat up and down Main Street and participate in the costume parade. Other festival events are happening all weekend long.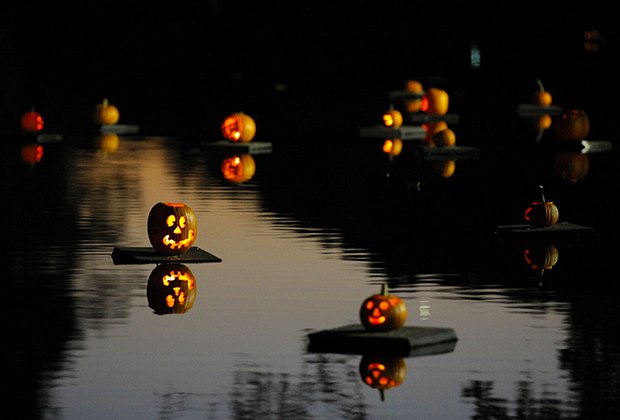 Carve your pumpkin and set it sailing at Belmont Lake State Park.
The Great Jack-O'-Lantern Spectacular Sail — North Babylon
Belmont Lake State Park
Saturday, October 28
Get there early and bring your carved pumpkin so it can be one of the 50 jack-o-lanterns to sail on Belmont Lake. Plenty of other family-friendly activities are planned for this unique event.
Halloween Festival at Suffolk County Community College — Selden
Saturday, October 28
This is the college's 31st annual Halloween festival. Entertainment for the whole family includes live performances, balloon art, carnival booths, and more. Free admission but visitors are asked to donate non-perishable food items.
The H Lions, The Witch and The Wardrobe: Trick or Treat Costume Parade — Muttontown
Heritage Farm and Garden
Saturday, October 28
Kids are encouraged to wear their Halloween costumes and take part in trick-or-treating, a costume parade, games, and other fun, fall activities.
Halloween Family Fun Fest — Rockville Centre
Madison Theatre
Saturday, October 28
There's plenty for the whole family to do at this annual event, including pumpkin picking and decorating, costume contests, a haunted house, and mask making. Plus, live performances, entertainment and more.
Halloween Trunk or Treat — Farmingdale
St. Luke's Lutheran Church
Saturday, October 28
Bring the kids in their costumes for a day of safe trick-or-treating and pumpkin decorating. Light refreshments will be served.
Halloween Family Fun Day—Stony Brook
Long Island Museum
Sunday, October 29
Children are welcome to wear their Halloween costumes and enjoy an afternoon of trick-or-treating, pumpkin painting, music, and arts and crafts activities.
Farmingdale Village Halloween Parade—Farmingdale
Farmingdale Village Parade
Sunday, October 29
The whole village comes out to see kids in their costumes as they parade down Main Street. Enjoy family-fun activities on the village green, including pony rides, a petting zoo, and more.
Boo Bash at Smith Haven Mall—Lake Grove
Smith Haven Mall
Sunday, October 29
Kids will enjoy face painting and arts and crafts activities. Free child ID kits for all, and the first 200 children receive goodie bags.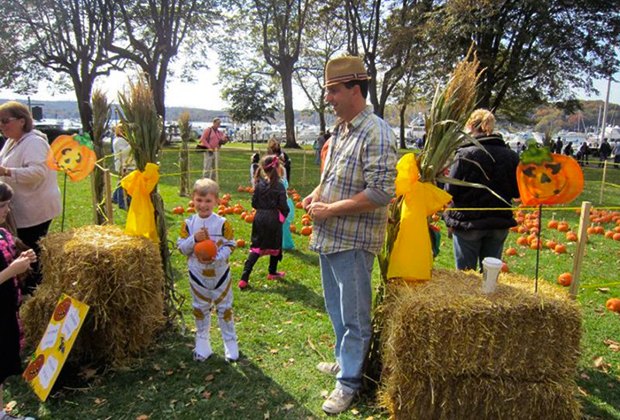 Don't miss the Halloween hayride in Northport.
Halloween Hayride in Northport Village — Northport
Northport Village Park
Sunday, October 29
Kids enjoy a Halloween ride around the village.
Sag Harbor Ragamuffin Parade — Sag Harbor
Sunday, October 29
This community event invites kids, adults, and pets to don their best Halloween costumes and join in the parade down Main Street. Games and a bake sale add to the day's fun.
Sag Harbor's Pumpkin Trail — Sag Harbor
Tuesday, October 31
Participating businesses on and around Main Street—look for the pumpkin faces in the windows—welcome trick-or-treaters.
Farmingdale Public Library's Halloween Parade — Farmingdale
Tuesday, October 31
Children from infant age to 4 years old are welcome to wear their costumes to the library, where they will enjoy storytime, crafts, activities, treats and a parade.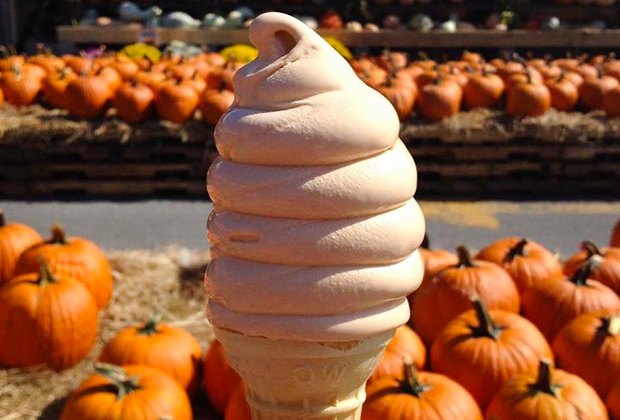 Visit a Stew Leonard's store on Halloween day and kids get a free ice cream.
Free Ice Cream at Stew Leonard's — Farmingdale, East Meadow
Tuesday, October 31
Children who come to the store in costume on Halloween receive a free small ice cream treat.
Halloween Festival — Stony Brook
Stony Brook Village Center
Tuesday, October 31
Celebrate Halloween in Stony Brook. Kids can trick-o- treat in the shops, enjoy special guests and live performances, play games, and participate in the costume parade. There is also a scarecrow competition.
TAS Halloween Costume Contest — Hicksville
Theory of Arts & Sciences
Tuesday, October 31
Children are invited to wear their Halloween costumes and enter the costume contest.
Fall Festivals
Fall Festival at Hicks — Westbury
Hicks Nurseries
Daily throughout October
Hayrides, roasted corn, pumpkins, and much more can be found this fall at Hicks Nurseries. Don't miss the animated story Otto's Halloween ,featuring Otto the Ghost. Donations of nonperishable food items for Long Island Cares are appreciated.
Stew Leonard's Hay Maze — Farmingdale
Daily throughout October
This hay maze is decorated for the season and is open all day long until dark. Kids and adults are welcome.
Family Fall & Halloween Festival — Massapequa
Marjorie Post Park
Saturday, October 21
There's plenty to do at this fun, family event, including pumpkin picking, hayrides, corn maze, inflatables, games, and more. Kids can wear their costumes. Bring your jack-o-lantern and enter the Carved Pumpkin Contest.
Fall Family Freshwater Fishing Festival — Hempstead
Hempstead Lake State Park
Saturday, October 21
A fall festival with a fishing theme: Kids enjoy pumpkin decorating, face painting, arts and crafts activities, and fly fishing demonstrations. Fishing rods are available for loan on a first-come, first-served basis.
Main Street Nursery Fall Family Festival — Huntington
Main Street Nursery
Saturday, October 21
You'll find pumpkin decorating, scarecrow building (bring your own clothes), a hay maze, face painting, live music, and more at this nursery's fall festival. Food and beverages from local vendors will be available.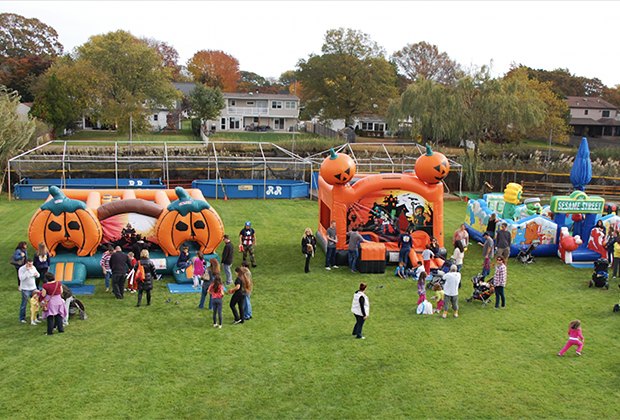 Enjoy seasonal bounce houses at Rolling River in East Rockaway.
Rolling River Annual Fall Festival — East Rockaway
Rolling River Day Camp
Saturday, October 21
There will be plenty to do at this daylong event, including carnival and pony rides (for a fee), arts and crafts, farm animals, face painting, demos, and live music.
Fall Family Festival at Thomas School of Horsemanship — Melville
Sunday, October 22
Family-friendly activities include pony rides and hay rides, pumpkin picking and decorating, rides, a petting zoo, and more. There is a playground open to all.
Fall Festival at the Bayville Library — Bayville
​Sunday, October 22
There will be plenty of fun, fall events and activities to enjoy at the Bayville Free Library, including crafts, carnival games, face painting, and pumpkin decorating. Families will also enjoy live, interactive performances.
Fall Festival at The Little Gym of Roslyn — Roslyn
​Sunday, October 22
This community event promises fun for little ones, who can wear their costumes. For a $10 donation to Red Cross Disaster Relief, families can be entered into a raffle.
Islip Fall Festival — Islip
Islip Chamber of Commerce
Saturday, October 28
Help make this first-ever fall festival a success. Halloween-themed activities include a kids' costume parade and pumpkin patch. There's also face painting, craft and food vendors, and a charity pie-eating contest.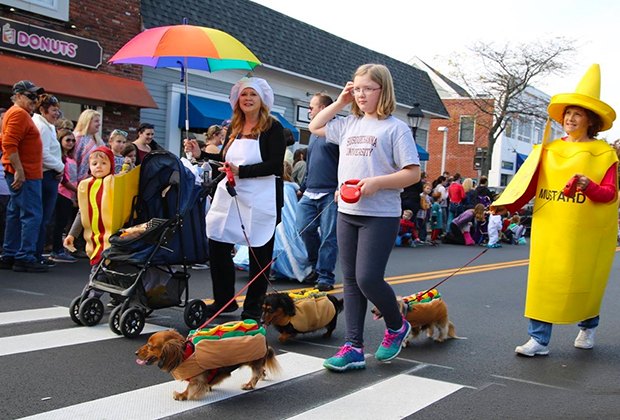 Decorate your dog and join the parade in downtown Port Jefferson. Photo courtesy of PortJeff.com
Port Jefferson Harvest Festival — Port Jefferson
Sunday, October 29
Take a walking tour of haunted buildings and check out scarecrow alley at this annual festival that promises fun for the whole family. There's also a marshmallow roast, a costume dog parade, wood-carving demonstration, wine tasting, and more.
Fall Fest at Connect Church — Bellmore
Connect Church
Tuesday, October 31
Expect plenty of family-friendly activities at this fall event, including inflatables, slides, face painting, games, and more. Live entertainment, too.
Storytime and Crafts
Weekly Storytime and Activity at Barnes & Nobles — Monthlong, locations across Long Island
Kids hear a story and get to participate in crafts and other activities each week. Check out these locations for more details: Carle Place, Manhasset, Massapequa Park, Bay Shore, East Northport, and Lake Grove.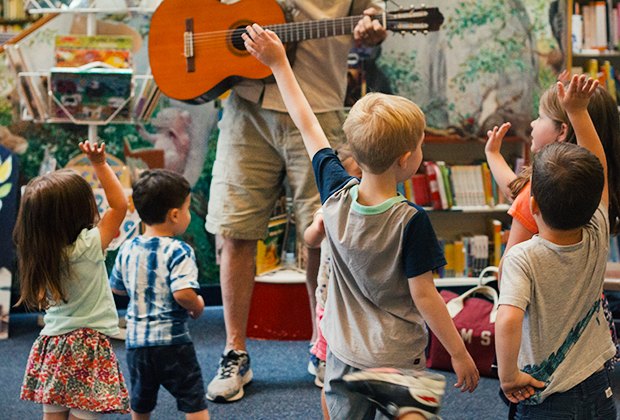 Book Revue's weekly Toddler Time includes stories, crafts, music, and dance. Photo by AnnaLee Barclay
Toddler Time at Book Revue — Huntington
Thursdays throughout October
Bring your child to this popular independent bookstore for its free weekly storytime with crafts and music. Musician Jeff Sorg visits once a month,
Circle Time and Toy Center — Westbury
Westbury Library
Fridays
Enjoy a weekly 15-minute story time for children 6 months to 4 years old and their parents and caregivers.
Storytime and Craft at The Dolphin Bookshop — Port Washington
Sunday, October 15
Children's author Linda Napoli will be at this local book shop to read from her book Sailing Away on a Windy Day. Kids will also enjoy a craft project.
Free Craft for Kids at Lakeshore Learning Store — New Hyde Park
Saturdays, October 21 and 28
No reservations are necessary. Bring your kids to the store for a free craft project.
Crafter Noon at Emma Clark Library — Setauket
Emma Clark Library
Saturday, October 21
No need to register. Stop by the library any time between 1 and 3pm and kids can make their own ghost magnet.
Michael's Halloween Workshop — Islandwide
​Saturday, October 21
Kids get to make their very own glow-in-the-dark slime. No advance registration necessary; all supplies are provided at no charge.
Mommy-and-Me Classes
Babywearing Dance Trial Fitness Class — Massapequa
Sensational Development
Sundays throughout October
Dance the calories away while snuggling with your baby. Moms work out while carrying their babies in a carrier. Older siblings are welcome: They can bring their own baby dolls.
Mommy & Me — Dix Hills
The Chai Center Preschool & Camp
Wednesdays through November 22
Join this weekly mommy-and-me class, where you and your baby will enjoy music, arts and crafts, playtime, and more.
Caboosy Babies — Bethpage
Tots on Track
Wednesdays
Babies up to 6 months can enjoy circle time and gym activities, while moms and caregivers get to meet their peers at this introductory class.
|
Sensory Sundays at Yogibo at Roosevelt Field offer a sensory-friendly introduction to yoga.
Sensory Sundays at Yogibo — Garden City
Roosevelt Field Mall
Sundays, October 22 and 29
On Sunday mornings at Yogibo lights are dimmed, the music is lowered, and the store is closed to the public while families (4-6 at a time) join in on an interactive demonstration of Yogibo products. Includes activities and light refreshments. By appointment only.
Other Events
Science Day at Sagamore Hill — Oyster Bay
Saturday, October 21
This is the first-ever Science Day at Sagamore Hill, promising educational fun for the whole family. Different stations and activities will be scattered outdoors around the former president's residence.
United States Marine Band Performance — Dix Hills
Half Hollows Hills High School
Saturday, October 21
​This is the only Long Island performance by the Marine Corps band during its 2017 national concert tour. Tickets are free (limit of four); seating is on a first-come, first-served basis.
Heckscher Village Art Walk — Huntington
Heckscher Museum of Art
Sunday, October 22
The museum has joined with other local art institutions in a celebration of all things artistic. Meet authors and artists and enjoy art activities, light refreshments, and raffles.
Blind Ice Hockey Skating Event — East Meadow
Northwell Ice Center at Eisenhower Park
Saturday, October 28
Visually impaired individuals of all ages are given the chance to try ice skating and experience how blind ice hockey is played.
Photos courtesy of the events/venues