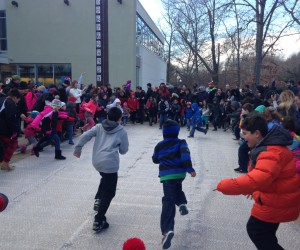 New Year's Eve Fun for Boston Kids
Parents might think of New Year's as a holiday for grownups, but there are some great opportunities to celebrate with the kids, too. First Night Boston is an obvious choice, and as an added bonus, it's free. But if you're looking for something a bit more low-key, there are plenty of other options. Most of these events take place at museums out in the 'burbs, so if one of them is in your neck of the woods, attending a special family-friendly New Year's Eve event might become an annual family tradition.
Noon Year's Eve at the Ecotarium in Worcester (pictured) offers fun for the whole family. Activities include decorating a lighted ball, toasting resolutions, and making time capsules.
Location: 222 Harrington Way, Worcester, MA 01604
Event Time: 10am-5pm
Countdown Time: 12pm and 2pm
Ages: All ages
Bessie's New Year's Eve PJ Dance Party at the Discovery Museums in Acton is a great way to shake things up for the little ones. Activities include making noisemakers and hats and counting down to 12 (noon).
Location: 177 Main Street, Acton, MA 01720
Event Time: 10am-12pm
Countdown Time: 12pm
Ages: 2-8
Happy Noon Year at the Boston Children's Museum includes crazy hat making and a countdown to the "noon" year.
Location: 308 Congress Street, Boston, MA 02210
Event Time: 10am-12pm
Countdown Time: 12pm
Ages: 2-8
The Family New Year's Eve Party at the Children's Museum in Easton is the perfect way for kids to ring in the new year. Activities include creating hats and noisemakers, a magic show, and confetti blast cannons.
Location: 9 Sullivan Avenue, North Easton, MA 02356
Event Time: 10am-4pm
Countdown Time: 12pm, 2pm, and 4pm
Ages: 2-9
The New Year's Eve Countdown to Midnight at the Wenham Museum is a popular event at the museum for families, with performances by Lindsay and Her Puppet Pals and Wiggles and Giggles Music. Activities include a countdown and ginger ale toast.
Location: 132 Main Street, Wenham, MA 01984
Event Time: 10am-1pm
Countdown Time: 12pm
Ages: All ages
Jammin' New Years 2017 at Jammin' With You is a rocking dance party with Josh & the Jamtones, My Gym Movement Play Zone, crafts provided by The Kids Place, Photo Standee by Goldfish Swim, a Balloon Drop, Karaoke Sing Alongs, Marshmallow Camp Fires, raffle tickets, and food available for purchase. Two times are available.
Location: 12B Mica Lane, Wellesley, MA 02481
Event time: 10:30am-12:30pm or 2pm to 4pm
Ages: All ages
New Year's Eve at the New Hampshire Children's Museum is another great way to enjoy the holiday with the kids. Activities include party hats, noisemakers, and countdowns.
Location: 6 Washington Street, Dover, NH 03820
Event Time: 10am-3pm
Countdown Time: 11am, 12:30pm, and 2pm
Ages: All ages
LEGOLAND DIscovery Center is hosting its first Noon Year's Eve celebration. Guests get party hats to celebrate the countdown to noon, enjoy a balloon drop, have a sparkling apple cider toast and watch the indoor fireworks in MINILAND®.
Location: 598 Assembly Row, Somerville, MA, 02145
Event Time: 10am-7pm
Countdown time: 12pm
Ages: 3-10
For teenagers, the All Night Blackwatch sword party at Guard Up Family Swordmanship is a unique way to celebrate. This roleplay adventure goes until the wee hours, with pickup the next morning.
Location: 103 Terrace Hall Avenue, Burlington, MA 01803
Event Time: 6pm-8am
Countdown Time: midnight
Ages: 13+
Finally, for a family-friendly evening, Beverly's New Year in downtown Beverly is filled with fun events. Everyone can enjoy performances indoors and out. The theme this year is Pokémon.
Location: Cabot Street, Beverly, MA 01915
Event Time: 3pm-7pm
​Event Date; Dec 30
Countdown Time: 6:45pm
Ages: All ages
---
Photo Courtesy of EcoTarium