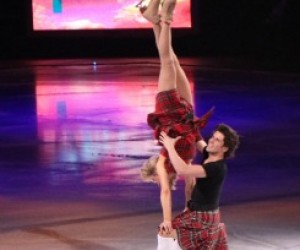 Stars on Ice: Then and Now Tour with Dorothy Hamill (Review)
The Stars on Ice tour paid its annual skate-and-run visit to the Southland this past weekend. Figure skating buffs know Stars on Ice to be the ultimate skating show, while the uninitiated may never have seen an ice show that wasn't hosted by a giant mouse. For those who hesitate at the prospect of professional figure skating without a Disney Princess involved, think of Stars on Ice as something more akin to Cirque du Soleil on blades. It's a grand scale concept show that features fabulous costumes, inspiring music, and - above all - seemingly impossible physical feats. So what's not to love?
This year's tour features two particularly familiar names from Olympic games gone by, as Dorothy Hamill returns to skate alongside Kurt Browning on his farewell tour. The cast around them includes world, Olympic, and national champions from Russia, Canada, the US, and Scotland (guess which ones are in the photo above...) who skate individually, in pairs, and in one, big, über-talented group.
Something that has always made Stars on Ice stand out in the skating world is the strong male showing; this is a production teeming with manly moves. Olympic champion Scott Hamilton originally founded the show when he was released from the Ice Capades on the premise that male skaters don't sell tickets; his touring brainstorm has been proving the theory wrong ever since. Male and female champions alike let loose, spinning, jumping, and contorting with a refreshing style that is distinctly un-princessy, giving audience members of every generation and both genders plenty to applaud.
The show's younger skaters seem to revel in shaking off the limitations of judges and competition, cutting up the ice with their boldest, flashiest, wackiest moves. In the opening number Ryan Bradley and Shawn Sawyer treat us to side by side back flips (a stunt which they later repeat individually), and ice dancing pair Sinead and John Kerr shake things up with a gender-reversed lift, Sinead showing that she's just as capable of defying gravity as her brother. The Scottish pair also scared us silly when he grabbed his big sister by her boots and started swinging her around in circles in a way that looked certain to smack her head repeatedly on the ice. What's that line about revenge being best served cold...? That sure looked like revenge for something, and it sure looked cold.
These younger skaters, all part of the "Now" in the show's title, were beautifully balanced by the highly impressive "Then." The first individual skater of the evening was the legendary Dorothy Hamill, whose hair still looks great when she spins, even after all these years. There is an undeniable thrill for moms in seeing a woman older than most of us raising her leg higher than her head as she glides by with the grace and power we would all like to imagine we have. Ms. Hamill's joy is infectious, particularly when she skates with the leaping and bounding Kurt Browning - another relative old-timer who has announced this year's show as his farewell tour. Watching the forty-something skater do triple jump after triple jump, it's hard to accept that he has any business retiring. But the piece he has chosen for his swan song is a beauty, as he spins, jumps, and splashes Gene Kelly-like with his umbrella, through an actual rain storm on the ice.
A show that opens with a Saturday Night Live bit and closes with Singing in the Rain obviously offers plenty to keep moms and dads smiling, but the kids in the audience had just as much fun, skipping out at the end singing the soundtracks of some of the younger skaters. And it was one of those younger skaters, Shawn Sawyer, whose name was on all of our lips as our evening ended. The young Canadian skater performs contortions and feats of physics to challenge any Cirque du Soleil acrobat - and he does it while traveling at high speeds with sharp blades on his feet. That's one figure skater who needs no Prince Charming costume to get an audience's attention.
Stars on Ice has made its one and only stop in SoCal for 2013, though if you're passing through Chicago or Portland later this week, you can still catch this year's show. Otherwise, tickets are already on sale (at a discount through the end of April) for 2014.