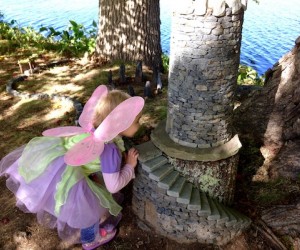 Our Visit to the Wee Faerie Village at Florence Griswold Museum in New London County
During the next three weeks, in a kingdom of enchantment sprawled along the scenic Lieutenant River in New London County, hundreds of little princesses and princes with shimmering wings and golden crowns will race each other through this royal territory. This year's Wee Faerie Village at Florence Griswold Museum in Old Lyme features 32 fairy houses inspired by beloved childhood classics. The annual event attracted some 19,000 visitors last year, and for good reason.
To describe the displays as just fairy houses is an understatement; hidden between majestic oaks and dogwoods are sand castles, stone watchtowers, tepees, a village, and inspiring wood carvings. Relying mostly on items found in nature, the habitats feature intricate and stunning combinations of seashells, moss, pine cones, pebbles, feathers, and bark. Each one reflects and inspires joy and creativity.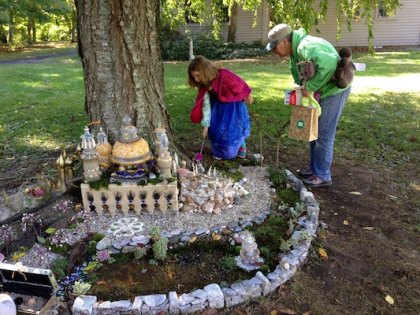 Intensifying the experience and escalating the fun is a treasure map that requires little pixie folks to follow the numbered castle towers and locate relics from fairy-tales. On the day we visited, giggles and screeches of delight filled the air as visitors of all ages participated in the search. Will you find Cinderella's magical slipper or Thumbelina's wings? Will you spot the portraits of Belle and the Beast, or Olaf's carrot nose? Will you spy Aladdin's lamp or the trident in Poseidon's Undersea Kingdom? The displays, including Jack and the Beanstalk, Shrek's Swamp Kingdom, and King Arthur's Castle, are simply magnificent, so be sure to stop by before the fairies take flight on November 1.
This whimsical event will not only encourage or reaffirm a love of reading and exploration of the natural world, but it will inspire creative art projects in the cold months to come. My daughters are already excited about preserving colorful autumn leaves (put wax paper on your shopping list!), making pine cone bird feeders, and covering a birdhouse in seashells.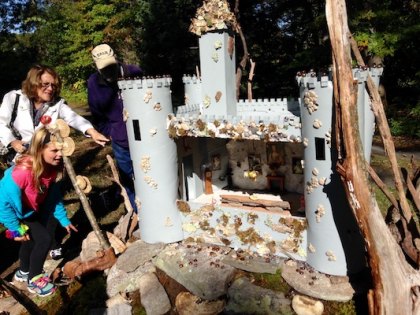 Allow at least two hours to visit the fairy displays. As part of the exhibition, visitors also can enjoy themed activities, including music, story times, and arts and crafts. Then, of course, there is the actual museum of art, "the home of American impressionism." Furthermore, the museum grounds are inspirational in their own right, canvassed by beautiful, old-fashioned gardens. Enjoy a picnic along the river, relax on a bench under the canopy of an aged tree, or dine onsite at Café Flo. Your family can also borrow Explorer's Kits and play art detective, learn about different boats connected with the museum, make leaf rubbings and acquire knowledge about the trees on the property (my girls loved this one!), or become informed about color mixing.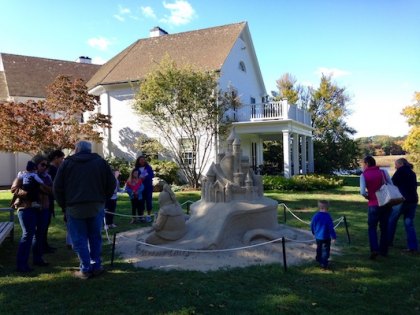 Admission to the Wee Faerie Village is free for children under 12 and $15 per adult, including access to the art galleries. Rain or shine, it is open Tuesday through Saturday from 10 a.m. to 5 p.m., and Sundays from 11 a.m. to 5 p.m. It is also open on Columbus Day (October 12), from 10 a.m. to 5 p.m. Strollers are allowed, but the terrain is not exactly stroller-friendly; little wee visitors might be happiest in a hiking backpack, though there is plenty of green grass to roam.
You also will find plenty of free parking, clean restrooms, and a gift shop featuring everything from inspirational books, to locally-crafted jewelry, to gourmet teas. Come prepared to spend a few enchanting hours because, as the saying around here goes, you'll "have a faerie nice day."
Florence Griswold Museum is located at 96 Lyme Street in Old Lyme, CT.