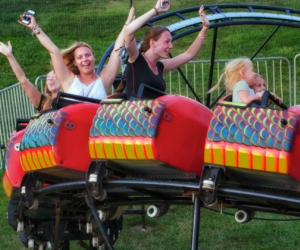 Labor Day Weekend Fun for Philly Kids: Fairs, Festivals, History, September 2-4
Labor Day weekend is the unofficial end of summer for Philly families. Be sure to make the most of this three-day weekend with some of the amazing activities found in our events calendar.
This weekend features a variety of end of summer fairs and festivals. Learn about Medieval England with a trip to the Pennsylvania Renaissance Fair. Listen to a polka band and taste pierogies at the annual Polish-American Family Festival & County Fair. See the horses and ride the amusements at Ludwig's Corner Horse Show and Country Fair. For some free fun, cool off inside The Barnes Museum for its Free First Sunday or The Philadelphia Museum of Art during its Pay What You Wish admission.
Or, ramp up for the school year with an educational encounter. Experience the life of the Lenape with a visit to Churchville Nature Center. Learn about the Revolutionary War at the newly opened Museum of the American Revolution where kids under 12 get in free all weekend long. Witness a free military demonstration at Signers' Garden, hear a reading of the Declaration of Independence, and be inspired by tales of our Founding Fathers at the Once Upon A Nation Storytelling Benches located throughout Historic Philadelphia.
Try squeezing in one more trip during this long weekend with a shore getaway, a jaunt to Amish Country, or a cross-state excursion to Pittsburgh. As summer comes to a close and families make way for soccer practice, piano lessons, and homework to begin, enjoy this weekend and make memories to last a lifetime.
Weekend
Ludwig's Corner Horse Show and Country Fair- Glenmore, PA
Throughout Labor Day weekend, visitors to Ludwig's Corner can expect a variety of fun such as rides, games, a magic show, a costumed pet parade, and face-painting. Be sure to check out the Horse Show as well.
Pennsylvania Renaissance Fair- Manheim, PA
The annual Pennsylvania Renaissance Fair is in full swing this weekend at Mount Hope Estate and Winery. Be sure to read our parent review about this unique experience before you go.
Back to School Weekend- Philadelphia, PA
To celebrate the start of the new school year, the Museum of the American Revolution offers free admission to students under 12 years of age.
Penguin Awareness Weekend- Camden, NJ
Visitors to Adventure Aquarium can participate in a variety of penguin-programming designed to educate guests on the habitat of the endangered African Penguin.
Labor Day Weekend Fireworks- Langhorne, PA
Send the summer of 2017 out with a bang, a boom, and a sizzle as colorful fireworks light up the nighttime sky at Sesame Place. For a special splurge, eat at the Labor Day BBQ character meal prior to the show.
Polish-American Family Festival & Country Fair- Doylestown, PA
It's time for the 52nd annual Polish-American Family Festival & Country Fair held at The National Shrine of Our Lady of Czestochowa. Enjoy live music, dancing, performances, amusements at the Midway, and shopping in The Polish Village. Be sure to try some pierogies, potato placki, kielbasa, funnel cakes, and Polish fries, too!
Saturday
Star Wars Science Day- Wilmington, DE
Visit the Delaware Children's Museum for a day filled with intergalactic fun! Kids can meet with Star Wars characters while learning about science through hands-on activities and experiments.
Home Depot Kids Workshop- Your town, PA
Just in time for the new school year, children can build their very own pencil box during Home Depot's free workshop.
Seafarin' Saturday- Philadelphia, PA
Participate in nautical activities at the Independence Seaport Museum. Shiver me timbers, this week's featured theme is Pirate Swords- argh!
Sunday
Free First Sunday at the Barnes- Philadelphia, PA
Explore the Barnes Foundation free of charge to enjoy the exhibits and talks that are provided. While visiting, children can participate in the ArtSee Activities which features the theme, All Together Now.
Steamin' Day at Auburn Heights- Yorklyn, DE
The Marshall Steam Museum provides a fun-filled day featuring train rides, rides in old-fashioned automobiles, demonstrations, and more.
Sunday Polo- Toughkenamon, PA
Bring a picnic lunch and a blanket or chairs to watch a game of polo at the Brandywine Polo Club. Leashed dogs are also welcomed!
Vulture Day- Doylestown, PA
Have you ever wondered about those big turkey vultures that circle overhead? Peace Valley Nature Center hosts a chance to learn about these misunderstood, yet fascinating birds.
Lenape Village Public Tour- Churchville, PA
Explore the life of the Lenape people at Churchville Nature Center by participating in eight engaging stations. These stations allow children to experience what life was like in the 1500s.
Monday
Blue Cross RiverRink Summerfest Closing- Philadelphia, PA
It's the last day to enjoy Philly's only outdoor roller skating rink at Blue Cross RiverRink.
Photo courtesy of Polish-American Family Festival & Country Fair