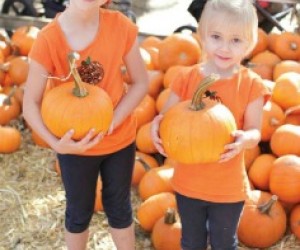 Fun & Free Things to Do with LA Kids this Weekend: OC Kids' Book Fest, Abbot Kinney & Fall Harvest, Sept 27 - 28
Hello, Present You. This is Future You, telling you not to panic. I know what you're thinking. I've been there, (I'm you), and I'm telling you it all works out okay. Yes, it is Fall. Fall means Harvest, Harvest means pumpkins, pumpkins mean from now until 2015 it's Halloween-Thanksgiving-Hanukkah-Christmas-Kwanzaa-New Year's all presented in a non-stop, candy-coated, costume-wearing, gifts-piled-high frenzy...
Oh dear. That's not helping you relax, is it? Okay. Let's just focus on the now. This weekend. So much fun to be had in two little days: San Gennaro, free museums, Hispanic Heritage celebrated all around town, Abbot Kinney, a giant kids' book festival, the Day of the Drum, wiggle waggle walking, and a chance to mingle with celebs while learning how to keep your kids safe.
See? Everything is going to be okay. You'll even get that thing you want. Oh, and you won't believe what your kid is gonna do next.... but why spoil the surprise!
Keep reading for some of our favorite picks for this weekend....
ALL WEEKEND

Feast of San Gennaro Los Angeles - Hollywood
The Feast of San Gennaro brings a taste of Italian culture and cuisine to Hollywood, with live music, rides, and lots of good eats. Mangia!

Smithsonian Magazine Museum Day - Multiple Locations
Numerous museums throughout the country open their doors for free. Simply go online to request a free ticket; each household can request one ticket good for 2 people. Most museums participate on Saturday; the Zimmer's free museum day is on Sunday.

Underwood Family Farms' 17th Annual Fall Harvest Festival - Moorpark
Underwood Farms' Fall Harvest Festival kicks off with Friends of the Farm Weekend, a tribute to local heroes such as firefighters and police officers. Kids can check out SWAT cars, ambulances, and bulldozers plus seasonal attractions that include a tractor-drawn wagon ride, the corn maze & labyrinth, and the pumpkin house.

Hispanic Heritage Celebration - Griffith Park
The LA Zoo's weekend festivities include live performances by the Mariachi Divas, Music Center on Tour artist Ballet Folclorico do Brasil, Ballet Folklorico Maria Felix and ASOSAL, as well as Latin American-inspired craft projects. The animals get in on the fun with special treats and activities for the jaguar, capuchin and howler monkeys, and always-playful giant river otters.

Baja Splash Cultural Festival - Long Beach
The Aquarium of the Pacific celebrates Hispanic Heritage month with dance, music, and food.

Redondo Beach Lobster Festival - Redondo Beach
The Redondo Beach Lobster Festival serves up plenty of the crustacean delicacy, with live music and a kiddie area.

Last Weekends of the Month at the Skirball - West LA
Happy New Year! September's "last weekend" activities include a harvest-related art project using natural materials.

Festival of Children - Costa Mesa
Closing weekend fun includes a Read for the Record event and many performances.

LA County Fair - Pomona
It's the closing weekend of the County Fair! LL Cool J with Salt N Pepa and Earth Wind, & Fire make it a weekend to remember.

Kids Flea Market - Pasadena
Budding entrepreneurs can get a taste of commerce at Kidspace Children's Museum kid-run flea market, selling gently used or home-made goods.

SATURDAY SEPTEMBER 27

Free Entrance Days in the National Parks - the Great Outdoors
Looking to get out of town? Entrance at all National Parks is free today.

Lowes Build and Grow - Multiple Locations
Do you have a fire truck? No worries, you can build one at the free workshop at Lowes.

33rd Annual Watts Towers Day of the Drum Festival - Watts
The Watts Towers Campus comes alive to the beat of the drum! This free festival features world-class live music and drumming performances, drum circles, dancing, art exhibitions, arts and crafts for sale, international food, and crafts activities for kids.

AMC Theatres Sensory Friendly Films - Multiple Locations
Select AMC Theatres show a sensory-friendly screening of Dolphin Tale 2 for families affected by autism.

Disney Store Grand Opening - Cerritos
How big a deal is the opening of the Disney Store at Los Cerritos Center? Mickey and Minnie both will be there!

Saturday Morning Concerts - Santa Monica
Books and Cookies is up and running in its new Main Street location! Sandra Sandia keeps the fun going.

Beat Buds - West LA
The Beat Buds visit Children's Book World for a rockin' interactive musical experience.

60th Anniversary Celebration - Multiple Locations
Time for a party! Lakeshore Learning Store celebrates its 60th anniversary with crafts, party hats, and goodie bags.

Saturday Science at Columbia Memorial Space Center - Downey
At this month's program kids can learn about the Space Station and do an activity about Dancing Raisins.

Family Day at the Pasadena Museum of California Art - Pasadena
The Pasadena Museum of California Art invites families to participate in fun art projects for all ages, based on current exhibitions.

Street Food Cinema - Pasadena
Beetlejuice! Beetlejuice! Dare to say it a third time? The Tim Burton classic screens under the stars in Pasadena's Brookside Park.

Electric Dusk Drive-In - Downtown
Follow the yellow brick road to a drive-in screening celebrating the 75th anniversary of The Wizard of Oz.

SUNDAY SEPTEMBER 28

Orange County Children's Book Festival - Costa Mesa
The largest children's book festival in the country features authors and illustrators, live readings and storytelling, an animal stage and petting zoo, free train rides, and lots and lots of books.

Abbot Kinney Festival - Venice
Abbot Kinney Blvd. overflows with vendors, performers, and tons of food. The Kidsquad offers endless sources of amusement, including bouncy houses, a climbing wall, crafts galore, and kid-friendly musicians.

The Mother Company Book Release: Miles is the Boss of His Body - Brentwood
The Mother Company celebrates the release of its newest book with fun crafts, delicious snacks, and story time with Ruby.

Mole Festival - Downtown
Feria de las Moles is the largest Mexican food festival in the USA and features more than just mole sauce; Olvera Street comes alive with family recipes from all over Mexico.

Free Day at MOLAA - Long Beach
Museum of Latin American Art celebrates Hispanic Heritage Month with a tribute to the music of Cuban icon Benny Moré.

Hammer Kids: Close Encounters - Strut Your Stuff in the Sculpture Garden - Westwood
The Hammer visits the UCLA Sculpture Garden for a lesson in hip-hop inspired by sculptural forms.

The BIG Squeeze 6th annual OC Accordion Festival - Costa Mesa
It's not just for polka anymore! The Big Squeeze Accordion Festival aims to show the instrument's diverse range.

Family Art Workshop - Hollywood
This weekend's Dream Painting workshop is inspired by the Aboriginal culture of Australia.

High Holidays Tashlich Bike Ride - Culver City (to the Beach)
Temple Akiba leads a Tashlich Bike Ride to the beach for the Jewish New Year.


And as always, there are many more activities listed on our daily events calendar. Whatever you choose to do this weekend, we hope you have oodles of fun!