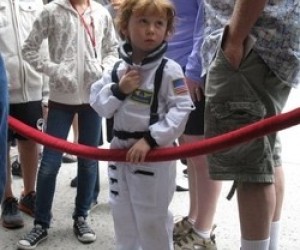 Fun & Free Things to Do with LA Kids this Weekend: JPL Open House, Discover MDR and Music Center Pop Ups, Oct 11 - 12
Look to the stars, baby! It's a truly astronomical weekend in Los Angeles. First we had another one of those blood moon things, (which I'm told was lovely but, you know, late. Momma needs sleep). Then we had all sorts of executive visits (both presidential and vice). I didn't actually see those either, though I may have heard them (helicopters and Tea Party rants). But I tell you what I wouldn't miss for all the world: the return of the JPL Open House. Science, dudes! Rockets! Spacecraft!
If the only star you need to see is your own beaming baby, you might want to check out LA Parent's cover kids contest. If you can't say Star without Wars, you can join fellow readers at Barnes and Noble or fellow bricklayers at Toys R Us. The Music Center is the star of its own festivities, as is Marina del Rey.
And as any child will tell you, the real star of October is Halloween. The trains, mazes, and spook-fests have begun. You have two more weekends to get your spook spirits up, before the most hallowed eve arrives. And possibly the Great Pumpkin.
Keep reading for our most out of this world picks for the weekend...
The Man Who Planted Trees - Beverly Hills
The latest production at the Wallis tells the inspiring story of a shepherd who plants a forest, acorn by acorn, transforming a barren wasteland. And there's puppets!

JPL Open House La Cañada Flintridge
It's back! NASA Jet Propulsion Laboratory once again welcomes kids of all ages to explore the universe, with the men and women who are exploring the universe. (With rockets and spaceships!)

Circus Vargas presents Magikaria EXTREME! - Burbank
The delightful, animal-free circus returns to Burbank for fun under the Big Top.

Disney's Alexander And The Terrible, Horrible, No Good, Very Bad Day (PG) - Hollywood
However bad your day is, you ain't got nothin' on Alexander. Extras at the El Capitan include a bad day photo booth.

Camp Spooky - Buena Park
Knott's Berry Farm's daytime celebration is great for the younger Halloween enthusiasts. Come in costume to enjoy Peanuts themed rides and shows.

Seaside Highland Games - Ventura
Once in the Highlands, the Highlands of …Ventura? Families can play the Scottish way, with Highland dancing, sheep herding, warrior re-enactments, a Children's Glen (complete with bonny wee calves to pet), bagpipes, and big men in kilts throwing things.

Reyes Adobe Days - Agoura Hills
This weekend-long celebration of California's heritage doesn't scrimp on the fun, with a parade, pony rides, and a petting zoo.

Underwood Family Farms' 17th Annual Fall Harvest Festival - Moorpark
The Fall Festival continues at Underwood Family Farms. This weekend antique tractors are the stars of the show.

Absolutely Halloween - Santa Monica
The Santa Monica Playhouse's seasonal production features a girl named Candy who must save Halloween (with a little help from the audience!).

Pumpkinliner - Fillmore
All aboard! A vintage train takes you to the pumpkin patch, where Jolly Jumps, a carousel, crafts, and the perfect pumpkin await.

Bob Baker's Halloween Hoop-Dee-Do - Downtown
Halloween season marks the return of Bob Baker's Halloween Hoop-Dee-Do, featuring a fantastical cast of more than 100 Halloween themed puppets, from the Purple People Eater and the Invisible Man to a gaggle of dancing Roaring 20s skeletons.

SATURDAY OCTOBER 11
Pop-Ups! @MusicCenterLA & Make Your Mark in the Park - Downtown
The Open House activities at the Music Center and the Big Draw at Grand Park coincide for a day of free arts and artmaking. The Music Center features Pop-Up art experiences to get you moving, playing, dancing and making art. The latest kid-friendly World City concert offers performers with Bolivian roots. Meanwhile, Grand Park is transformed into a giant experimental drawing studio, with participatory drawing activities. Families can "make their mark on the park" (though hopefully not with permanent marker).
LA Parent Magazine Shooting Stars 2014 Cover Kids Contest - El Segundo
You oughta be in pictures! Or at least your kid should. Photogenic young'uns can enter to be on the cover of LA Parent Magazine.
Star Wars Reads Day - Multiple Locations
A long time a go in a galaxy far far away, Barnes & Noble celebrated Star Wars Reads Day. Scratch that. It's this Saturday, at a whole bunch of Barnes & Nobles in LA.

Aquarium Kids Fun Run - Long Beach
Who needs a marathon? Kids can get moving at this one-mile run starting at the Aquarium of the Pacific. (Runners get free entry into the Aquarium, too!)

Lowes Build and Grow - Multiple Locations
Booo! The free project at Lowes this weekend is a Haunted House!

BHCP Kids Club - Baldwin Hills
Kids can make a Lucha Libre mask in celebration of Hispanic Heritage month at Baldwin Hills Crenshaw Plaza.

Star Wars Rebels Event - Multiple Locations
Use the force to construct a LEGO Mini Ghost ship at participating Toys R Us locations.

Spooky Ghost Party - Thousand Oaks
Indoor Playground Hideout holds a fun and spooky party to get kids in the Halloween spirit.

FIGat7th Kids Club - Downtown
Yikes! The Kids Club project this weekend at FIGat7th Plaza is making a 3-D Spider.

Marzo's Variety Show for Kids - West Hollywood
This months's show features Magician Ryan Majestic, Puppeteer Nick Kane, Musician Teacher Davis, and Critter Captain Wendy, aka Wendy Wilkins.

Zombie Land In Search of PumpkinHead - Fillmore
This one sounds scary! The Fillmore & Western Railway newest train goes to Zombie Land. (At least they feed you a BBQ dinner along the way.)

SUNDAY OCTOBER 12

Discover Marina del Rey Day - Marina Del Rey
The Marina provides a beautiful backdrop to this annual kid-centric festival at Burton Chace Park. (With bouncers! and puppets! And a pumpkin patch!)

Free Day at OCMA - Newport Beach
It's a Superhero Masquerade at Orange County Museum of Art. Kids can come dressed as their favorite superhero and take in an interactive music performance by Jukebox Radio.

Velveteen Rabbit - Topanga
Creative Playground explores what it means to be "really real," in a stage version of The Velveteen Rabbit at Theatricum Botanicum.

Children's Garden Workshops - Irvine
The forms, colors, and textures of nature provide inspiration in this month's garden workshop at the Orange County Great Park.

Re:Imagine Garden Grove - Garden Grove
Three miles of Downtown Garden Grove streets close to all cars so people can walk, bike, run, skate, play and enjoy the public space in a safe and comfortable way.

Hammer Kids: Look Together: How to Write about Art - Westwood
Okay, so you can look at it, you can talk about it… but can you write about art? Learn how at this weekend at the Hammer Museum!

Andell Family Sundays - Draw It! - Mid-Wilshire
As a special extra at this week's Family Sunday, author Hervé Tullet reads from his new book, Mix It Up! and paints with families to create a giant collaborative floor mural.

Autry Explorers: Global Cardboard Challenge . . . Autry Style - Griffith Park
Caine's Arcade continues to inspire! Visitors to the Autry can use tape, staples, fasteners, and imagination to transform stacks of cardboard into three-dimensional creations such as stagecoaches, horses, or a Western town.

Kids in the Courtyard: Spin a Yarn; Draw a Thread - Westwood
Textiles tell a story at the Fowler Museum.

Sunday Funday at One Colorado - Pasadena
One Colorado has a Craft & Snap Photo Booth - folks can make and choose fun props for photo booth fun.

Free Workshop & Open House: Tinkering with Electronics - Santa Monica
Digital Dragon celebrates LA Innovation Week with a free workshop and open house. Kids 7 and up can craft their own Halloween themed electronics project.

Second Sunday Concert Series - Mid-Wilshire
Kids can Rock with Luis at the Zimmer Children's Museum.

And as always, there are many more activities listed on our daily events calendar. Of course, we really recommending subscribing to our newsletter to stay on top of all the fun - especially at this time of year. Whatever you choose to do this weekend, we hope you have a spectacular time!