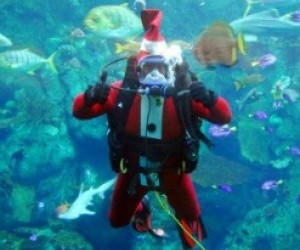 Fun & Free Things to Do This Weekend with LA Kids: Snow, Holiday Walks, and Boat Parades, Dec 7 - 8
And now it starts. We've had our Thanksgiving turkey and lit our Hanukkah candles, not to mention shopped Black Friday, Small Business Saturday, Cyber Monday, Green Tuesday, and There Must Be Something Left to Buy Wednesday. There's no kidding ourselves: the Christmas season is here and now. Santa Claus has come to town, and he won't leave until he's had a year's worth of breakfasts. (He really likes breakfast.)
Of course, December in LA is more than just Santa Claus. It's holiday lights. It's boat parades. It's Nutcracker upon Nutcracker, and snow, snow, snow. It's also the time of year that our calendar is so jam-packed that our weekly posts can only scratch the surface of the infinite possibilities for family fun. Trust me, though we do our best to highlight the hottest and the coolest, you're going to want to peruse our full calendar to make sure you're not missing a thing.
(Like say a giveaway. Which we might be doing at any time now. Like for instance, right this minute. And it could be for something awesome. Something princess. Something Disney. Just saying.)
Here are our favorite picks for the weekend, just to get you started...
ALL WEEKEND

Huntington Harbour Holiday Boat Parade - Huntington Beach
Huntington Harbour Holiday Boat Parade is a two night affair. The first night the judging takes place, while the second night is a chance for the honorees to strut their stuff.

Arctic Lights at the Moorpark Teaching Zoo - Moorpark
Winter's come to the Moorpark Teaching Zoo, with snow, holiday themed animal shows, and all sorts of fun for kids.

Annual Holiday Lamplight Celebration - Montecito Heights
Victorian homes lit by the aura of lamplights create a beautiful backdrop for Heritage Square's 19th Annual Holiday Lamplight Celebration.

Santa & Mrs Claus at The Paley Center - Beverly Hills
Mrs. Claus shares holiday songs and stories on a trolley ride through Beverly Hills; Mr. Claus awaits at the Paley Center to hear Christmas wishes.

Circus Vargas - Burbank
The animal-free circus moves to Burbank for some magical big top fun!

Holiday Treats for the Animals - Long Beach
Christmas comes early for the creatures at the Aquarium of the Pacific; Santa Diver delivers, even if it means swimming with the sharks!

Boat Parade of Lights - Dana Point
Boat owners from all over Orange County decorate their schooners and yachts to celebrate the season and compete for awards.

Sometimes you feel like a Nut (Cracker).
Here's a few of the productions dancing your way this weekend:
The Nutcracker (Marat Daukayev School of Ballet) Cal State Los Angeles
The Nutcracker (Inland Pacific Ballet) Pomona College Claremont
The Nutcracker (Los Angeles Ballet) The Alex Theatre Glendale
Bob Baker's Nutcracker The Bob Baker Marionette Theater Downtown
The Nutcracker El Portal Theatre - North Hollywood
The Nutcracker (California Dance Academy) Madrid Theatre Canoga Park

Christmas Tree Train & North Pole Express - Fillmore
Board a vintage train to choose your own Christmas tree or for a visit to the North Pole.

SATURDAY DECEMBER 7
Santa's Candy Cane Drive - Santa Monica
Santa gets an escort from Santa Monica's finest and bravest: firefighters and police officers accompany Santa as he visits local parks. Listen for the sirens!

Sand Snowman Contest - Hermosa Beach
True, traditional snowmen are made with snow, but it's really hard to sculpt the fine details with frozen fingers. Plus, sand doesn't melt.

Breakfast with Santa Claus - Santa Monica
The Jolly old Elf joins kids for breakfast and fun at Santa Monica Place.

Scuba Santa - West Hills
Seriously? You can scuba dive with Santa and get your picture taken… for free!? You might as well unplug the internet right now because you're not going to find anything more awesome.

Snow Day - Pasadena
Vroman's Bookstore creates a Winter Wonderland on the Paseo so awesome Frosty the Snowman shows up.

Spyder Snow Fest - Hermosa Beach
Feeling the snow? Downtown Hermosa gets in on the icy action, with 60 tons of man-made snow available for sledding.

A Christmas Carol with California Shakespeare Ensemble - La Cañada Flintridge
Don't be a Scrooge! Take the kids to see A Christmas Carol at Descanso Gardens.

Radio Disney at NHM - Exposition Park
The Natural History Museum celebrates the upcoming exhibition Traveling the Silk Road with Karan Brian (Ravi from Disney Channel's Jessie).

Anaheim Nutcracker Christmas Tree Lighting & Holiday Village - Anaheim
The annual celebration to launch the holiday season promises appearances by Santa Claus, free snowplay, free train rides, holiday music, and a tree lighting at dusk.

Silk Road Story Time - Pasadena
Gather in the traveler's tent at the Pacific Asia Museum for craft, snacks, a balloon, and storytime. This month: weaving tales.

The Malibu Mommie Fair - Malibu
New (and not so new) parents can discover local businesses, learn effective parenting techniques, and mingle with other families at this free resource fair.

1,000 Points Of Light! Redondo Beach
South Bay Galleria's annual 1,000 Points of Light holiday caroling celebration sets a goal of 1,000 attendees to each represent one point of light.

Main Street Holiday Parties - Santa Monica
Hot on the heels of Montana's Holiday Walk, the businesses of Main Street invite locals for holiday fun, including a candlelight procession to the Shopping Cart tree. (Drop by Books and Cookies for early festivities.)

Burbank Tree Lighting Ceremony - Burbank
The Mayor's Tree Lighting is held in front of City Hall.

SUNDAY DECEMBER 8

Manhattan Beach Annual Holiday Fireworks Festival - Manhattan Beach
Manhattan Beach comes alive with a flyover, a snow park, a bounce park, sing-a-longs, and - say what? - fireworks!

Family Flicks: Muppet Christmas Carol (G) - Westwood
For those who like your Dickens with a little Gonzo thrown in, may we present a free screening of A Muppet Christmas Carol at the Hammer Museum? Also at the Hammer: Sunday Afternoons for Kids: 826LA DIY Holiday Workshop, wherein kids create their own holiday, then write and perform old timey radio shows.

Festival of Lights - Silverlake
It's not too late to celebrate Hanukkah! Silverlake Independent JCC's annual celebration features a magic show, square dancing, and a performance by the Hollow Trees - plus yummy food, games, and activities.

Children's Garden Workshops - Irvine
Kids can play Garden Detective in the free monthly workshop at the Orange County Great Park.

American Girl at The Nutcracker Ballet - The Grove & Glendale
Start her day off with lunch at American Girl Place, then whisk her off to the Alex Theatre in Glendale for a performance of The Nutcracker; end up with one happy child.

Winter Family Festival - Studio City
Studio City gets hit with tons of snow - along with music, photos with Santa, face painting, crafts, and the Radio Disney Road Crew.

Second Sunday Concert Series - Mid-Wilshire
Andrew and Polly play the monthly concert series at the Zimmer Children's Museum.

Twin Day - Westwood
Fowler Museum celebrates twins with a day of twinned crafts and performances.

Las Posadas - Griffith Park
The holiday celebration at the Autry features Las Posadas, the Mexican tradition in which children portray Mary and Joseph seeking shelter as baby Jesus is about to be born.
Now more than ever, there are many more activities listed on our daily events calendar (and if you're not receiving our weekly events newsletter, you really should subscribe). Whatever you choose to do this weekend, we hope you have a spectacular time!