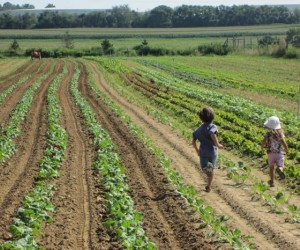 Family-Friendly Events on the East End, Hamptons & North Fork, August 22-24
There's still plenty of time to enjoy summer in the Hamptons and North Fork. This weekend your family can visit the Riverhead Railroad Festival and two summer carnivals. We've come up with 8 must-attend events during the weekend of August 22-24.
Be sure to also check out our Long Island Calendar for more kid-friendly activities, as well as our Hamptons and North Fork Guide. And don't forget to subscribe to our weekly newsletter so you can receive our roundup of fun things to do delivered directly to your inbox.
And for those of you staying out on the East End, be sure to check out CMEE's Summer Concert Series every Tuesday this month. Mommy Poppins Hamptons and North Fork Family Guide is a proud sponsor. This week: Karen K and the Jitterbugs.
All Weekend
Riverhead Railroad Festival
On Saturday and Sunday from 10am to 4pm, the Railroad Museum of Long Island will hold its Riverhead Railroad Festival at the museum, which is located at 416 Griffing Avenue. The event will feature refreshments, a GP-38 simulator, vendors, a historic Lionel toy trail layout and more. Cost: $8 adults, $4 children, Free for kids under 5.
Friday, August 22
Art Farm Summer Carnival
The Art Farm Summer Camp, located at 739 Butter Lane in Bridgethampton, will hold its annual Summer Carnival from 11:30am to 3:30pm. The event will feature carnival rides, games, music, entertainers and artists. There will also be farm animals and pony and hay rides. Cost: $60 children; $40 parents
Puppet Show
The Goat on a Boat Puppet Theatre, located at 4 Hampton Street in Sag Harbor, will be performing What the Moon Saw Travel, which is inspired by the tales of Hans Christian Anderson. The show starts at 11am. Cost: $12, $8 for children 3 and under; $10 grandparents.
Summer Carnival
The Manorville Fire Department is holding a fundraising carnival from 4pm to 10pm at Calverton Enterprise Park at Calverton. The event will feature live music, carnival rides, a car show and an antique fire truck and brush truck show. Cost: Pop tickets
Saturday, August 23
Yappy Hour
Fun for the whole family! From 4pm to 6pm, the Southampton Historical Museum and the Southampton Animal Shelter will hold a benefit at the Rogers Mansion, located at 17 Meeting House Lane. The event will feature a beach-themed dog costume contest, snacks and adoption parade, and a 50/50 raffle. Cost: Tickets are $25 each, children and dogs free.
Toys Saturday
Bring the kids to the Oysterponds Historical Society, located on Village Lane in Orient, to learn about how toys were made in Colonial Times using corn husks. The event is for children ages 5-12 and runs from 10am to noon. Cost: $2 per child
Sunday, August 24
Family Yoga Class
Breathe Zen Wellness Spa & Studio, located at 63 Main Street in Southampton, is holding a family yoga class where your family can wind-down together from 12:30pm to 1:30pm. Cost: $15 per person
Garden Sprouts
The Garden of Eve, located at 4558 Sound Avenue in Riverhead, is offering a hands-on farm class, focusing on gardening with a Jewish twist. During the class, which will run from 10am to 11:30pm, kids will learn the connections between nature and Jewish live. Cost: $8 per family
Photo Courtesy of Garden of Eve