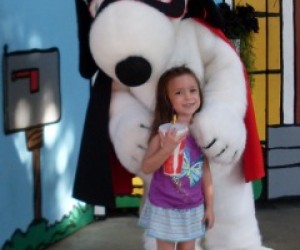 Camp Spooky: Knott's Berry Farm's Halloween Haunt for Young Kids
If you've got older kids (or a macabre Halloween side yourself), you know what a great job our LA and OC theme parks do of haunting those who love to be scared every October. But what about the kids who just like things mildly spooky - like maybe a couple of smiling ghosts and a spider or two? Sure, Disneyland has Mickey's Halloween Party, but that still involves staying up way past bedtime. If you have little ones you want to bring to a happy Halloween haunt without staying out past dark, where the scariest mummy looks suspiciously like Peppermint Patty, then Camp Spooky is the place you oughta be.
While Knott's Berry Farm's Scary Farm Haunt is legendary - and not recommended for anyone younger than age 12 (and even then, get ready to hold your 12-year-old's hand) - the Knott's daytime, non-scare celebration of cheer rather than fear converts the park's Camp Snoopy area into Camp Spooky, with the emphasis on camp. Kids are encouraged to dress in all their Halloween finery and trick-or-treat at five different stations (which limits the amount of sweets any one kid can consume) in between riding all the usual rides and enjoying special Halloween entertainment.
Our favorites among the special Halloween installations were the Monster Factory maze - which is a really well designed hall of mirrors that we went through over and over again - and the educational Creepy Crawly Critter Cave, where kids can - and do - touch a variety of wriggling and slimy insects. The star of the Critter Cave is a hand-sized scorpion kids can hold, and the woman who shines a black light on its iridescent back.
Other Halloween-time add-ons to the usual Camp Snoopy experience include witchy cookie decorating, a costume parade, and storytelling in The Lodge. The Halloween decor is fun to check out all over the park; obviously Camp Spooky has its usual Peanuts motif, plus the adjacent Fiesta Town takes on a Día de los Muertos theme, and the rest of the park has a fun Ghost Town look.
If your kids are game to wander other parts of the park, be aware that the mildest of the rides in the main park area - the stagecoach and the train - both close down during the Halloween season. There is one ride in the main park that's really worth an October visit, though, if your child has a little tolerance for spookiness: the Calico Mine Ride. Each Halloween season this slow-moving train ride through the dark passages of a faux mine gets a haunted overhaul, creating a ghost story with dark alcoves full of decorations to match. We saw a couple of four-year-olds who were overwhelmed by the apparitions, but, sensitive little imaginations notwithstanding, this is a great family ride for most kids ages 5 and up.
Camp Spooky runs weekends in October. Depending on how and when you buy tickets, Knott's prices range from $37-$62 for adults and $30-$33 for children ages 3-11. Online discounts make it worthwhile to buy tickets in advance.
Looking for more Halloween fun? Check out our Halloween Fun Guide!
Originally published October 15, 2013