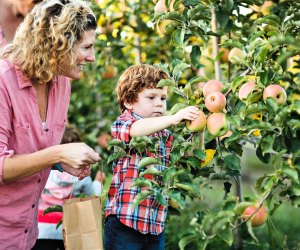 Best Apple Picking Orchards Near Philadelphia for Kids
As we anticipate fall's arrival, Philly families look forward to the changing colors of the leaves, harvest festivals, and apple-picking season. Pennsylvania is one of the country's top apple-producing states, and we are fortunate to have a number of orchards in the Philadelphia area where families can enjoy this tradition. Many orchards host activities to extend the fun beyond apple picking, everything from tractor rides and corn mazes to moon bounces and more.
The pick-your-own apple orchards and farms listed below are within an hour or so of Philadelphia. Because farm conditions and apple selections can vary, it is recommended to call or check websites before visiting.
For more ways to spend a fall day, browse through our Fall Activities Guide for Philadelphia Kids for the latest on where to hike, pick pumpkins, or enjoy corn mazes and hayrides.
In the era of COVID, remember to mask up and bring hand sanitizer. Some locations require timed ticket purchases so be sure to contact the orchard or farm prior to visiting.
2020 Update: This location plans to offer pick-your-own apple picking starting in mid-September.
This family-owned orchard features a variety of pick-your-own apples throughout the fall season.
2020 Update: This orchard is open for pick-your-own and currently offers the season's first varieties of apples with more coming in September.
With several types of apples from which to choose and annual fall festivals taking place every weekend, it is worth the drive to check out this Lancaster County farm. Farm tours are offered, too.
2020 Update: Due to COVID-19, the pick-your-own farm is closed for the remainder of the year.
Located in York County, this spot offers not only apple picking but other fruits as well. Guests should arrive at least one hour prior to closing to allow enough picking time. The area can be muddy, so visitors are encouraged to dress appropriately and wear sunscreen and bug spray. This farm is about 2 hours from Philadelphia.
2020 Update: This location plans to host pick-your-own apples this season. Updates are made regularly to its Facebook page.
Shuttles to the orchards have been discontinued in 2020. Instead, register and pay online and staff will direct you to the fields. Highland has many varieties of apples, which are sold by the container, not per pound. Apple picking season runs from mid-July to October, and Harvest Festival weekends in the fall include hayrides, face painting, and scarecrow building.
2020 Update: Both the farmstand and pick-your-own fruits and veggies are open. Guests are asked to abide by social distancing rules and wear a mask.
This 100-year-old, family-run orchard offers plenty of pick-your-own options, including apples. Crops are grown using organic techniques that are both natural and sustainable. Visitors must register at the desk to pay the per-person picking fee of $2.50 and to get their baskets. Indian Orchard is open daily 10am- 6pm.
RELATED: Kid-Friendly Fall Hikes in the Philly Area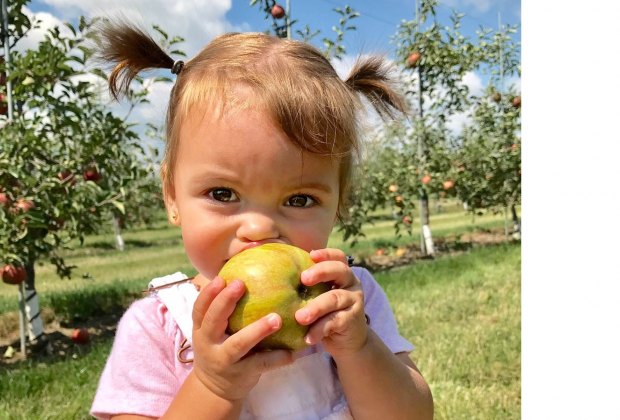 Johnson's Corner Farm is a quick drive across the Ben Franklin Bridge.
2020 Update: Online ticket purchasing is preferred to guarantee spots and limit capacity while picking. Masks must be worn and social distancing is enforced.
In nearby Medford, just a quick drive over the Ben Franklin Bridge, enjoy apple picking at Johnson's Corner Farm, where the season begins in early September. There are also a ton of family-friendly activities to engage in, including pedal go-karts, a tractor tire sand castle, climbing rocks, and pretend farm.
2020 Update: While the playground, animal section, and picnic grove are closed, pick-your-own is open daily from 8am to 3pm. No pre-registration is required.
Much more than just an orchard, Linvilla is a huge outdoor destination for families. The Pumpkin Land display alone is worth the visit, along with a large playground, farm animals, a market, and festivals on the weekends. Families can take a hayride out to Linvilla's 20 acres of orchards with 25 different varieties of apples.
2020 Update: Timed tickets to ensure social distancing must be purchased to pick-your-own at ShadyBrook Farms.
ShadyBrook Farm is a great Bucks County spot for seasonal outdoor activities. Along with the PumpkinFest, a corn maze, inflatables, giant jumping pillows, and playground, the farm offers visitors a wagon ride to pick-your-own apples. Fields are closed Mondays and Tuesdays.
2020 Update: Snipes Farm will not be offering PYO apples this season.
Snipes Farm offers one of the widest selections of apples to pick in the area, including Red Delicious, Golden Delicious, Stayman Winesap, Jonagold, Empire, Melrose, Ida Red, Keepsake, Royal Court, Crispin, Honey Crisp, and Fuji. Pick your own apples are available during fall weekends.
RELATED: The Best Corn Mazes and Hayrides near Philly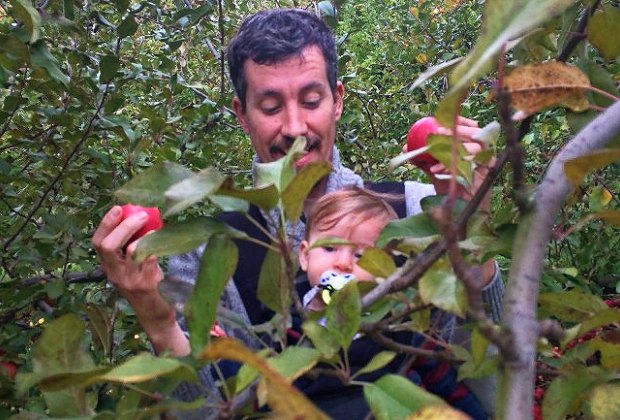 Solebury Orchards in New Hope has 15 acres for your picking pleasure. Photo courtesy of Cait Sumner for Mommy Poppins
2020 Update: Currently, visitors can walk out to the orchards to pick apples. Wagons might be offered later in the fall. Guests must wear masks in the fields. There is a six-person limit in the indoor market, but Solebury also has an outdoor market open for customers.
Take a wagon ride to the orchards on weekends, where the driver can bring you directly to the best picking spots. With more than 20 different varieties of apples ripening at different times during the season, pick-your-own is available now through November. The 15 acres of orchards are open Thursday through Sunday.
2020 Update: Guests should wear masks in the stand area and on the hayride as well as keeping a social distance. If not 6 feet apart, visitors are asked to keep their masks on in the orchard.
This orchard, with a large variety of pick-your-own fruits and vegetables, is located close to Oxford Valley Mall, with easy access from Route 1, I-95, and the Pennsylvania Turnpike. Wagon rides to the apple orchards are available. Styer Orchard advises calling first to determine picking conditions for that day.
2020 Update: Social distancing is required to pick apples at Tabora. Masks must be worn in the market, but are optional while picking.
This is one of the smaller farms on our list, with parking directly in front of the apple picking area. It's easy to get in and out, especially if you have little ones with short attention spans. The market has a great selection of bakery items and the feel of an old country general store.
2020 Update: Guests must practice social distancing and wear masks. To help limit the number of people, customers will have 30 minutes to pick.
Families can enjoy picking a variety of wholesome goodies at Terhune Orchards. In addition to apples, this orchard offers asparagus, cherries, blueberries, and blackberries. There are plenty of farm activities for kids and even a winery for grown-ups.
2020 Update: Pick-your-own is currently closed. Stay tuned for updates by following social media posts.
Pick-your-own apples and pumpkins via a wagon ride that takes you through the farm and across a giant corn maze. The Market also has a great selection of cheeses and delicious ice cream. Apple-picking season kicks off in early September and continues throughout weekends with the market's Fall Harvest Fun events.
2020 Update: To reduce contact between customers, social distancing of 20 feet is encouraged while picking. Customers must wash hands at a washing station prior to picking. Masks must be worn. If you are 20 feet away from other guests while picking, masks can be removed.
Pick-your-own fruit at Weaver's is relaxing and kid-friendly. All of the apple trees are dwarf trees, so most of the fruit is within easy reach. You can visit the farm Monday-Saturday to pick your own, but check the website as hours vary throughout the season.
When you arrive home with your bounty of freshly picked fruit, be sure to try some of our favorite apple recipes.
This article was originally published in September 2014. It was updated in August 2020.