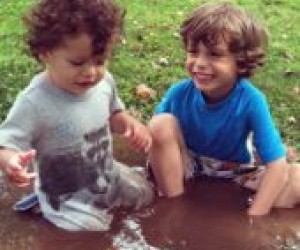 25 Fun Things to Do with Kids on a NJ Staycation
No fancy vacations planned for this month? Not to worry, we've got you covered! New Jersey offers tons of great options for family outings close to home, whether you're looking for a beach adventure or want to visit a local farm or museum. Skip all the hassles involved with packing, crowded airports and sleepless hotel stays…your family can get their fill of summer fun right here at home in New Jersey. (And save you some money too.) Read on for our top 25 Staycation Ideas, and visit the Mommy Poppins NJ Summer Activity Guide for additional suggestions.
1. Nothing says summer like a classic county fair. Check out the NJ State Fair and other local festivals taking place this month.
2. Play tourist and visit one of NJ's great small towns. Stroll the streets, do some shopping and grab a bite to eat with the kiddos.
OUR LATEST VIDEOS
3. Rainy or superhot day? Bring the family to your local bowling alley for some indoor fun! Or get crafty and make your own bowling set to play at home.
4. Another great bad weather option for older kids is rock climbing at one of NJ's indoor centers.
5. Spend the day at Turtle Back Zoo. This Essex County gem is perfect for kids of all ages. There's also mini-golf and a treetop adventure course nearby.
6. Summertime is a great time for movie watching! Indulge in dinner and a movie at one of NJ's dine-in theaters or check out a local outdoor screening.
7. National Lighthouse Day is celebrated every August. Commemorate the occasion by visiting one of the Jersey Shore's seven great lighthouses.
8. Stop by your local farmers' market and purchase some delicious goodies for a picnic in the park.
9. Visit Grounds for Sculpture, the Lakota Wolf Preserve or Sterling Hill Mining Museum for a unique day trip your kids will love.
10. Soak up the sun at one of the Jersey Shore's beautiful beaches.
11. Beat the heat at NJ's awesome water parks or a local spray park.
12. Or stay home and play your own water games.
13. Check out one of NJ's Living History Farms for a hands-on day trip that's both fun and educational.
14. Set sail with the Jersey Shore Pirates! Kids will love dressing up in pirate gear, searching for treasure and battling rival pirates along with the crew.
15. Enjoy spending some time in nature at one of NJ's beautiful arboretums. Take a family hike or participate in scavenger hunts and other fun programs.
16. Cool off on a hot day by renting a paddle boat or visiting a local swimming hole.
17. Liberty Science Center is a great way to spend the day any time of year. Current exhibits include "Beyond Rubik's Cube" and "Adventures with Clifford the Big Red Dog."
18. Bring the kids to a local nature center for a combination of indoor and outdoor fun. They'll have a blast playing, exploring and participating in fun activities.
19. Pick your own summer fruits and veggies at one of NJ's wonderful farms.
20. Get outside and enjoy a nature hike. A great way to bond as a family and get some exercise too.
21. Head out to a local museum for some hands-on fun with your kids. Visit the creepy crawly creatures at Insectropolis or check out the railway exhibits at the NJ Museum of Transportation.
22. Bounce the day away at one of NJ's indoor trampoline parks.
23. Camp out in your backyard. Make s'mores, tell ghost stories, relax under the stars and cuddle up next to the kids in sleeping blankets. (If your children are too little, try it out indoors first.)
24. Try some new recipes out with the kids—visit our WeeWork Activity posts for blueberry yogurt pops and other great ideas.
25. Don't miss the abundance of free activities offered throughout NJ this summer. Movies, concerts, festivals and more!