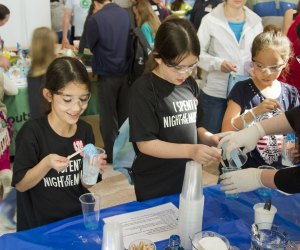 Presidents Day Weekend Things to Do in Houston: Dinosaur Adventure, Art of the Preserve
I think we can all agree that all the recent back and forth of Houston weather has made it a little challenging to know what to do. Will it be hot or cold? Are those dark clouds actually bringing rain or just setting the scene for another gloomy day? It's been an all-out guessing game lately.
Because of this, we've been busy pulling out all of our best indoor activities: roller skating, ninja warrior courses, and laser tag to name a few for those days when we need to get out of the house, and exercise games, easy science experiments, and creative kids' crafts for those days we want to stay home.
This holiday weekend and the upcoming weeks are bringing all sorts of fun, though. Rodeo season is on its way, and there's still plenty of time to check out all the free things happening in February, like the Love Literacy Event, Winter Wonderland Orienteering, and Bayou Bend Family Day. And if you find yourself scrambling for things to do on Presidents Day, rest assured, we have you covered there, too! Our event calendar is full of activities that are already planned for you and our Camp Guide will help you find the perfect solution for the holiday break if you don't have the day off with your kiddos.
We also recommend taking a look at our February GoList for some of the best free and cheap events happening around the city this month and signing up for our weekly newsletter; with so many great resources available, the hardest part isn't finding what to do, but picking the best event to attend.