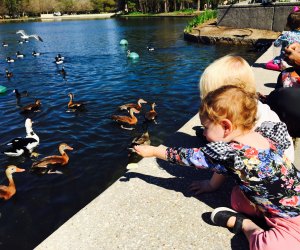 30 Things We Can't Wait To Do This Spring in Houston
A famous actor once said, "Spring is nature's way of saying 'Let's party!'" Well, from the list below of happenings in Houston this spring, that certainly seems to be true. I know my toddler thinks that any day with a trip to Noah's Ark at the Quillan Center is cause for celebration. But splash pads aside, whether you are looking for a theatrical experience, an outdoor festival, or new playground space, this list will put a spring in your step - your kiddo is already 10 steps ahead.
1. Join in the two days of fun at the McDonald's Houston Children's Festival, one of the biggest children's festivals in the country.
2. Enjoy what is predicted to be one of the best crops of bluebonnets all around Houston this spring.
3. Check out the fantastic pool, gymnasium, and fitness center at Emancipation Park.
4. Hear the brilliant score from Star Wars: A New Hope performed by the Houston Symphony at Jones Hall March 22-24, 2019.
5. Sing your heart out at the Sing!Sing!Sing! FREE pop up singing event at Evelyn's Park in Bellaire this spring.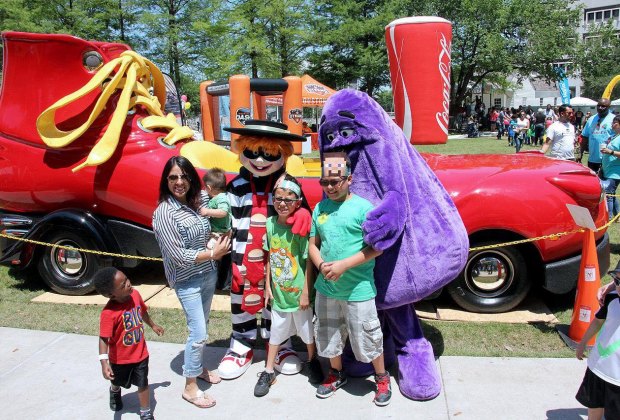 Photo courtesy McDonald's Houston Children's Festival via Facebook

6. Watch a circus performance by Cirque La Vie at Memorial City on Thursdays.
7. You'll find fine art, food, and entertainment in Memorial Park at the Bayou City Art Festival taking place March 29-31, 2019.

Related: Houston Farms For Berry Picking And Family Fun
8. Color your world at the 11th annual Houston Holi Festival of Colors on March 23, 2019.
9. Explore American women's history through arts, crafts, and other activities at Bayou Bend's Family Day the third Sunday of each month.
10. Celebrate German culture at the Tomball German Heritage Festival March 29-31, 2019.
11. Kids and adults alike will marvel at the funky and mind-blowing creativeness that is on parade for the annual Art Car Parade.
12. Stop by the McGovern Centennial Gardens for Friday morning story hour and then feed the ducks on the way to your car.
13. Catch lightning bugs during Firefly Fridays at the Armand Bayou Nature Center on select Fridays this spring.
14. Splash pads! Discovery Green, Levy Park, and the Zoo, to name a few...
15. Mark your calendar for May 14 because that's the day the Quillan Center's Noah's Ark officially opens for the summer. *Toddlers rejoice*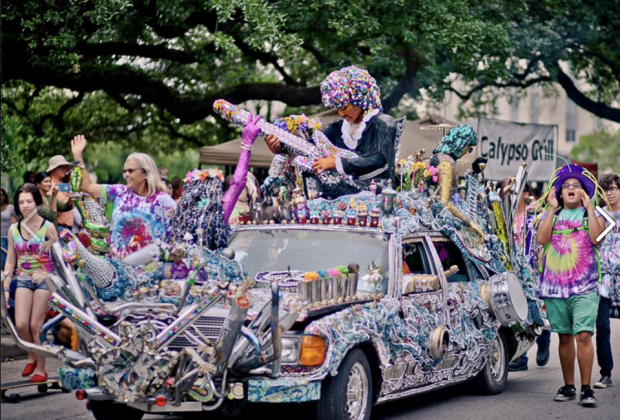 Photo courtesy Art Car Parade

16. Catch a performance of The Addams Family: A Musical Comedy at the British International School of Houston.
17. Immerse yourself in the Wild Weather Exhibit at Space Center Houston.
18. 'Tis the season for...crawfish! Grab a pound or two of mudbugs at one of the many area festivals going on.
Related: Where to Find Bluebonnets Around Houston This Spring

19. Dance the night away at the Once Upon a Time in Neverland Annual Fairy Tale Ball at the Galveston Children's Museum.
20. Pop over to the Heights Kids Day of Music, a family-friendly music festival on March 23, 2019.
21. Disney on Ice returns to Houston with its "Mickey's Search Party" show from April 17-21, 2019.
22. Take a dance class, make art, or listen to music at the beautiful Levy Park.
23. Trade the ice skates for roller skates and take a turn at Houston's first outdoor roller rink at Discovery Green.
24. Let's go fly a kite - during the Hermann Park Kite Festival, that is. Take part in this beloved annual event complete with food trucks, live entertainment, and educational booths.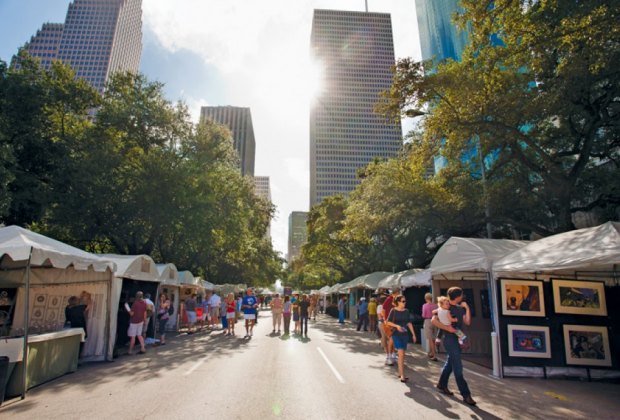 Photo courtesy the Bayou City Arts Festival

25. See beloved characters come to life in Paw Patrol Live! at The Hobby Center.
26. Catch a performance of Alexander and the Terrible, Horrible, No Good, Very Bad Day at Main Street Theater.
27. Take advantage of the warmer weather and explore area farmer's markets.
28. Let kids be a "Zoologist for a Day" at the Downtown Aquarium the third Saturday of each month this spring.
29. See live animals up close and personal at Nature Discover Center's Spring Fling Festival.
30. Run, swim, and bike with kids ages 6 and up in the 2019 Kids Triathlon April 27-28.
Top photo by the author