Attending the Awe-Inspiring Houston Art Car Parade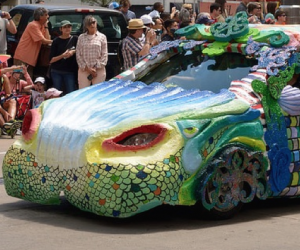 When I moved to Houston, I noticed something different about the cars I saw on the road in my neck of the woods. While driving around the Heights I remember seeing one car painted with colorful cat faces and another covered in Day of the Dead figurines. When I finally learned these cars were associated with the Houston Art Car Museum and annual Art Car Parade, I knew I (and my family) needed to see more. We now try to go to the parade every year, and it never disappoints.
The Houston Art Car Parade, which takes place in April, is presented by the Orange Show Center for Visionary Art. The parade started in 1988 with only 40 cars and is now the world's biggest celebration of Art Cars. It is also the largest free public art event in the city of Houston.
The parade currently boasts more than 250 vehicles on display, including cars, buses, go-carts, unicycles, and lawn mowers from all over the United States, Canada, and Mexico. Approximately 300,000 spectators watch in awe as wildly imaginative and fascinatingly strange vehicular creations roll past. It is impressive and inspiring to witness the creative ways cars and other vehicles are transformed into works of art. Both recognized artists and members of the community, such as school groups and professional organizations, turn the vehicles into one-of-a-kind modes of transportation through vividly painting them, decorating them with interesting objects, lighting them up, and sculpting them into moving creatures.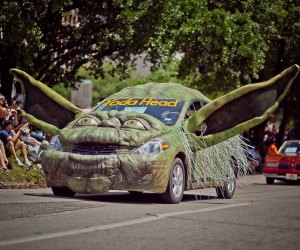 Photo courtesy the Houston Art Car Parade
Children and their parents will be thrilled to see giant dragons, monster-like spiders, bright peacocks, and large robots rolling along. Many of the vehicles blast lively music and there is a sense of joyful community spirit, excitement, and magic!
Attendees can watch the parade anywhere along the route for free. The route opens at 10 a.m. with a starting line party where attendees can see the entries up close and get a chance to meet the artists. The parade starts at 2 p.m. and lasts until 4 p.m., and it "will roll" rain or shine. It can get very hot, so make sure to bring sunscreen, hats, water, and folding chairs.
Before the parade, parents can bring their children to The Kids Zone in Sam Houston Park at 1000 Bagby Street. Starting at 11 a.m., kids can participate in craft activities, have a snack, and enjoy family-friendly entertainment. For an upgraded view and shaded seating in the middle of the action, spectators can spring for stadium seating (first come, first served) in front of Sam Houston Park. The ticket ($25 for adults, $15 for children) includes live parade commentary, nearby beverage booths, and clean restrooms. This is a great option for those who want to make a whole day of the event and beat the heat at the same time. Make sure to purchase these tickets early as they often sell out.
Another option for those who want the "best views of the parade" is the VIPit ticket, which costs $150 for adults and $25 for children and also includes shaded, reserved seating, free parking, gourmet food and drink from top Houston restaurants, and kids' activities. Visit the parade website for the route and the most updated parade information.
Top photo by Morris Malakoff