Kid-Friendly Mardi Gras Festivities in Houston and Beyond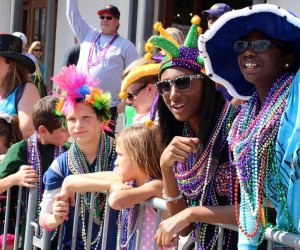 What kid doesn't love a good parade? Floats decorated in bright colors, candy, music, and during Mardi Gras, lots and lots of shiny beaded necklaces to catch and wear have kids loving every minute. Mardi Gras has come to be known over the years as mainly an adult affair, but there are so many options around the Houston area for celebrating the festive season with kids. From pet parades to fire trucks, and even a boat parade, each of these family-friendly events aims to entertain kids and adults of alike.
Mardi Gras! Galveston - February 22- March 5
One of the most well-known areas for celebrating Mardi Gras is not too far of a drive for most Houstonians. Galveston Island is home to a plethora of Mardi Gras parades and festivals that last for an entire 10 days. What's the best thing about the Galveston celebrations? There are several events that cater to families, and more specifically, kids. If you're looking to take a trip down south to celebrate, the top three kid-friendly Galveston parades all happen to fall on Sunday, March 3.
The Shriner's Hospital For Children and Sunshine Kids Parade - 12 p.m. - This parade features the Shriner's clowns and mini-cars.
Krewe of Barkus and Meoux Parade - 1:30 p.m - Cats and dogs on parade!
Mardi Gras Children's Parade - 3 p.m. - Local first responders parade in decorated vehicles. Bonus: This year's parade will celebrate the Houston Astros World Series win!
If nighttime parades are more your style, the Knights of Momus Grand Night Parade on March 2 starts at 6:30 (still early enough for most kiddos!) and features family-friendly marching bands and decorated floats. One year, a friend and I took her then one-year-old and my then two-year-old to watch this and had an absolute blast. We were able to score a spot on a friend's balcony to watch the parade from above, but there were plenty of families watching from street-level as well. The little ones loved catching - and throwing- all of the beads!
Houston Creole Festival and Mardi Gras Parade - February 2
Celebrate in the heart of downtown Houston by lining the streets for the city's own Mardi Gras parade. The parade will begin at 9 a.m. and run a route west on Bell Street from Jackson, then turn north on Austin Street, and finally head east on McKinney Street, concluding at Crawford Street. This morning parade will celebrate the Creole culture that exemplifies a fusion of African, French, Native American, and Spanish culture. The parade ends at Discovery Green, which gives parents the perfect spot to let kids run off steam and play after standing and watching the parade.
Mardi Gras Celebration and Parade at The Woodland's Children's Museum - February 9
4775 West Panther Creek Blvd., The Woodlands
Kids can take part in their own Mardi Gras parade at The Woodland's Children's Museum. Parades will march through the museum at 10:45 a.m., 11:30 a.m., and 12:15 p.m. Kids can make their own Mardi Gras masks and beads during a fun, guided workshop. Guests will be served traditional beignets and King Cake to enjoy after the celebration. Yum!
4th Annual Mardi Gras on Main - February 16
201 S. Broadway, La Porte
This day-long Mardi Gras celebration in LaPorte features tons of family-friendly activities, live music, and a uniquely fun umbrella parade. Kids will love getting their faces painted, creating works of art in the Kids Craft Zone, sliding down the Alligator Mega Slide, seeing stilt walkers, and watching balloon artists and jugglers. Food trucks will be on site with crawfish, lobster, burgers, Kona Ice, and more. While this festival has so much for kids to see and do, it doesn't leave out the adults. Adults can enjoy browsing market vendors and a fabulous craft beer selection at this event. This event is truly a family affair and fun for all!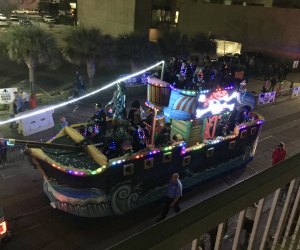 A balcony view of the Galveston Knights of Momus Grand Night Parade in 2017/ Photo by Ashley Jones
Yachty Gras Boat Parade - February 23
215 Kipp Ave., Kemah
​Enjoy watching decorated boats light up the night at this unique Mardi Gras celebration on the Clear Lake Channel. Parade watchers line the Kemah Boardwalk to catch beads thrown from the boat parade. It's easy to make a day of the celebration by spending the day of the parade exploring the Kemah Boardwalk, riding rides, enjoying some great food, or taking a train ride. What a fun way to kick off the Mardi Gras season as a family!​
Kingwood's Mardi Gras Festival and Parade - March 2
8 N. Main Street, Kingwood
This kid-friendly festival features arts and crafts, live music, and plenty of food vendors in the beautiful park space at Kingwood Town Center. The parade for this event begins at 2 p.m., but the all-day festival setting allows families the opportunity to "set up camp" so to speak and have a relaxing time enjoying celebrating Mardi Gras.
Top Photo courtesy Galveston Island Convention & Visitor's Bureau
This post originally published in 2018.