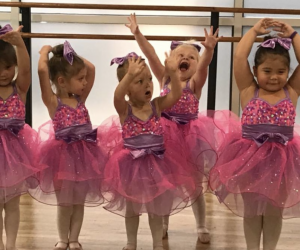 Toddler Dance Classes Around Houston For Your Tiny Dancer
When looking for the perfect dance class for your toddler in Houston, you'll probably find that there are a plethora of amazing dance studios in the greater Houston area to choose from. Each offers its own unique class style and qualified instructors, so finding a great class for your little one really comes down to where you live and how the classes offered fit into your schedule. Once your toddler steps into that room with their very first tutu and ballet slippers on, there is likely to be no turning back. The rhythm is going to get them and before you know it, you'll have a bona fide ballerina on your hands.
While dance is just one of many types of classes and activities available for your toddler to participate in, it is definitely one that will fill their little hearts and feet with so much joy. Read on to see what programs are offered near you and get that tiny dancer of yours signed up ASAP.
Central Houston Dance Classes
Houston Ballet - Houston
601 Preston Street, 77002
713-523-6300
Age Range: 2-3 years
Skills Covered: To become the best, training with the best starts young at the Houston Ballet. 2-year-old dancers can participate in the Houston Ballet's Parent and Me classes where toddlers can learn ballet fundamentals before graduating to the Joy of Motion class as a 3-year-old.
Claire School of Dance - Heights
1245 Heights Blvd., 77008
713-880-5565
Age Range: 18 months- 3.5 years
Skills Covered: Between ages 18 months and 2.5 years, toddlers at Claire School of Dance can enjoy the Tiny Toes class with a parent in the room participating in learning fun songs and dance fundamentals. After age 2.5, toddlers will transition into the Creative Movement class to focus on balance, coordination, and musicality.
River Oaks Dance - River Oaks
2450 River Oaks Blvd., 77019
832-531-4731
Age Range: 20 months- 3.5 years
Skills Covered: In the Toddler Ballet class at River Oaks Dance, students will cultivate a love of dance and music through learning awareness of their bodies and how to move them. For younger dancers ages 20 months to 2.5 years, the Little Leapers class allows an adult to participate alongside their toddler dancer if desired.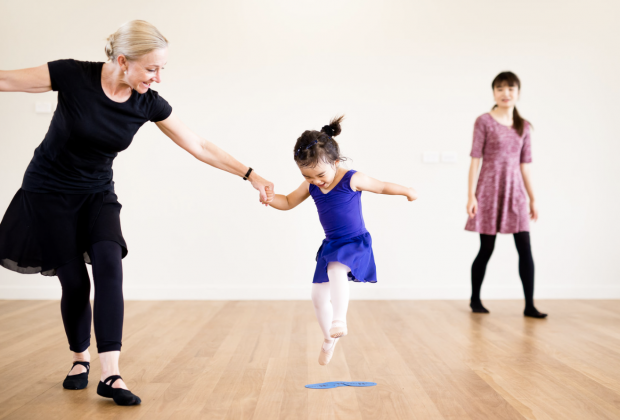 Learning in motion at River Oaks Dance. Photo courtesy River Oaks Dance.
North Houston Dance Classes
Houston Dance Works - Houston
3500 E. TC Jester, 77018
713-956-4870
Age Range: 18 months- 3 years
Skills Covered: If your toddler feels more comfortable dancing with you in the room, Houston Dance Works offers a Mommy and Me class for ages 18 months to 3 years. At age 2, if your child feels confident in the room without you, they can participate in the Baby Ballet class, but do not need to be potty trained to attend class.
Steppin' Time - Cypress
16522 House Road, 77429
281-256-7888
Age Range: 2-3 years
Skills Covered: If your toddler is not yet potty trained, they can still participate in the creative movement class at Steppin' Time in Cypress to learn dance fundamentals through fun songs and imaginative movement during a 30-minute class. Toddlers in the Creative Movement class will also perform one dance in the studio's recital.
Texas Academy Of Dance Arts - The Woodlands
26803 Hanna Road, 77385
832-663-5336
Age Range: 2 years
Skills Covered: During the Tinies class at Texas Academy Of Dance Arts, toddlers will get their first taste of dance by hearing fun music and learning to feel the beat. They will be instructed in basic movement fundamentals in a positive learning environment and have the opportunity to dance in a yearly recital.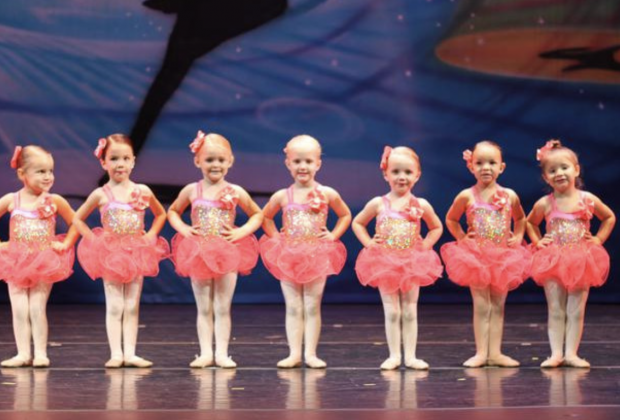 Tiny dancers getting their first taste of the stage. Photo courtesy Houston Dance Works.
South Houston Dance Classes
Dance Expressions - Friendswood
204 W. Heritage Drive, 77546
281-996-2000
Age Range: 18 months-3 years
Skills Covered: For more than 20 years, Dance Expressions has been educating dancers in the art of movement as well as leadership. Their Terrific Twos and Toddler Starz classes cover introductory movement and rhythm skills through interactive songs and dance games. Although Terrific Twos students do not participate in any recitals, Toddler Starz students do have the opportunity to participate in a yearly recital each summer.
JDF Elite Dance Academy - Friendswood
4325 FM 2351, Suite 140, 77546
281-993-4559
Age Range: 2-3 years
Skills Covered: With a focus on developing coordination, the Creative Movement classes at JDF Elite Dance Academy introduces basic ballet, tap, and acrobatic skills to help toddlers become familiar with different styles of dance. Age-appropriate activities are used to develop rhythm. Students must be potty trained to attend classes.
Twin Arts Dance Studio - Pasadena
3924 Country Road, 77505
281-998-2222
Age Range: 2-3 years
Skills Covered: In the Tots class st Twin Arts Dance Studio, toddlers will learn to take instruction from adults other than parents while learning movement fundamentals grouped with children their age. This entry-level dance class gives toddlers a strong start to build on for their future dance careers.
Revels Performing Arts Center - Deer Park
4227 Center Street, 77536
281-479-7722
Age Range: 2-3 years
Skills Covered: For tiny dancers who want to get a jump start on technical training, the Ballet Babies and Twinkle Babies classes at Revels Performing Arts Center in Deer Park will teach dance fundamentals to toddlers ages 2-3 years of age.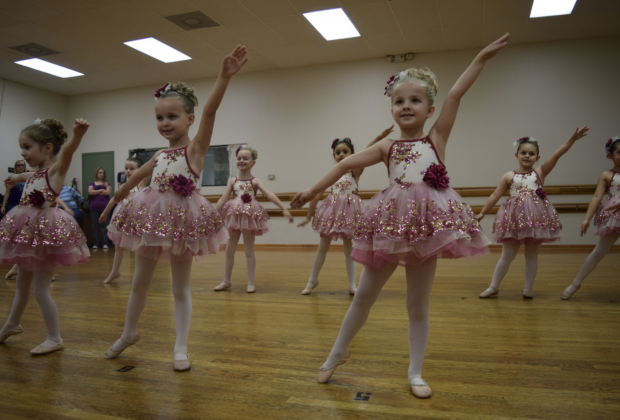 Learning dance fundamentals in class. Photo courtesy Twin Arts Dance Studio.
West Houston Dance Classes
Banbury School of Dance - Houston
1065 Braeswick Drive, 77096
713-721-2464
Age Range: 2 years and up
Skills Covered: The Early Childhood Education program at Banbury School of Dance offers toddlers a strong foundation in movement, beat, and timekeeping. With a focus on patience and a positive attitude, toddlers will learn dance techniques as well as important life skills.
Energy Dance Center - Houston
1322 S. Dairy Ashford, 77077
832-533-8636
Age Range: 2-4 years
Skills Covered: The Preschool Combo classes at Energy Dance Center offers toddlers the chance to learn expressive movement in a structured environment without a parent. Students in this class have the option to participate in the studio's annual recital.
Leap Dance Center - Katy
10452 Gaston Road, 77494
281-890-9999
Age Range: 2-3 years
Skills Covered: In the Creative Leaps class at Leap Dance Center in Katy, toddlers will learn pre-ballet technique using fun props like scarves, balls, and bean bags to develop gross motor skills needed for dance skill progression. Dancers do not need to be potty trained for this class.
Top Photo courtesy Steppin' Time