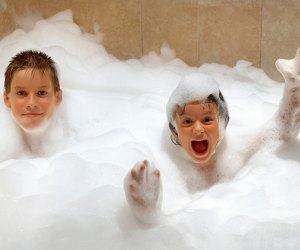 15 Holidays to Celebrate in January
Welcome 2017. Welcome January. It's time to kickstart the new year by celebrating 15 holidays sure to make your heart burst with happiness. We see you rolling your eyes: Didn't the holiday season just end? No worries. These celebrations do not require ugly sweaters or schmoozing at obligatory gatherings, and spending extra money is optional.
January 3 - Festival of Sleep Day
The first day of school following winter vacation leaves most children a bit more tired. If it's too late in the day for a nap, bribe them to go to bed early in the name of a national celebration. If suitable for your family, mark the occasion by allowing little ones to choose where they sleep for one night: on the couch, sharing a room with a sibling, or snuggling in your bed. Treating them to a new pair of jammies is optional.
January 4 – National Spaghetti Day and Trivia Day
No need to fret about today's menu. Prepare a favorite family recipe or search the web for new ideas. Have spaghetti (boiled and cooled) left over? Let the kids dip it in different paints and swirl it on a large piece of white paper. You'll be left with a memory and an abstract work of art. For toddlers, break uncooked spaghetti and stick it in a container with a lid. Pasta maracas anyone? Hint: let your dining guests wear something they can get messy in. For a double holiday celebration, play a game of Trivial Pursuit or Brain Quest, or look up spaghetti trivia. Did you know that there are more than 600 different shapes of pasta produced throughout the world? Hey, the International Pasta Organisation cannot be wrong.
January 6 – Cuddle Up Day
It's Friday, it's cold…eh, who needs a reason to cuddle? Grab a child, a stuffed animal, a beloved pet, or all of the above, and gather close. It will warm you up, make you giddy with joy, and, if you really do need a reason, consider this: cuddling releases oxytocin, the hormone than reduces pain and stress, and just makes us feel good. Cuddle up with popcorn and a movie, or around the fire with a read-out-loud book.
January 8 – Bubble Bath Day
It's Sunday, it's cold…never mind. Little ones can have fun with water changing tablets such as Crayola Color Bath Dropz, or turn a shower wall into a work of art with bathtub crayons. You can toss balloons, sculpt your child's shampooed hair into different shapes (don't forget the camera), or take toys to a car wash. Your imagination is the limit. For tweens, splurge on a decadent bubble bath or fizzy bath bombs, and when everyone is snuggled in for the night, grab some candles, a drink of choice, and let yourself soak in some bubblicious decadence.
January 15 – National Hat Day
Berets, beanies, baseball caps, fedoras, cloches, and cowboy hats. Learn about the social meaning of hats, search for the evolution of hat trends in recent decades, or create your own fashion statement out of a variety of materials. Younger children can decorate a straw hat with ribbons and flowers, bedazzle a cap or fedora, or use stickers and glitter to embellish a foam sheet cutout.
January 16 – Nothing Day
"What did you do in school today?" "Nothing." This likely familiar exchange between parents and children is perfectly acceptable today. Don't panic if they don't make their bed, consider it okay if they leave their clothes and toys on the floor, and don't freak out if they don't put their dirty dishes in the sink. Today is nothing day. Tomorrow, they'll pay the price.
January 18 – Winnie the Pooh Day
The lovable golden bear from the Hundred Acre Wood has been sharing wisdom since 1921. Pour yourself a cup of tea and read his stories about love and thoughtfulness, watch a movie about the joys of friendship, make a craft (or maybe some honey cookies), and remember: "You are braver than you believe, stronger than you seem, and smarter than you think."
January 20 – National Cheese Lover Day and Penguin Awareness Day
Order pizza and watch Happy Feet or Mr. Popper's Penguins, join Tacky the Penguin on his adventures, make a penguin craft, or bake penguin-shaped cookies (search online for recipes that don't require special cookie cutters). If you live near an aquarium, you can also visit some webbed-footed friends.
January 21 – National Hugging Day
Similar to cuddle day, who can't use extra hugs? They can take away pain, ease feelings of loneliness, lower anxiety, and instantly create happiness. It's a weekend day, so you could also deliver hugging therapy to grandparents or other special people in your life.
January 23 – National Pie Day and National Handwriting Day
Chocolate-mint? Chocolate cream? Cherry? Coconut cream turtle pie? The opportunities are endless. No time to bake? Pick up a scrumptious treat and support a local business. Don't have a sweet tooth? Surprise a friend and accompany the treat with a handwritten note. Calligraphy and cursive writing are an increasingly lost art, so encourage children to practice this special penmanship.
January 24 – Compliment Day
Whether it's handwritten or not, everyone appreciates sincere commendation. Children need to feel appreciated, and kind words go a long way in enforcing positive behaviors or providing encouragement during challenging times. In turn, little ones can choose a few people they want to compliment, thus practicing kindness and learning to look for the good in others.
January 25 - National Opposite Day
Today is all about the unexpected: eat mac and cheese for breakfast and pancakes for dinner. Let the kids drink out of a bowl and serve their goldfish in a cup. Wish them a good night on their way to school, and let them watch TV before they do their homework. If the weather outside isn't frightful, venture to the playground and let them push you on the swings. Whatever you do, be silly, laugh, take pictures, and have a magnificently horrible day.
January 27 – Chocolate Cake Day
Chocolate lovers unite! Whether you bake it or buy it, this is the day when you can have your cake and eat it, too.
January 29 – National Puzzle Day
Race to see who can complete a puzzle first (this is also a good time to check if the puzzle boxes in your collection are still complete), or purchase a new puzzle to assemble as a family. If you plan ahead, you can turn a favorite family photograph into a puzzle that's sure to become a cherished keepsake to keep, or perhaps gift to a grandparent.
January 31 – Inspire Your Heart with Art Day
Whether it's written, painted, sculpted, or performed, art helps us feel, communicate, and make sense of life. Visit a local art gallery, take in a musical performance, or have an at-home poetry slam. Let children experiment with water colors, write a song, put on a dance show, or decorate a driveway with chalk art. Today is about celebrating creativity and the power of self-expression.
Photo via Bigstock.